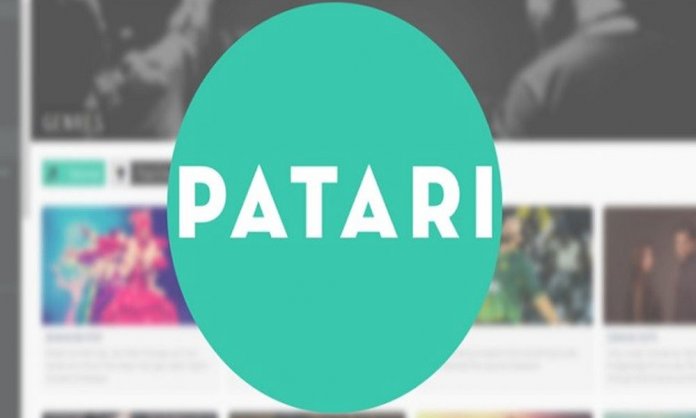 265 views
Popular music streaming platform Patari is once again in hot water. Previously, CEO Khalid Bajwa had to step down amidst controversial tweets about him abusing and assaulting women.
The company made an official statement on their social media platforms, in which it states that Bajwa will no longer be with the platform and that the company will stand by the victims.
On the other hand, rumors claim that Khalid Bajwa is back as CEO Patari.
Patari CEO Khalid Bajwa Steps Down After Harassment Accusations!
Patari Core Team Resigns
Many members of the Patari core team submitted their resignation as a rebellion against the toxic environment of the company around one month back.
The main team consisted of 6 members, including the acting CEO Ahmer Naqvi, social media lead Mahwish Bhatti, Aiman Farhan, Fariha Awan, Shahan Shahid, and Sarah Fatima.
I'm really emotional right now. Every name you see on the statement is going through an emotional agony. We stopped working a month ago but it's hitting right now. We cried together a month ago, we are crying right now at our homes. Patari meant so much to us>

— Fariha Awan (@Fay_Alif) July 1, 2018
The following is the resignation the core team members had submitted to the company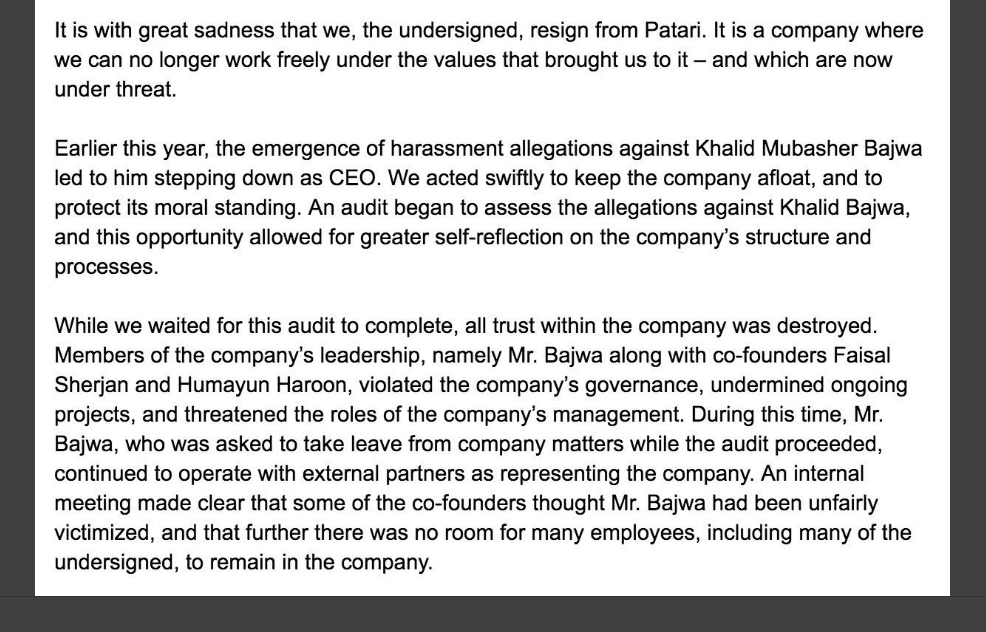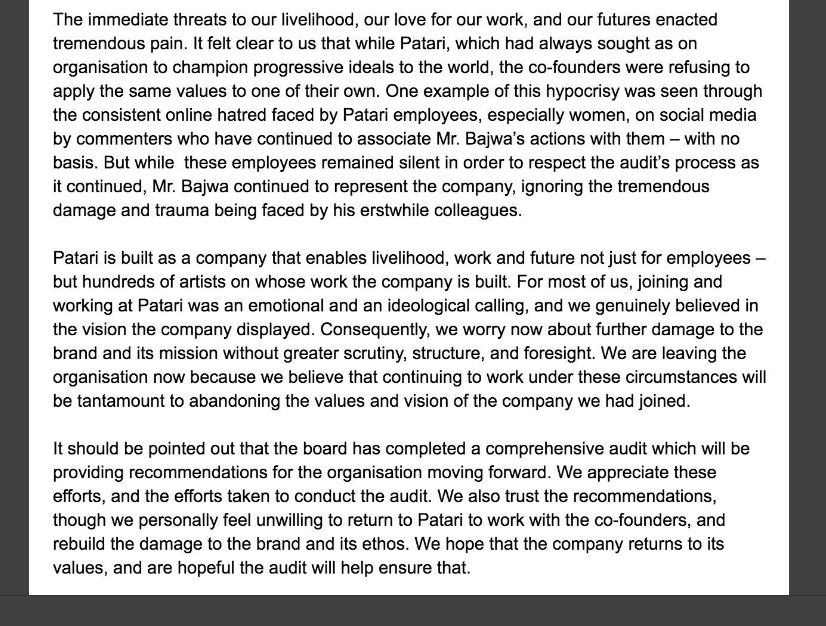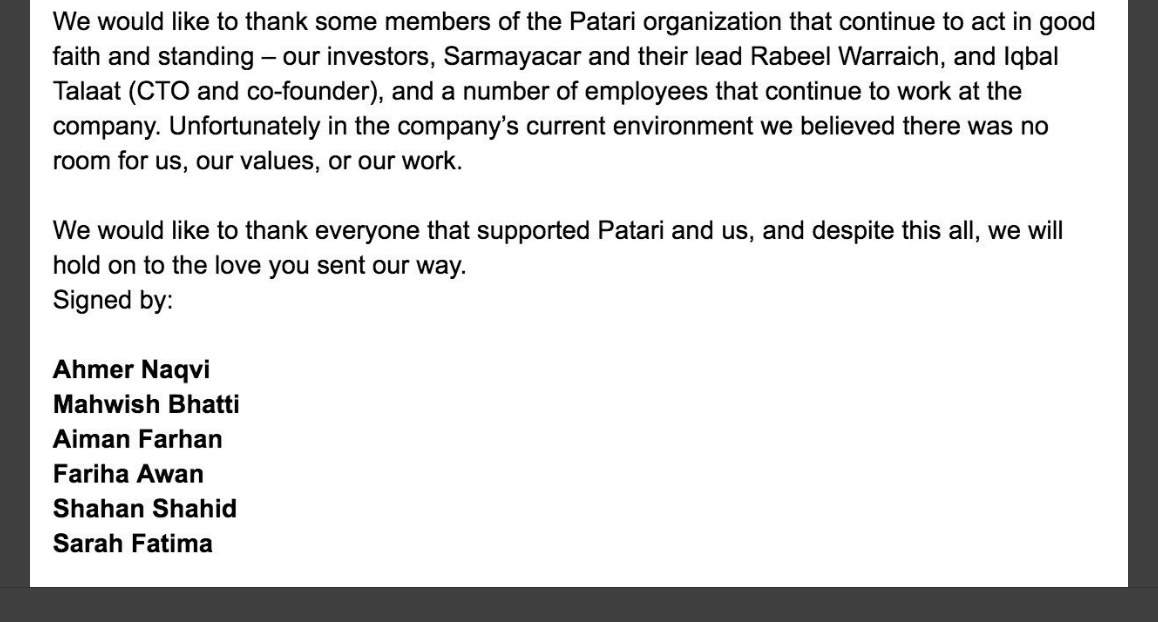 One of the members, Fariha Awan, took it to Twitter to express how hard it was to leave Patari but at the same time, it was a step which was needed to be taken.
Journey comes to an end. I stopped working with Patari one month back and have been in Karachi since. Read this statement, ask questions instead of assuming, & trolls: shove this statement up your bigoted ass. pic.twitter.com/giQ8UjSjjA

— Fariha Awan (@Fay_Alif) July 1, 2018
Patari. They insulted my mentors and role models. They mocked the hard work they did. So we all quit. If you have any questions, ask me. Just wait some time for me to respond as I'm going through a hard time & so are the people on the list.

— Fariha Awan (@Fay_Alif) July 1, 2018
We tried doing what we could do to keep the dream of Patari alive. Maho and I suffered a lot of abuse on Twitter but the support was overwhelming. But it wasn't enough apparently. The big guns supported their golden boy & belittled those who spent every waking minute working for>

— Fariha Awan (@Fay_Alif) July 1, 2018
The values that brought so many of us of work at Patari are no longer of any consequence to management. What we have now is only disappointment.
Detailed statement – https://t.co/coAIsGKQ1E pic.twitter.com/pOQoD26LXf

— maho (@mahobili) July 1, 2018
Ending my Twitter hiatus to share a (personally) monumental decision regarding my position at @patarimusic.

Detailed statement: https://t.co/TZIhSMRvQN pic.twitter.com/RjL9QYeqRO

— Ahmer Naqvi (@karachikhatmal) July 1, 2018
Have disassociated myself from @patarimusic; the organization is backtracking on the values it hired me on.

Owe majorly to @karachikhatmal for being an incredible source of help. Detailed statement here: https://t.co/PKXOgH2XGS

— Shahan Shahid (@Shahan03) July 1, 2018
Lol #Patari never paid me. That's why I left. There's far too much exploitation in this business for anyone to see right from wrong sometimes.

— Mahwash Ajaz (@mahwashajaz_) July 1, 2018
My mistake was that I thought of Patari as a utopia. That is how I imagined it. I'm not gonna lie, at times I envied all these people. Not just their dedication and work ethics but their vibrant social lives too.

— Ahmad Shahan (@HeelGimmick) July 1, 2018
Patari Clears the Air
Patari took it to Twitter to clear all misunderstanding created in the havoc situation. the company stated that Khalid Bajwa has not been reinstated as CEO Patari.
1/2 Contrary to rumors circulating on social media, Khalid Bajwa has not been re-instated as Patari's CEO.

An independent company wide audit had been initiated, which has now concluded. Recommendations ensuing from that audit will be issued to the company Board to take…

— Patari (@patarimusic) July 1, 2018
2/2 appropriate decisions in due course. Any queries in this regard should be directed towards info@patari.pk

— Patari (@patarimusic) July 1, 2018
The music streaming platform continued to clarify their position…
1/3 This company statement is for immediate release with a more comprehensive statement to follow.

After a two month audit and negotiation between Co-founders and principal investor:

1. Rabeel Warraich is announced as interim CEO with immediate affect
2. Khalid…

— Patari (@patarimusic) July 2, 2018
2/3 Bajwa removed as Board member and from any role with Patari
3. Audit concludes with full recommendations to be implemented by a reconstituted Board, with Co-founders agreeing to abstain from voting
4. Patari has zero tolerance for abuse of power, sexual harrassment…

— Patari (@patarimusic) July 2, 2018
3/3 and for creation of toxic culture
5. Thorough process will be followed to redress all serious allegations.

— Patari (@patarimusic) July 2, 2018
We have yet to see what more comes out of this controversy.
Do you think Khalid Bajwa is back? Share your thoughts with us in the comments below.
Stay tuned to Brandsynario for more news and updates.