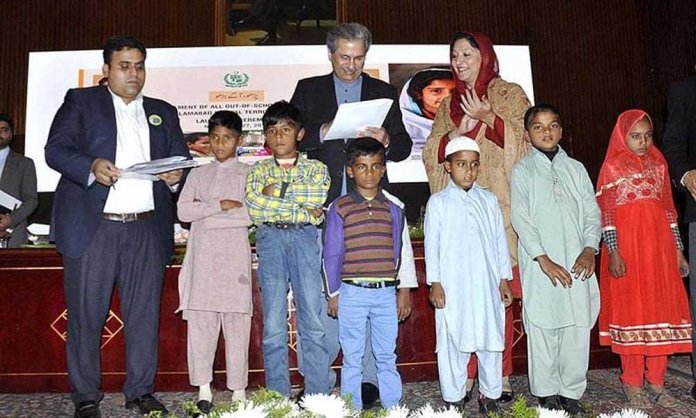 The Ministry of Federal Education and Professional Training launched the National Education Policy framework 2018 under the government's 100-day plan today.
The ministry of education in its framework has identified four key areas to focus on- improving quality of education, enrolment of school children, introducing a uniform education system and skill development of the youth.
The framework was officially launched by Minister for Federal Education, Shafqat Mahmood in a ceremony held in Islamabad.
Sale Of Tobacco Products In Educational Institutes Banned: LHC
The minister vowed to resolve the issues faced by the education system over the next 5 years and also revealed plans to introduce a National Task Force to identify key areas for education development.
Mahmood also stated that an Inter-Provincial Ministers Conference was also planned and during which the education policy was discussed with representatives of the different provinces.
"We consulted with donors, NGOs, and experts in the formulation of the framework,"
The minister also said that the government was ready to bring back more than 20 million boys and girls that are out of school.
Board of Secondary Education's Examiner Allegedly Exposed in Viral Video
Currently, there are 3 kinds of education systems operating in Pakistan- Madressah system, public school system and English-Medium/private school system.
Under the new system, a uniform system will be introduced along with a uniform syllabus:
"to bring unity among the nation".
Shafqat Mahmood also stressed the need for a more market-oriented education system so that students can find jobs easily in the future.
He also highlights a need for skill developing saying that it was the only way for socio-economic development in the country.
He also emphasized the lack of middle schools in Pakistan, due to which students face difficulties. To cure this issue, middle-school classes will be held following primary class timings so that the need for middle schools can be met.
Political Parties restate their Commitment to Education at Landmark Conference
The government also plans to introduce Online Smart School System in which online lectures will be delivered in classrooms due to lack of teaching staff.
Smart classrooms will be established in every school of Islamabad Capital Territory (ICT).
An Educational volunteer program is also in the pipeline and will be initiated to overcome the demand for teachers. Under the program, the educated youth will be given teaching opportunities.
Later, the Minister launched an out of school children campaign in Islamabad, by signing admission documents. He enroled 6 students into schools established near their residence.
Stay tuned to Brandsynario for more news and updates!