Something new comes up about the Meesha Shafi Ali Zafar controversy just when we think it has reached both its climax and end.
Last we heard, Meesha had broken silence over Ali Zafar's allegations on her and her team running a smear campaign against him.
Eid ul Adha 2019 in Pakistan: 5 Day Long Weekend Holiday Expected!
However, it seems that this time, Ali Zafar is not the only one of the opinion that Meesha has been misusing the #MeToo campaign.
Imran Khan's nephew, Lawyer and Columnist, Hassan Khan Niazi took to Twitter recently to accuse Meesha Shafi's team of blackmailing him and taking unfair advantage of the #MeToo campaign.
Here is his tweet: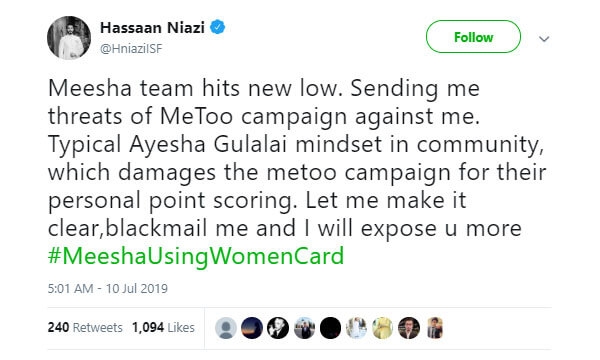 He seems to hold the same opinion for Ayesha Gulalai, a former PTI member who parted ways with Imran Khan's party after accusing him of sexual harassment.
Not only that, Niazi started a whole campaign against Meesha with the hashtag #MeeshaUsingWomenCard and many on Twitter seem to be contributing to the hashtag.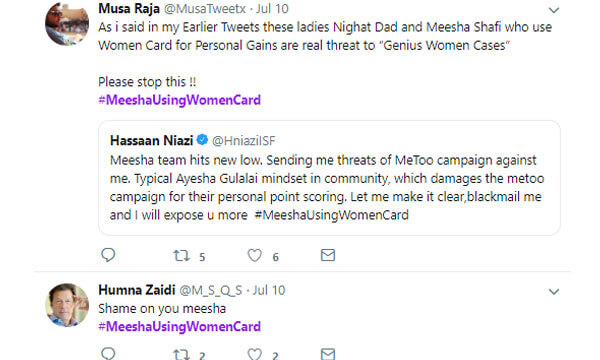 Here is what Adeel Raja, Creative Producer at ARY, had to say about this:
Nighat Dad using metoo for her personal gains https://t.co/75cDjSa7qY

— Adeel Raja (@adeelraja) July 10, 2019
When Niazi realized that Meesha had blocked him on Twitter, he made sure to even discuss that on the platform:
Intolerant lady, never have I spoken a word against you. Didn't become part of Ali zafar team even though I could. Just Bcz I questioned ur lawyer's credibility you decided to block me. So disappointed even though I had hope in you. Good luck with the defamation case #metoo pic.twitter.com/oUk3qhQLq9

— Hassaan Niazi (@HniaziISF) July 9, 2019
He ended his tweet with a seemingly sarcastic "Good luck with the defamation case".
Do you think his allegations of Meesha Shafi's team misusing the #MeToo campaign could be true?
Virat Kohli's Die-Hard Pakistani Fan Just Had Lunch with Him & Anushka Sharma!
Let us know in the comments.
Stay tuned to Brandsynario for more updates and news.