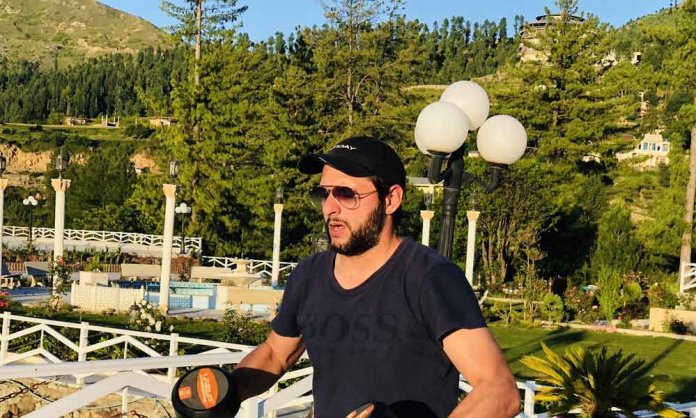 Pakistani Cricket sensation, Shahid Afridi recently took to social media to promote tourism in Pakistan with beautiful vacation photos of himself.
In the photos he looks like he is truly enjoying each and every destination.
Pakistan vs India World Cup 2019: Rain to Wipe Out the Epic Match?
He mentioned in his post that he does not see why Pakistanis would choose to travel abroad for recreation when their own homeland is so wonderful.
After visiting scenic areas within KPK, Pakistan I question the need to go abroad when we have such beauty on our own doorstep. With the right investment in infrastructure & tourism these are top destination spots, both for our own citizens & tourists from abroad #ApnaPakistan🇵🇰 pic.twitter.com/JWUyKlYI13

— Shahid Afridi (@SAfridiOfficial) June 13, 2019
Many fans and followers agreed with the cricketer.
That's my question too ❤️
Our country is the most beautiful country ever ❤️ #ApnaPakistan 🇵🇰💚

— !! RIMSHA RAEES !! (@Peace_Love_Win) June 13, 2019
My country is for love, my country is for peace, my country is for unity, my country is for joy, my country is the Hope! #ApnaPakistan https://t.co/VCboERskQr

— Ayoz Afridi (@AyozAfridi) June 13, 2019
Not only are they loving the photos of the breathtaking landscapes he is standing in front of, but they are also supporting his stance domestic travel.
MashAllah🖤 #ApnaPakistan ♥️ pic.twitter.com/sP3CD6nyCg

— عائشہ بنت شبیر (@Ayesha_shabir10) June 13, 2019
Yes you are right Lala 🌸#ApnaPakistan🇵🇰 #PakistanZindabad 💚

— Aroosa(ₐfᵣᵢdᵢₐₙ)🇵🇰 (@aroosa_farid10) June 13, 2019
The tourism industry of Pakistan, as per a report in 2017, generates $20 billion in revenue and supports 3.6 million jobs directly and indirectly, according to the World Travel and Tourism Council.
World Travel and Tourism Council (WTTC) forecasted that it would grow to over $36 billion within a decade.
It is estimated that foreign visitors generate nearly a billion US$ in exports. However, the industry still needs support from locals  to flourish, and we hope Afridi's post will help encourage more Pakistanis to explore their beautiful country and contribute to the economy.
Budget 2019-20: Social Media Reacts PTI's First Federal Budget
Do you agree with Shahid Afridi? And do you plan to visit any of Pakistan's exotic locations this summer?
Let us know in the comments!
Stay tuned to Brandsynario for more news and updates.