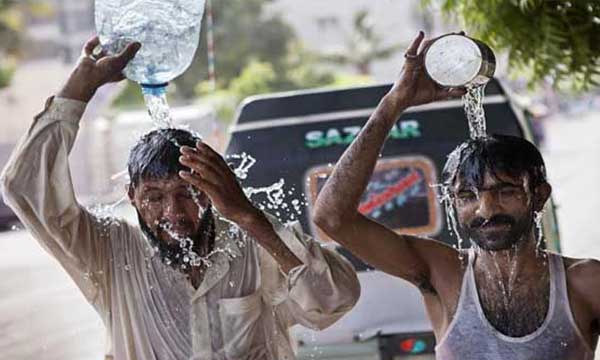 Update (June 13th, Thursday): Pakistan Meteorological Department (PMD) has issued a heatwave warning for the city of Karachi.
The temperature is expected to rise and the heatwave will carry on for 2-3 days. PMD reports suggest the temperature will touch a hot 42 degrees.
With no sea-breeze due to Cyclone Vayu, the citizens of the city have been advised to remain cautious. A PMD official has shared that slight drizzles can follow after the heatwave comes to an end but it is still not made sure of.
Some areas of Karachi may have light rain or drizzle on Thursday along with a dust storm but we are expecting very hot and humid weather in the days ahead, at least up to Sunday.
It is noteworthy how major stakeholders Pakistan Rangers, the Provincial Disaster Management Authority (PDMA) and SINA(a designated first response center) are playing their role in assisting the city during such extreme weather conditions.
SINA Welfare Trust (SINA) recently set-up heat wave relief camps for the poorest of the poor, throughout every district of Karachi as a first response initiative to provide relief to deserving citizens.
The city administration has also set up 185 cold water points in the city. 24 ambulances will be on standby at different locations and 18 mobile teams will to provide immediate treatment and relief to people.
The founder and trustee of SINA has advised public of the following:
People should try and remain indoors as much as possible and to remain hydrated if they venture outdoors.

I also advise the use of caps, sunglasses and wet towels to limit the effect of extreme temperatures. I also advise people to take oral rehydration salts (ORS) and extra care of children and the elderly.
We advise all citizens to carry a bottle of water with them. Those who will be travelling are advised to cover their heads and use damp cloths to stay cool.
---
---
Update: Sorry Karachiites! Looks like there might be no showers in the city's forecast form sometime after all!
Pakistan Meteorological Department (PMD) has shared its latest weather reports which read that Karachi and other coastal areas are under no threat from the cyclone.
However, these areas are much likely to be hit with a heatwave spell as a tropical storm will further strengthen for the next 36 hours.
Cyclone is more likely to bring a moderate heat wave by the end of this week with temperature ranging up to 40 degrees Celsius with high humidity -Chief Met Karachi 
---
---
Karachiites might finally find relief from the crazy heatwave spell on Thursday as heavy showers are predicted for the metropolitan.
MET office has also foretasted a dust-thunderstorm to hit isolated located throughout Sindh.
According to the reports, Hyderabad, Shaheed Benazirabad, Larkana divisions in Sindh will also be impacted by the change of weather.
Sindh will not be the only province with relief. Other areas to experience the change in the forecast include Kallat, Makran in Balochistan and Bahawalpur divisions in Punjab.
Earlier, PMD predicted hot and dry weather throughout most parts of the country during Eid ul Fitr holidays.
The citizens of Karachi also experienced a hot and dry spell which lasted a good 5-days before the weather cooled down on Saturday.
Are you looking forward to the showers? We are!
Stay tuned to Brandsynario for more news and updates.
Karachi Weather Update: Karachiites to Celebrate a Hot Eid & Dry Weekend