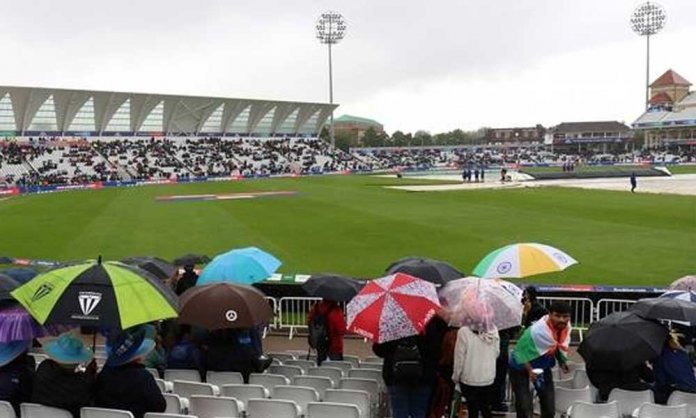 Pakistan, after a heart-breaking defeat to Austalia, will now take on arch-rivals India on Sunday 16th June 2019 at World Cup 2019.
While there is excitement in the air and a little tension, fans are also facing a dilemma as there is a chance for it to rain and for the match to be abandoned.
Manchester is expected to witness light showers from early morning from 6 am to 8 am. The weather will have periods of the sun from 8 am to 2 pm in the noon. It is likely to get light showers at 3 pm and that may continue till 9 pm, according to BBC weather forecast.
Sania Mirza Calls For A Stop Over 'Cringe Worthy' Ads To Market Pak Vs India Match
Taking a rewind, we know that many of the World Cup 2019 matches had to be drawn because of the rain, even Pakistan's match against Sri Lanka had to be thrown.
Many have seen it as a blessing, as Pakistan has not won against India in a World Cup format, and others have been crushed that the most anticipated match of the series may not even take place.
Despite their loss against Australia, Pakistani left-arm paceman Mohammad Amir is confident that Pakistan can definitely win against India.
Amir had performed exceptionally in the team's last match by taking a whopping number of 5 major wickets.
All games are pressure games in the World Cup, same for India. We'll have to come with a positive mindset against India. We have to win every game now and we'll try our best.

Definitely, we can beat India. Today also our batting took the game deep. If we're a bit more mentally strong, insha'Allah we will win.
India is currently placed at No. 3 in the points table while Pakistan is ranked at No. 8 with just one win. In order to have a chance in the next round, the green team has to win at least 4 of their 5 upcoming games.
Stay tuned to Brandsynario for more news and updates.
World Cup 2019: Jazz Denies Association with Viral IAF Teacup Ad