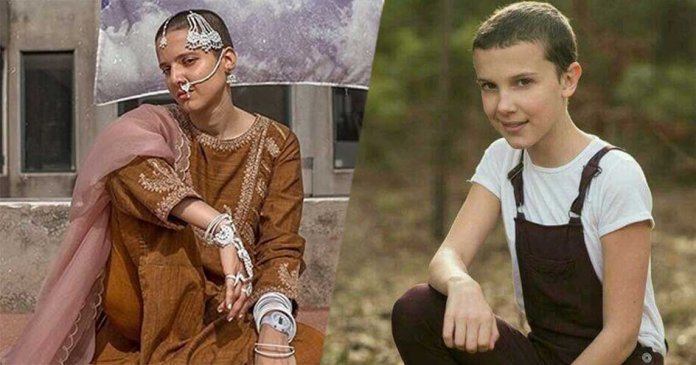 Generation has always been an advocate of the concept to be happy and comfortable in your skin. Wear what you like and do as you please, without any fear of society. Their campaigns promote inclusivity and acceptance without any bias.
The brand's Eid ul Adha 2019 collection promotes the same mantra; we're all beautiful in our unique ways. The photoshoot features, gota and gold, with lots of 'chamak dhamak' mixed with old school and modern adornments.
What catches the eye, other than the collection that is an epitome of regal elegance, is a stunning model, Saleha Amin, who has her head shaved.
But, what we couldn't help but notice was how she looked absolutely flawless!
The central idea was to celebrate life and one's appearance.
While many closed minded people could not accept the concept of inclusivity and bashed Generation for promoting non-stereotypical ideas of beauty and fashion, others loved it and thought it was brilliant.
Some people also stated that Saleha Amin resembles Millie Bobby Brown who is popularly known as Eleven from Netflix's Stranger Things!
Sharing the above post, even Saleha admitted in her Insta Story that she hears that a lot.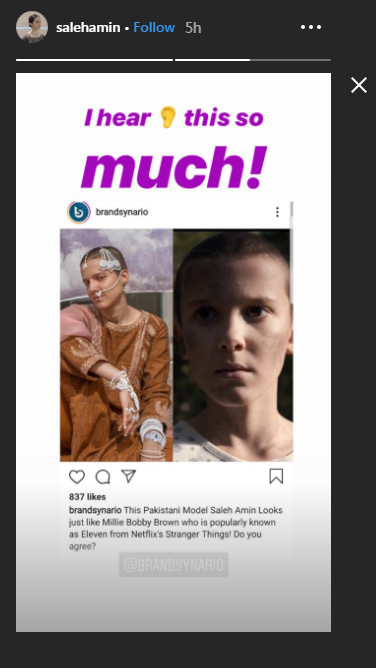 The shaved head and strong confident smile give a sense of empowerment. Millie Bobby Brown, who portrays the character on the show, has also revealed that shaving her head for the first season of the show was super empowering.
I have a job to do and that is to inspire other girls that your image or exterior part is not what I think is important, -Millie
Social Media Reactions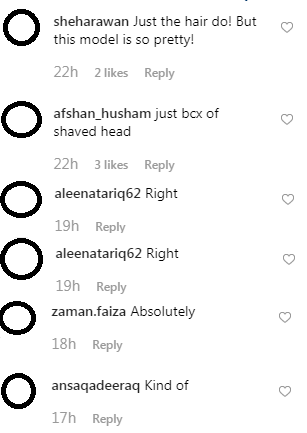 What do you think of the resemblance? Do you agree that Millie Bobby Brown has a Pakistani twin? We certainly think so! So does social media!
Stay tuned to Brandsynario for more news and updates.
Netflix in Hot Waters as Stocks Fall Following Major Decline of Subscribers!