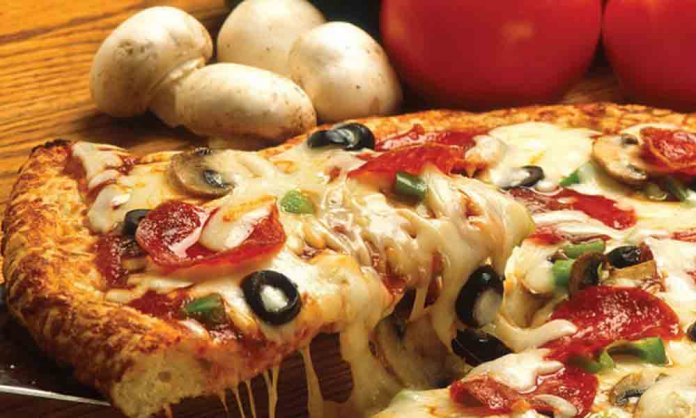 25 years back, Pakistan didn't exist on the Pizza Universe because the kind of Pizza that was served in the country wasn't Pizza but something from its extended family.
There were Pizza Parlors that Deep Fried the Italian Dish and the Karachiites were left wondering what made Teenage Mutant Ninja Turtles love Pizza that much.
Then came Pizza Hut and all that changed as the Karachi foodies became citizens of Pizza Universe, and continue to grow with every passing day. The city now has so many Pizza Joints that you don't know which to visit and which to avoid; we narrow down the options to 7 for your convenience and hope you agree to the list.
1) Pizza Hut
Right now they may give Buy One Get One option on Bogo or amazing discounts on Debit Cards, but that's because now they have competition.
When they heralded the Pizza revolution in Pakistan, Pizza Hut was the best and stayed on top for over 2 decades before losing their direction. They were the first ones to introduce stuffed crust and even went onto introducing Seekh Kababs in their pizzas, making them game changers at that time. Now they are not the best in the business but who knows they might bounce back and become the goto Pizza Parlor, again!
2) Pizza Point
When they started their operations, they were labeled as the 'new Pizza Hut' but soon they created an identity of their own and became one of the better Pizza outlets in the city.
Now they have multiple branches in the metropolis thanks to their coupons that are available at their branches for Rs. 499 and was once sold door-to-door by salesmen. Their clientele is limited but very loyal and that's one of the reasons why they are still growing and making a name for themselves even after a decade.
3) Domino's Pizza
They came, they saw and they conquered the market, that's Domino's Pizza for you who were the first ones to serve hand-made Pizza in the country.
They have excellent deals like Whacky Wednesday, Thin and Thick Crusts, Double Melt and similar kind of Pizzas that aren't available elsewhere. When they started off, they didn't have an outlet and people couldn't dine in but with the advent of Food Courts, foodies can now enjoy the best Pizza in the world, fresh from the oven!
4) Pizza Max
During the month of Ramadan, Pizza Max becomes the most visited Pizza outlet because of their 'Eat All You Can' deal that serves you hot pizzas fresh from the oven as much as you can eat.
Their quality is excellent as is the ambiance of their outlets all over the city, while they offer so many flavors that you would take more time in choosing the flavor than eating it when it is served. They also have a Jumbo Pizza that can serve as many as 4 people so take your friends now and have a blast!
10 Budget Friendly Eateries in Karachi That You Should Know About!
5) California Pizza
Want to have a Pizza that has two flavors instead of one? Try the Half and Half Pizza of California Pizza which has become one of the best Pizza outlets in the country; order Chicken and Creamy or get Beef and something cheesy to pay for one pizza for the price of one.
Thanks to the many teenagers and youngsters that have fallen in love with California Pizza, it is becoming a go-to Pizza joint for its services and ambiance. You can also order extra toppings and get hot pizza at your doorstep or even at the many outlets throughout the city.
6) Broadway Pizza
They are celebrating October as the National Pizza Month and gives us all the more reasons to fall in love with Broadway Pizza; go there for a 20-inch stuffed crust pizza and get 10-inch stuffed crust pizza for free with 4 Broadway sauces that have a distinct taste not available everywhere.
7) New York Pizza
They are opening branches all over the city and that proves that they are becoming popular due to their deals like Cheaper Tuesday that offers 30% off or their gigantic 21 inch King Kong Pizza that is available in one slice as well as a full pizza.
Not to be confused with New York Coffee that is more into breakfast stuff but one thing is for certain – this New York has influenced Karachi, big time