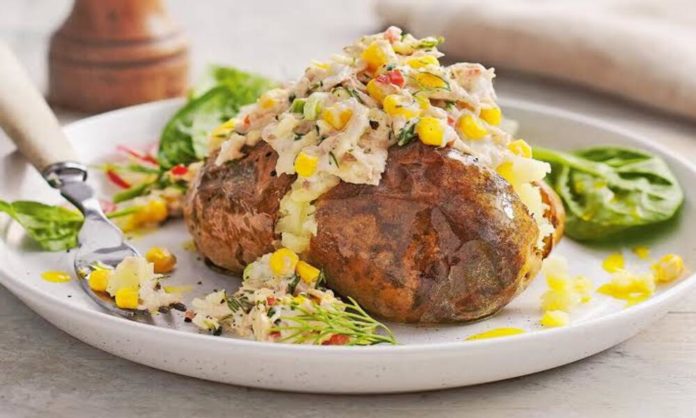 Jacket Potatoes, as the name suggests, are not potatoes wearing jackets unless you think of the aluminum foil as a jacket for a potato. No kidding! These are our regular baked potatoes which are given the signature name in the United Kingdom. The name was given due to the distinctive texture of baked potato which feels crispy from the outside but warm and fluffy from the inside. They are delicious and easy to cook while also being fulfilling and satisfying.
If you have ever tried a baked potato, then chances are, they have taken over your mind and you just can't have enough of them. Lucky for you, we have brought about the perfect baked potato recipes that will curb all your baked potato cravings.
1. Sizzling Baked Potato 
Add a hint of fancy to your regular baked potato with this sizzling skillet recipe. This loaded potato is enough to fulfill your midnight hunger pangs.
2. Quickest Baked Potato Recipe 
This one has to be the easiest baked potato recipe ever. All you need to do is get your hands on good-quality potatoes and a microwave to fix yourself a quick snack.
Read More: 7 Easy Recipes For Pakistani Students Who Are Away From Home
3. Baked Jacket Potatoes 
If you like to be a little extra with your recipes then try these baked potatoes to vow your family and friends over a dinner party.
4. Cheesy Jacket Potato
If you like to keep it simple and classy then this cheesy potato recipe is the one for you. With minimal ingredients and limited cooking time, this recipe is a go-to for all of those who don't like to cook.
5. Air Fried Baked Potato 
If you cannot compromise on calories in the name of taste, that certainly shouldn't stop you from munching on this delicious snack. This baked potato recipe ensures that you get the most traditional taste without having to hog on cheese and heavy toppings.
6. Stuffed Jacket Potato
This easy-to-make jacket potato recipe is the perfect quick fix for snake time. All you need to do is to replace the bacon with chicken chunks and you are good to go.
7. Chicken Stuffed Potato 
This recipe is like no other and probably the best out of the bunch. These heavily loaded potatoes with the goodness of chicken and cheese are enough to satisfy your craving and make a perfect side dish for dinner parties.
Read More: 5 Delightful Honey Desserts To Make Your Day Extra Sweet
Stay tuned to Brandsynario for the latest news and updates.