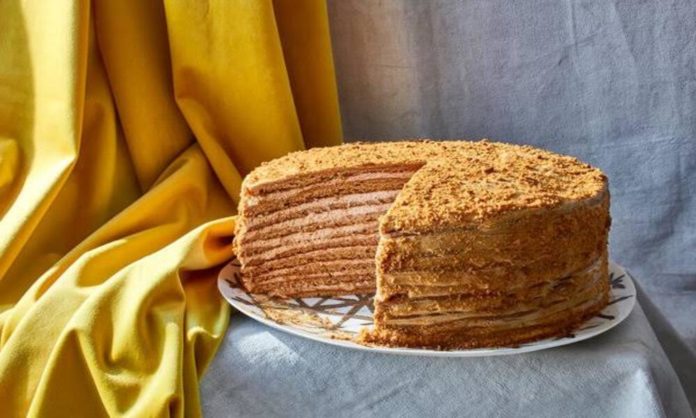 While honey offers a variety of benefits in the kitchen and for health ailments, the role of honey in desserts is extremely understated. You might be wondering whether they taste better than sugar ones or if honey alters the texture of desserts. The answer is, honey can offer an excellent alternative to regular sugar which can also be consumed by people who are on a sugar-restricted diet. If you haven't explored the world of honey desserts, let us share some of the best recipes you can try this season.
1. Russian Honey Cake 
This traditional honey cake is nothing like a traditional cake. The eight-layered delight takes a long cooking time but the result is totally worth the wait. The cake layers are filled with the savory taste of cream cheese perfectly balancing the texture and taste of honey. Pair the cake with your evening tea or serve at a brunch for an elevated taste.
2. Honey Oat Bars 
It's time to ditch store-bought oat bars and convert to a DIY recipe because not only it will save you some extra bucks but also offers a healthy option without any preservatives. This three-ingredient honey oat bar recipe is a perfect mix of sweet and salty full of nutrients enough to satisfy your sweet tooth.
3. Honey Chocolate Chip Cookies
Chocolate chip cookies don't get better than this! This easy cookie recipe is the perfect treat for yourself and your kids to munch on any day. With minimal ingredients and less cooking time, these cookies are a perfect thing to bake for midnight sugar cravings.
Read More: 7 Easy Recipes For Pakistani Students Who Are Away From Home
4. Honey & Almond Bars
The almond honey bars are a go-to for any snack emergencies. This easy-to-make unconventional dessert is a fix for any sugar cravings you might experience on a day-to-day basis. The best part? It takes less than an hour to create this recipe.
5. Honey Souffle
Step aside, chocolate souffle! This honey souffle is the one thing you sure have to try among these recipes. A perfect option to serve at tea parties and brunches. The recipe can be created quickly without spending extra time in the kitchen.
Read More: 7 Benefits Of Water Chestnuts You Never New About
Which one would you love to try? Let us know in the comments below.
Stay tuned to Brandsynario for the latest news and updates.