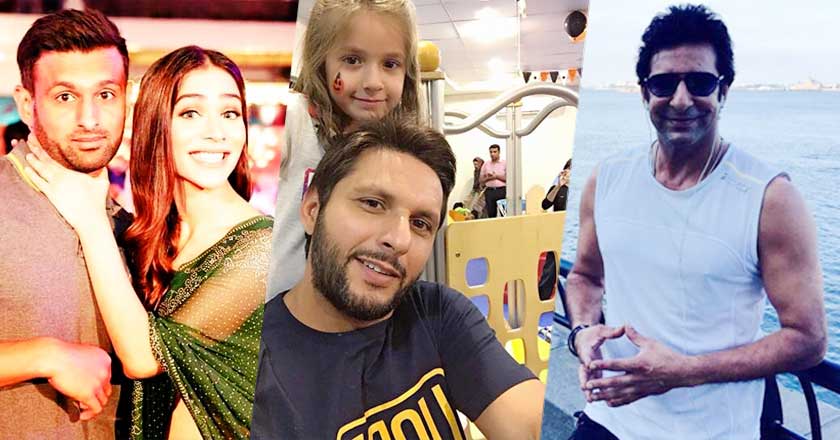 From the Selfie taken on the revealing of new kits to the viral bromance image of Ahmed Shahzad and Shahid Afridi on social media, the Pakistani cricketer's presence on social media is increasing day by day. By looking at the content, most accounts look to be managed personally (not run by a marketing manager/agent).
Let's take a look at the top Pakistani cricketers on Social Media:
1. SAEED AJMAL
The Faisalabadi guy, famous for his doosra effect to knock down the opponents has the highest number of fans on Facebook. His content is mostly about being a true sportsman, sharing about Pakistani cricketers and their achievement or triumphs. Well, that's not it, he shares his selfies too! He is the most active on social media. Let's have a look!
Facebook: 3,519,991 Fans
Twitter: 464k Followers
Instagram: 3606 Followers
https://www.instagram.com/p/BBwLoM9JZ6R/
https://www.instagram.com/p/BBffJzQJZy3/
Honour to be the part of the same team of legendary @wasimakramlive. #unitedwewin #psl2016 #HBLPSL pic.twitter.com/NddF2tTXdo

— Saeed Ajmal (@REALsaeedajmal) February 18, 2016
Desert Safari with family, great view of sunset. #family time pic.twitter.com/wRP9MVLnVl

— Saeed Ajmal (@REALsaeedajmal) February 16, 2016
2. SHAHID AFRIDI
The iconic star of Pakistan cricket team for the past 19 years, Shahid Afridi has a huge fan following on Facebook, Twitter and Instagram. Afridi has the highest fans/followers on the all social media platforms.
He mostly posts about his life, where he travels, what he is up to and most importantly about the Shahid Afridi Foundation.
Afridi's Instagram is the most interesting. He shares events from his daily life. We can say that he just loves to travel and spend time with friends & family.
Facebook: 4,338,453 Fans
Twitter: 520k Followers
Instagram: 155k Followers
[fb_embed_post href="https://www.facebook.com/ShahidAfridiOfficial10/photos/a.686908251371936.1073741828.671486682914093/1035898356472922/?type=3&theater/" width="550″/]
Visited Tawam Hsptl Alain, Pedriatic cancer patients. May Allah swt gv them health pic.twitter.com/0olZbRdI9y

— Shahid Afridi (@SAfridiOfficial) February 16, 2016
3. WASIM AKRAM
Ranked# 1 on Twitter and #3 on Facebook by Socialbakers.com for having the highest number of fans/followers as a sports star in Pakistan makes Wasim Akram one of the most famous sports stars in Pakistan.
He mostly reposts his Twitter feeds on Facebook and re shares his past cricket memories while the Instagram is filled with some amazing pictures of his wife and daughter, and some daily life images. Let's have a look.
Facebook: 1,276,696 Fans
Twitter: 1.74 Million Followers
Instagram: 3,381 Followers
PSLT20: Wasim Akram and Islamabad United

– #WasimAkram excited for #PSLT20 and shares his association with #IslamabadUnited. #UnitedWeWin #HBLPSL #AbKhelKeDikha #Cricket #PakistanVideo Courtesy: Global Athlete Management Experts (GAME).

Posted by Wasim Akram Live on Monday, December 21, 2015
Lights, camera, ACTION! #ISBUnited #PSL2016 #PSLt20 #UnitedWeWin @AliZafarsays @iamShaniera pic.twitter.com/qcAh6GLZop

— Wasim Akram (@wasimakramlive) February 3, 2016
4. SHOAIB MALIK
The ex-captain of Pakistan cricket team became the most happening celebrity and sports star after marrying Sania Mirza, which increased his fan following and PTAT (People Talking About This) on Social Media.
His tweets are mostly about cricket, traveling and supporting sports in Pakistan. Ranked#1 on Twitter and #4 on Facebook (Socialbakers.com) as a fastest-growing sports star profile in Pakistan, he is now more active on Facebook as the content is sponsored through paid marketing on his Facebook page.
Facebook: 151,220 Fans
Twitter: 648k Followers
Instagram: 232k Followers
#KarachiJeetayGa Pakistan Zindabad #iBleedGreen

Posted by Shoaib Malik on Friday, February 5, 2016
Whatever the results maybe at the #HBLPSL, Pakistan always wins 💪🏼

Pakistan Zindabad #iBleedGreen pic.twitter.com/erN8vnIeue

— Shoaib Malik (@realshoaibmalik) February 6, 2016
5. AHMAD SHAHZAD
The young opener of Pakistan cricket team, who holds the record of scoring the first century in a T20 is a very active Twitter user. He is ranked#3 on Twitter by Socialbakers.com for having the highest number of fans.
In one of his tweets in January 2015, he announced that he does not have an official Facebook page, but will sure bring one for his fans. And in mid-2015, he launched his official account on Facebook and Instagram.
His tweets are behind the scene photos of Pakistani cricket team training and practicing as well as personal messages & thoughts to his fans. His Instagram account is filled with stunning selfies mostly with Shahid Afridi.
Facebook: 184,750 Fans
Twitter: 579k Followers
Instagram: 34.2k Followers
Now this is team Quetta for u !! It's nothing like winning no matter where u playing or 4 which team u playing pic.twitter.com/ZxfOxOtOA8

— Ahmad Shahzad (@iamAhmadshahzad) February 16, 2016
Stay tuned to Brandsynario for more updates!