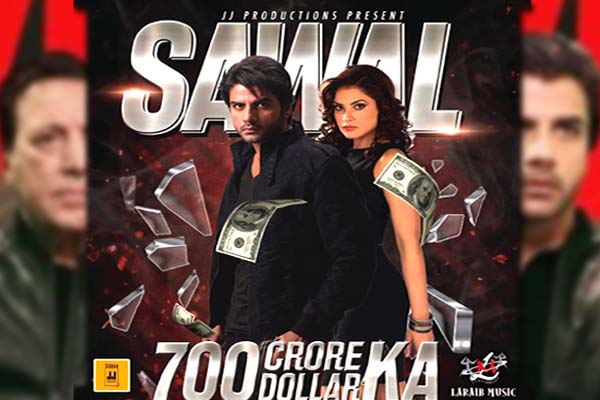 The Pakistani action thriller film 'Sawal 700 Crore Dollar Ka ' directed by Jamshed Jan Muhammad earned more than Rs 10m, according to box-office reports.
The movie that was released on Eid ul Fitr saw a record business of 1.2 crores for a Pakistani movie despite being pinned up against the likes of big budgeted movies such as Bollywood movie Sultan and much awaited Hollywood movies such as, The Legend of Tarzan, Finding Dory and Ice Age 5.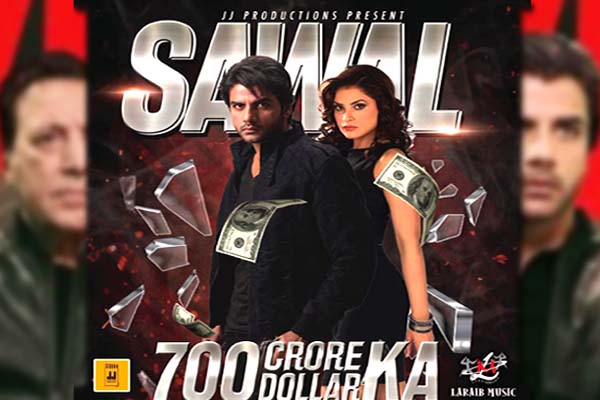 The movie that stars veteran actors like Jawed Sheikh, Ghulam Mohiuddin, Ismail Tara, Nayyar Ejaz, and Shamoon Abbasi with newcomers Qurat ul Ain and Ghulam Mohiuddin's son Ali Mohiuddin, is a suspense and action based comedy shot in Thailand and Sri Lanka.
Talking to the media, Ali Mohiuddin said he surprised by the response they got from the public. "The response has been phenomenal. It has made my passion and dedication to work in the film industry more strong," he said.
http://www.brandsynario.com/sultan-movie-box-office-report-salman-khan-starrer-shatters-all-records-reaches-closer-to-200-crores/
"Things have changed now and the Pakistani industry is back to winning ways. Pakistani movies are performing well at the box office especially considering screening of 'Sawal 700 crore Doller Ka' is taking place when big budget Bollywood film 'Sultan' is also being screened at the same time. Releasing it at this time was definitely a risk but we believe in our work and commitment. The results are in front of you. If the content of the film is good and creative and it comes with a full package for movie buffs there is no doubt about success of the film," he added.
According to Box Office Detail, movies that screened earlier saw a record number of shows and increased capacity to around 5 crores approximately.
According to Box Office Detail, the 5-day weekend capacity in the region saw a business done of approximately 23.5 – 24 crore and with the extended Eid weekend of around 21.95 crores. The daily average was of 4.39 crore approximately and is still going strong.
Sultan.. 17.7cr (5.4lacs)
The legend Of Tarzan*.. 1.35cr (28k)
Sawal 700 Crore Dollars Ka.. 1.2cr (30k)
Finding Dory.. 90lacs (17k)
Ice Age 5*.. 60lacs (12k)
The Secret Life Of Pets.. 20lacs (4k)
Total.. 21.95cr (6.31)
Sultan led the pack with a business of 17.7 crores; coming in second was The Legend of Tarzan that did a business of 1.35 crore, according to an estimate by the box office.
Sawal 700 Crore Dollars Ka finished the weekend with a business of 1.2 crores while Finding Dory and Ice Age 5  did a business of 90 and 60 lacs respectively.
JPNA Shatters Pakistani Box Office Record with $4.4 mn Worldwide Collections
Veteran actor Ghulam Mohiuddin, who stars in the movie alongside his son Ali, said it is a good sign for the film industry that people have shown such an overwhelming response to a Pakistani movie.
"In comparison to Indian movie my son's film came in the second highest grosser at the box office. If you make a good movie the people would definitely love to see it," he said.
"There is a lobby that works for their own vested interests and works against Pakistani movies in favor of Indian films. The mindset is simply destroying our film industry," he added.
A long weekend ensured that movies saw a record rise in the number of tickets sold, something which is new for our cinemas.
However, with the opening of new screens like Weplex, Universal Cinemas, Xinhua Mall, Shaheen, Cinepanx Murree and Gujrat, rise in moviegoers was witnessed this time around.
Manto Pakistani Movie Collects PKR 50 Lacs: Box Office Report
Stay tuned to Brandsynario for more updates.