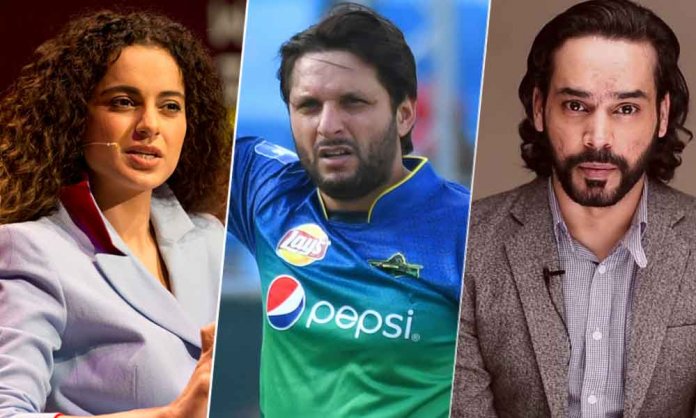 The attack in Pulwama district of Jammu and Kashmir, that killed around 40 Indian Central Reserve Police Force (CRPF) personnel, has shaken the entire sub-continent.
Pakistan has strongly condemned the attack and refuted allegations of being linked to the tragedy. Meanwhile, the Indian government and media continues to target Pakistan without any investigation.
Here's what has happened so far between the two nations post-Pulwama attack.
Saudi Crown Prince's Visit to Pakistan: Highlights from the Historic Event
TRADE
Modi Government Raises Taxes on Pakistani Goods
After withdrawing Pakistan from the status of the most favored nation, India has announced a hike in duties of all imported goods from Pakistan. According to the International Trade Center, imports from Pakistan to India include fruit, salt, fuel, and fertilizer.
India's Finance Minister Arun Jaitley revealed on Twitter that the basic customs duty on all Pakistan exports to India will be increased to 200%.
India has withdrawn MFN status to Pakistan after the Pulwama incident. Upon withdrawal, basic customs duty on all goods exported from Pakistan to India has been raised to 200% with immediate effect. #Pulwama

— Arun Jaitley (@arunjaitley) February 16, 2019
According to an Indian government official, this move will affect $2.61 billion worth of bilateral trade.
Kangana Ranaut's Anti-Pakistan Comments, Gohar Rasheed Hits Back!
Perhaps the most aggressive reply so far amongst all Bollywood stars on the Pulwama attack has been from Kangana Ranaut.
When asked about her take on the matter in an interview to Pinkvilla, the actress outrageously spoke against Pakistan.
"Pakistan has not only violated our nation's security but it has also attacked our dignity by openly threatening and humiliating us. We need to take decisive actions or else our silence will be misunderstood for our cowardice"
While speaking about the ban of Pakistani celebrities in Bollywood, Kangana added:
"Right now is the time to focus on decisive actions. Pakistan's ban is not the focus, Pakistan destruction is."
Her brash comments were bound to create an uproar and Gohar Rasheed was quick to shut her down over her anti-Pakistan sentinments.
Hamari Qaum ko Batao kay tsunami anay walla hai to ussko dekhnay kay liye sea-view challay jatay hai. #Modi yeh qaum jang say nahie dartee, Excited hoo jatey hai 💪🏽 or #KanganaRanuat aap ko kiya bollo aapko to apni industry Bahut kuch Bol rahey hai. #PAKISTANZINDABAD🇵🇰

— Mirza Gohar Rasheed (@GoharRsd) February 17, 2019
CELEBRITIES
Paresh Rawal Appeals to Not Invite Pakistani guests
Condemning the Pulwama Attack, the Heera Pheeri actor urged Indian media to stop inviting Pakistanis and stated 'Let those Maggots Die in their filth"
An Humble appeal to our national news channels. Plz don't invite any Pakistani or Indian terrorist sympathisers to spew venom against our dear motherland . Those rabid dogs are not allowed in our homes . Let those maggots die in their own filth .

— Paresh Rawal (@SirPareshRawal) February 17, 2019
Janhvi Kapoor Lashes Out at a Pakistani Daily 
Taking to Instagram, the Dhadak actress lashed out at the Nation and called its article on the Pulwama Attacks as 'propagandist' and accused it of celebrating the terror attack.
Navjot Singh Sidhu Sacked from Kapil Sharma Show Post Pulwama attack comments
The Indian-cricketer-turned politician and Indian Punjab cabinet minister, Navjot Singh Siddu is being accused of supporting Pakistan in his statement of Pulwama Attack.
He stated:
"Nations cannot be held responsible for the dastardly acts of terrorists. The terrorists do not have deen, mazhab (sect and religion). There are good, the bad and the ugly. Every institution has them. Every nation has them. The ugly need to be punished. But individuals cannot be blamed for the dastardly act."
His comments created a massive backlash with Indian Twitterati urging to boycott the Singh for his love towards Pakistan.
T-Series Removes Songs by Pakistani Artists from YouTube
Following the attack, the film division of the Maharashtra Navnirman Sena (MNS) political party ordered all music label companies to halt collaboration with Pakistani artists.
Amey Khopkar, head of the MNS Chitrapat Sena stated to the press:
"We have verbally communicated to Indian music companies like T-Series, Sony Music, Venus and Tips Music etc to not work with Pakistani singers. These companies should stop it immediately or we will take action in our own style,
After the warning, T-Series has dropped all songs sung by Atif Aslam, Rahat Fateh Ali Khan from its YouTube Channel. The promotions of these tracks have also been halted from television and radio.
Total Dhamaal Not to Release in Pakistan
The release of Total Dhamaal in India is around the corner. The moviemakers were eyeing Pakistan as a potential market to earn big at the box-office.
However, Ajay Devgan has now announced that his movie will not release in Pakistan.
In light of the current situation the team of Total Dhamaal has decided to not release the film in Pakistan.

— Ajay Devgn (@ajaydevgn) February 18, 2019
Pakistan Super League (PSL)
PSL Coverage Banned in India
D-Sport, the official of PSL in India, has suspended the telecast of the league. Similarly, IMG Reliance has also ceased broadcasting of Pakistan Super League.
Meanwhile, Cricbuzz has banned reporting PSL games and has also deleted all of its previous PSL content.
Responding to IMG Reliance withdrawing the agreement to report  PSL, PCB has issued a statement to express its disappointment over the matter:
"We have been informed by IMG Reliance that they will be unable to partner with us for the remaining HBL PSL 2019 and PCB has reserved all its rights. The PCB always had a contingency plan in place, and we are confident we will be in a position to announce the new partner on Monday after the completion of the formalities,"
Cricket Club Of India Removes Portrait of Pakistani Cricketers
The Punjab Cricket Association (PCA) has removed the photographs of Pakistani cricketers, including Imran Khan, Afridi, Javed Miandad, and Wasim Akram from inside the Mohali stadium.
There were nearly 15 photographs of Pakistani cricket stars inside the stadium including the galleries, long room, reception and 'hall of fame' area. All of the portraits have now been taken down
PCA treasurer Ajay Tyagi told the media:
"As a humble step, the PCA has decided to show its solidarity with the families of martyrs of the Pulwama attack. There is so much anger in the nation against the heinous attack and PCA is no different in this"
Indian Cinema Association bans Pakistani Artists 
The All Indian Cine Workers Association has announced a complete ban on Pakistani actors and artists. Strict action will be taken against films that cast Pakistani artists.
All India Cine Workers Association announce a total ban on Pakistani actors and artists working in the film industry. #PulwamaAttack pic.twitter.com/QpSMUg9r8b

— ANI (@ANI) February 18, 2019
Kamyab Jawan Program in Naya Pakistan to Create 1 Million Jobs
This a developing story. Stay tuned to Brandsynario for more updates.