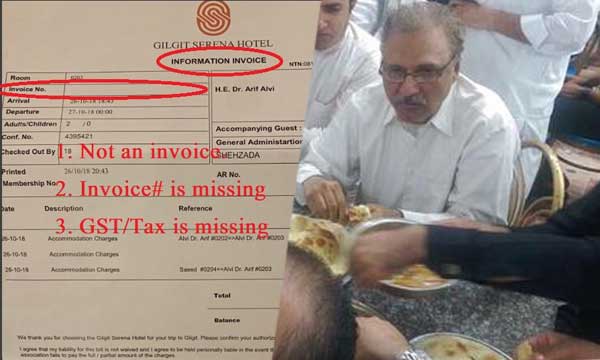 Imran Khan's austerity drive has taken the whole Pakistan by storm. In order to avert the nation's financial crisis and massive budget deficit, ministers and government officials have been ordered not to indulge in lavish spendings.
And even the President of Pakistan must abide by it! 
Yesterday, a shocking news went viral on social media that the President of Pakistan, Dr. Arif Alvi spent a whopping amount on his breakfast during his stay in Skardu.
مشہوردندان سازاسلام آبادائیرپورٹ پراپنی تلاشی کروارہےہیں۔پہلی بات صدرمملکت ریاست کاسربراہ ہےملک کےاندراورملک کےباہرسربراہ مملکت کی تلاشی لیناایک غیرقانونی اورغیرآئینی اقدام ہے۔دوسری بات گلگت جاکرپچاس لاکھ روپےکاناشتہ کرنےکےبعداس ناٹک بازی کاعوام کوکیافائدہ @NdmEhsan #ArifAlvi pic.twitter.com/9jRz5v5etQ

— سید صاحب #TeamKU (@SyedBilalZohaib) October 29, 2018
The sensational report was published by a local newspaper and stated that that the President enjoyed a breakfast worth PKR 50 lakh in Shangrila Resort Hotel and then later flew in a helicopter to Gilgit.
President Arif Alvi Has Something To Say About Jawani Phir Nahi Ani 2
Imran Khan took urgent note of the matter and questioned Dr. Arif Alvi on the extravagant bill.
The President broke silence over the matter and revealed the real story in an exclusive interview with Nadeem Malik on HUM News.
Apparently, the report published in the newspaper misreported the whole incident. Dr. Alvi had paid for the whole breakfast from his own pocket, which was worth PKR 51,500.
The President also made his bills public for the media to condemn the fake news.
PM @ImranKhanPTI asked about the factual position of "5 million breakfast" and President @ArifAlvi showed these bills claiming he paid his family expenses from his own pocket #Pakistan #NadeemMalikLive #PTI pic.twitter.com/bZMKWlrDDI

— Nadeem Malik (@nadeemmalik) October 29, 2018
Dr. Arif Alvi made it clear that Imran Khan micro-manages everything and even the smallest of the news does not evade his eyes.
Meanwhile, Twitterverse was quick to highlight the bill appears to be forged due to multiple mistakes in the bill.
Shared payment pic is not of original bill/invoice! pic.twitter.com/Ao73bD7rGs

— Asif Rehan (@uggi251) October 29, 2018
Imran Khan & Jemima Goldsmith's House in London: Pictures Revealed
Do you think the bill is fake or real? Let us know in the comments below.
Stay tuned to Brandsynario for more updates.