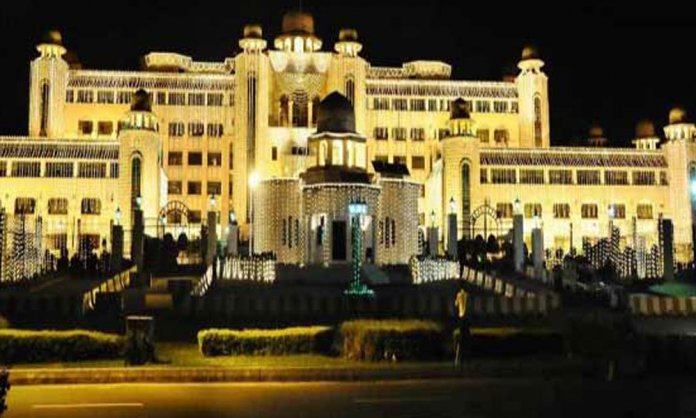 The PTI Chairman & soon-to-be Prime Minister of Pakistan, Imran Khan has announced that he will reside in a smaller & simpler residence rather than staying at the luxurious PM House.
The move is said to save at least Rs.1.85 billion annually and will also send a positive message to the general public about their leader.
Khan, in many interviews, has already indicated that he will also look to avoid VVIP protocol once he assumes office.
The cricketer-turned-politician also stated that he will make sure his ministers also follow principle austerity.
The PM House is located on the main Constitution Avenue in Islamabad, covering 135 acres. The red-brick, heavily guarded building is modelled after the Mughal Era palaces that housed Royalty.
The building features 5 spacious lawns, a fruit orchard, several swimming pools, a banquet hall, media and committee rooms.
Jemima Khan Blasts Ghinwa Bhutto for Attacking Imran Khan & Family
In addition to that, there are 10 servant quarters, residents for security officers, staff, and members of the public, works department and the police.
The security budget of the house is Rs. 980 Million, Rs. 700 Million is allocated for the PM House staff.
A budget of Rs.150 Million is spent on gifts for various guests & dignitaries and Rs.15 million on the renovations and decorations.
However, Imran Khan in his Post-Victory speech made it clear that the PM House will be used to fulfil public purposes such as education and health. The Quaid-e-Azam University, that is spread over 35 acres, can also be set up in the House.
Even though a final verdict is yet to be put forward, Imran Khan's refusal of the PM house indicates that he's bent on keeping true to his promises.
We have yet to see what other wonders will PM Khan do once he officially takes his seat.
Stay tuned to Brandsynario for more news and updates.
Contributed by: Uzair Alavi
Pakistan is on Verge of Becoming One of the Top Oil Producers in the World