Maulana Tariq Jameel has established quite a reputation for himself throughout his years of preaching. A lot of people love listening to his words and it is said that he has a gift. After much time spent, he has even gathered more than 5 million subscribers on YouTube and has recently launched his own clothing brand.
Speaking of Maulana Tariq Jameel, a video of him was released where he was seen meeting his doppelganger. Yes. That is right, he met someone who looked exactly like him. In the video, they stood face to face and one could not tell the difference between the two. That video has just resurfaced.
Read More: PTV Soon To Produce Series On Ghalib & Mughal Emperor Babur
Maulana Tariq Jameel Doppelganger
As you can already see in the video, the resemblance is uncanny. The two personalities can be seen facing each other and even talking. People around them seem quite excited to see how alike they look. It is quite interesting to note that such people can exist for anyone. You could have a doppelganger out there. Who knows, maybe you cross paths with them one day.
Read More: Hamza Ali Abbasi Shares His Views On Four Marriages
What is interesting is that the look-alike even wore similar clothing to Maulana Tariq Jameel. This makes it more difficult to distinguish between the two. The man can be seen wearing the white kurta. As we said, the event is not recent; it took place back in 2019. However, the video of the scholar resurfacing shows just how much mystery there is in this world.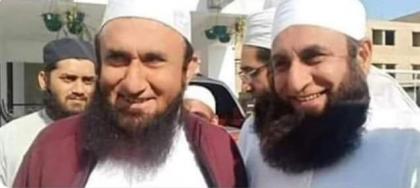 Stay tuned for more from Brandsynario!