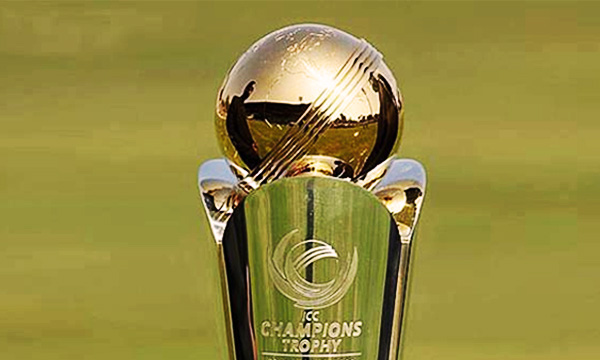 Following the topsy-turvy performances in the World Cup 2015, and the dismal One-Day performance against Bangladesh soon after, coupled with the Bangladeshi team's brave showing against the Indians recently, the Pakistan cricket team finds itself in a precarious position to qualify for the ICC Champions Trophy 2017.
Pakistan, the 9th ranked team, not only relies on its own performances in the upcoming longer limited-overs series against Sri Lanka, but also relies on the performance of Bangladesh, currently the 7th ranked team in the ICC rankings. And with the imminent series against Sri Lanka just around the corner, the Pakistani players will be vying to outperform the Sri Lankan team in its own backyard, all the while hoping that the Bangladesh team fails to shine against the South African team in their own little battle for qualification for the coveted tournament.
Here we look at the possible scenarios of how our Green Army can qualify for the Champions Trophy 2017:
The ICC Champions Trophy 2017 will comprise of the 7 top ranked teams, plus hosts England. Bangladesh is currently ranked 7th in the ICC rankings, with 93 points, whereas Pakistan is ranked 9th with 87 points. As it stands, 8th ranked West Indies, on 88 points, is bound to take the last spot for the tournament.
However, Pakistan could move ahead of the West Indies by one point if it wins the series against Sri Lanka by a margin of 3-2 or better. In case it wins all its matches, Pakistan could move to 94 points, and could drop to as low as 84 points if it fails to register a win.
Bangladesh needs to register only one win to automatically qualify to the tournament. Failing to do so could drop them to 90 points.  Having lost two matches out of three, the Bangladeshi team would be vying to win the remaining game. Bangladesh, West Indies, and Pakistan are separated by only six points. The West Indies, however, are not involved in any series any time soon, which allows the two Asian teams to strengthen their claims for a place in the elite tournament by performing brilliantly in their respective series.
Here is a breakdown of the permutations for the Sri Lanka vs. Pakistan and Bangladesh vs. South Africa series and how their results could affect the two Asian teams' hopes of qualification:
As it stands, Sri Lanka has 106 points and Pakistan has 87 points.
If Pakistan wins 3-2 – Sri Lanka 103 pts, Pakistan 90 pts
If Pakistan wins 4-1 – Sri Lanka 102 pts, Pakistan 92 pts
If Pakistan wins 5-0 – Sri Lanka 100 pts, Pakistan 94 pts
If Sri Lanka wins 5-0 – Sri Lanka 108 pts, Pakistan 84 pts
If Sri Lanka wins 4-1 – Sri Lanka 107 pts, Pakistan 86 pts
If Sri Lanka wins 3-2 – Sri Lanka 105 pts, Pakistan 88 pts
Bangladesh – 93 points vs. South Africa – 112 points.
If South Africa wins 2-1 – Bangladesh 93 pts, South Africa 111 pts
If South Africa wins 3-0 – Bangladesh 90 pts, South Africa 113 pts
As it stands, Bangladesh is in pole position to qualify for the tournament along with the West Indies. Beating Sri Lanka in their own backyard is a difficult task, while winning a series against them is an even steeper mountain to climb.
Our prayers and wishes are with the Green Army to not only beat Sri Lanka, but also emphatically qualify for the ICC Champions Trophy 2017, a tournament they have always played in since its inception!