Elon Musk is venturing into clothing, and people are getting a kick out of it. The billionaire tech entrepreneur is selling short shorts now, and they sold out in minutes too. The red satin Tesla shots sure did surprise everyone, but they were a hit.
The bright red and gold shorts were described to be able to provide "exceptional comfort" on the website. Musk shared the link on his Twitter to nearly 37 million followers, and it sold out in less than 5 minutes. The 'S3XY' on the back are names of Tesla's four vehicles.
Limited edition short shorts now available at https://t.co/5EmNcTBvJv

— Elon Musk (@elonmusk) July 5, 2020
How Did The Twitterati respond
People on Twitter with equal parts were surprised, humored, and excited. While some tweeted about how senseless this was, others jumped at the opportunity to grab them. After all, Musk is a businessman, and he knew how to sell shorts. With bright hues and the promise of comfort, naturally, hundreds were persuaded. There are many speaking about how Musk, once away, robbed the people, but others are too busy joking about it.
The fact your selling clothing now and not making it afordable just shows why noone trusts you or your cars. Do better

— Ned (@Nedsfeed) July 5, 2020
Let's recap for those who are new here:

1. Teala short sellers mounted a viscious disinformation campaign against @elonmusk, worst ever seen

2. Elon won, Tesla stonk goes $180 to $1200

3. Elon puts flaming red short shorts on Tesla store for $69.420

4. Instantly sold out

— Whole Mars (@WholeMarsBlog) July 5, 2020
Took a moment to snap a picture of Jupiter and Mars above the moon. But I'm convinced that If @elonmusk can do the things he does AND market Tesla short shorts for $69.420 haha then there is no doubt in my mind he's taking us to Mars and beyond. 🧑‍🚀☝️ pic.twitter.com/oPKBZ3KyB3

— Hex (@hexadecimalsss) July 6, 2020
What's The Story Behind The Shorts
Tesla did not venture into clothing as an expansion strategy. This was just another one of Musk's unique digs that he took at someone. In the stock market, there are "short sellers" who place bets that a company's share prices will go down. When they go up, they get slammed with losses. Such was the case last week with Tesla's short seller. Tesla crushed his vehicle delivery expectations, which made his stock go to an all-time high. His market cap was brought to well over $200 billion. 
Moreover, the spike led to CEO Musk gain $1.6 billion to his net worth on Thursday. His entire fortune stands at $53.4 billion now, according to Bloomberg. Musk is also the 16th richest person in the world.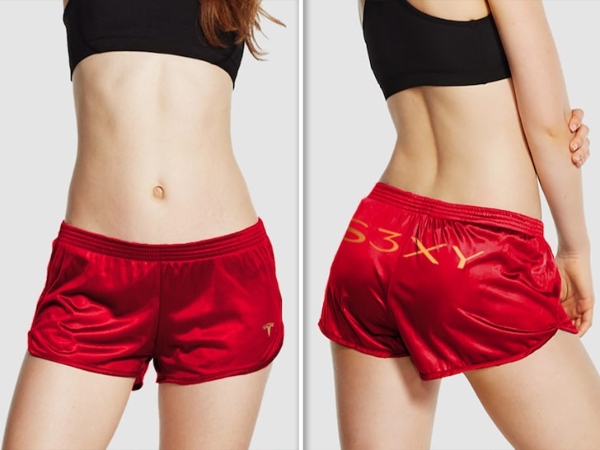 So, in short, the short shorts were a jab at the short-sellers. 
The 420 Joke
The price Musk tweeted also has a backstory to it. He tweeted that the shorts were on sale for "Only $69.420!"
Only $69.420!!

— Elon Musk (@elonmusk) July 5, 2020
This was a direct reference to his tweet in 2017 that landed him in hot waters. In 2017, he tweeted that he was taking Tesla private for $420 a share. Although later, he confessed that it was a pot joke for his girlfriend, he got into trouble. The Securities and Exchange Commission was unhappy with him, and he had to pay heft fines and resign as Chairman.
What do you think about shorts? Let us know in the comments below!
Stay tuned to Brandsynario for the latest news and updates.