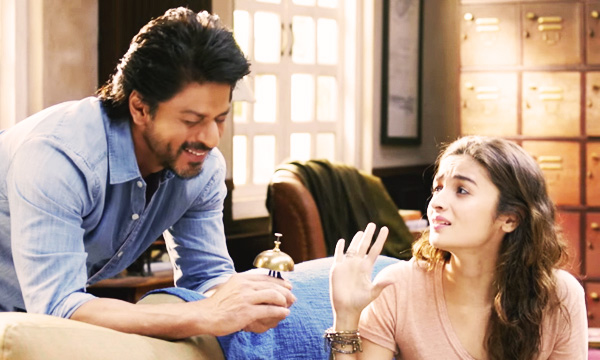 138 views
Dear Zindagi has hit the cinemas all over and is already touching the right chords! Featuring the Bollywood charmer SRK, and the bubbly Alia Bhatt, the movie is a wonderful take on realities and ups & downs of life. Fans cannot stop gushing over how Alia and SRK have won hearts with their overpowering performances and made the watch so relatable & worthwhile.
The odd pairing of SRK & Alia has doubled the excitement and has actually been working wonders for the flick!  Directed by Gauri Shinde, the film has reaped in amazing reviews from the audiences and critics alike!
#DearZindagi has taken very good start at multiplexes all over.. Heading toward a good first day total.. @iamsrk presence a good boost!

— Boxofficedetail (@boxofficedetail) November 25, 2016
Some critics thought the film is a perfect soul searching experience while others had mixed opinions about the slow narration of the movie
Let's read some interesting Critics Reviews here
#DearZindagi is yet another triumph for @aliaa08.
My take – https://t.co/fILs7d0koi pic.twitter.com/g7fF4EVobq

— Anupama Chopra (@anupamachopra) November 25, 2016
#DearZindagi Movie Review: SRK-Alia's chattathon is a party that ends up as a jagrata! https://t.co/FVk3FH7kGu

— pinkvilla (@pinkvilla) November 25, 2016
#DearZindagi Movie Review: An impeccably performed soul stirrer > https://t.co/4tsDA7Tsjp@aliaa08 @iamsrk @RedChilliesEnt pic.twitter.com/0rHhm9LPa0

— glamsham.com (@glamsham) November 25, 2016
Review: #DearZindagi

Rating: 4 stars@radiochatter's quick take: @iamsrk & @aliaa08's performances are career best.https://t.co/ivUa0WAHLt

— Filmfare (@filmfare) November 25, 2016
The hangover of @aliaa08 in @gauris #DearZindagi persists. What an actor! What a performance!proud of @MaheshNBhatt @sonirazdan baby

— Bhawana Somaaya (@bhawanasomaaya) November 24, 2016
#AliaBhatt is an evolving gem with each film and she excels in #DearZindagi but the story and execution faltershttps://t.co/0c7yZ7XXxe

— Bollywood Folks (@BollywoodFolks) November 25, 2016
Celebrities couldn't stop raving about Dear Zindagi!
#DearZindagi is a very touching special film with crucial life lessons that u should not miss ,thank u @gauris for this experience

— Sidharth Malhotra (@S1dharthM) November 24, 2016
It's interval n what a brilliant film #DearZindagi! My salute to Gauri Shinde for making such a superb film. Alia is superb n at her best.

— KRK (@kamaalrkhan) November 25, 2016
Looking forward to get a slice of life with #DearZindagi Very tempting reviews.Congratulations @iamsrk @aliaa08 @karanjohar @RedChilliesEnt pic.twitter.com/XuQRBn8wjH

— Suniel Shetty (@SunielVShetty) November 25, 2016
@iamsrk DEAR
it's CLEAR
every character u WEAR
all confidence no FEAR
celebrate n CHEER
JUG full of BEER 🍻
Ur r d best I SWEAR#DearZindagi

— sonu sood (@SonuSood) November 24, 2016
#DearZindagi I love you! I need a therapist like @iamsrk and I'm so happy @aliaa08 exists… thank you @gauris ❤️😘😘😘

— Aditi Rao Hydari (@aditiraohydari) November 24, 2016
What an amazing experience I had last night watching #DearZindagi. I'm still thinking about it,it's all heart and so pure. @gauris thank u:)

— Sushant Singh Rajput (@itsSSR) November 24, 2016
Until now every girl has wanted u in her life..After watching #DearZindagi ,every girl will NEED u in her life! Ur just wonderful @iamsrk ❤️

— Sophie Choudry (@Sophie_Choudry) November 23, 2016
No matter what the critics say, Twitterati looked more than satisfied with the SRK & Alia starrer and sang praises
#DearZindagi is different, amazing and so realistic. @gauris does it even better a second time around after #EnglishVinglish. A solid 9/10.

— Hussain Moosa (@hashtaghussain) November 25, 2016
First day, first show and I'm the last guy to leave the hall. Love you, Zindagi!! #DearZindagi @iamsrk @aliaa08 @gauris

— Aashay Joshi (@aashayj) November 25, 2016
4.74/5 from me!! Go watch the film guys…. I promise you will watch again! A beautiful film to watch out this weekend "DEAR ZINDAGI DAY"

— Sidharth's Queen👑 (@prissha16) November 25, 2016
Powerful content 💪🏻 and I believe the audience will accept it by heart & take d movie to the next level. HIT DEAR ZINDAGI DAY#thanksgiving pic.twitter.com/42bxxcCfsx

— Manoj Kumar (@Manoj___Kumar) November 25, 2016
Cult classic..Privileged to watch @iamsrk in wht can be said as one of his most mesmerizing performances.Take a bow King 😎 Dear zindagi day pic.twitter.com/pOQIoBrvqh

— Sudeep (@Sudeep9i9) November 25, 2016
Brilliant movie #DearZindagi @aliaa08 your are phenomenal Girl!! @iamsrk is Intense & lovable BD!! Full marks to @gauris

— Mamta Bhatt (@mamtabhatt) November 25, 2016
Fans are desperately craving for a life coach and mentor like SRK!
Don't go to watch this movie to have some fun.. Its a movie to go and get deeper meaning of life <3 Class written all over it! #DearZindagi

— Sahil Jarewal (@YuviSRKDevotee) November 25, 2016
#DearZindagi this fresh morning in a fine sunny day kind movie not failed to impress and inspire.@aliaa08 came long way as an actor.

— Rojin P Joseph (@i_rojin) November 25, 2016
https://twitter.com/KhanAhmadIrfan/status/802122523190169600
https://twitter.com/Joweria_Malik/status/802122494643765248
#DearZindagi – what's there in store – want to feel the life of both & let's break up pic.twitter.com/7Av28XAmRW

— Sandy Loki (@mindfreaksandy) November 25, 2016
According to the reports, the film has got over 50% occupancy in shows earlier today. Based around the character of Alia Bhatt, who did a pretty good job with her role and SRK's extended cameo appearance, the flick definitely seems to be a must-watch!
Stay tuned to Brandsynario for more news & updates on Dear Zindagi.