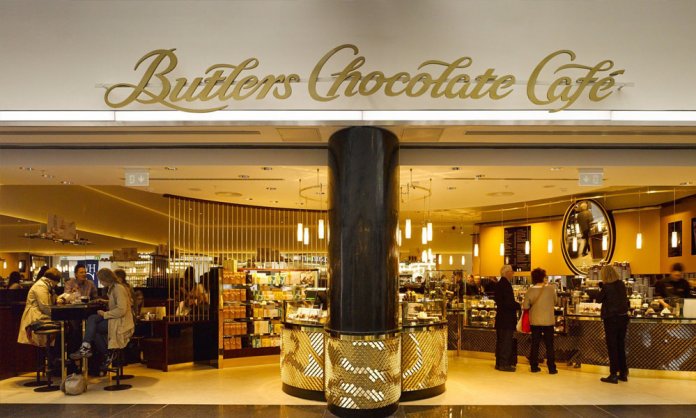 Over the weekend, foodies in Lahore were shocked to hear about their favorite eatery, Butlers Chocolate Cafe severely violating food regulations.
A fan of this cozy cafe went for iftar to the MM Alam road branch of Butlers only to find himself disgusted by the sight of wooden serving trays casually lying on the floor, drying.
Posting about the horror on social media, he stated about the incident:
The post instantly went viral, with thousands of people commenting about the lack of hygiene practiced by their beloved eatery
So it was no surprise that the whole incident caught the attention of the Punjab Food Authority (PFA)  who took action by sealing the cafe shut.
Ever since this whole controversy has been circulating on the internet, everyone has been waiting for the eatery to respond.
And now Butlers Chocolate Cafe has finally decided to break silence on the matter!
The Ireland based eatery with cafes in over 40 countries, decided to open up about not just the incident but also about the news about the cafe being sealed by PFA.
Labeling the PFA reports as "invalid", the management of the cafe clarified in an email to :
"We have been astounded by the invalid reports that have been issued in the last 24 hours. In light of all of these accusations, Butlers Chocolate Cafés would like to acknowledge the concern of customers, to apologize for any distress caused, and to reassure them of the very high standards of hygiene and food safety operated within the Lahore Café"
The email further clarified that the Lahore cafe was open for business as per usual with the full consent and approval of PFA.
Not only that, they took to social media to clarify any misconceptions about the hygiene practice of the cafe.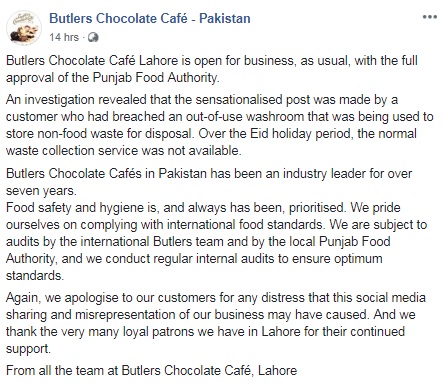 As per the management, an investigation has revealed that the "sensationalized" post on Facebook was made by a customer "who had breached an out-of-use washroom that was being used to store non-food waste for disposal".
Apparently, the customer had used the washroom that was being utilized as a disposal since the normal waste collection service was unavailable over the Eid holidays.
However, people are not satisfied with their statement!
As soon the clarification by Butlers was released on social media, doubts have been raised over PFA's declaration of the cafe being sealed. It also challenges the authority's tall claims of maintaining food quality and taking action against eateries for violating the food regulations.
Butlers Chocolates Corporate Sales and Marketing Executive, Laura Kilcoyne speaking with Pakistan Today revealed that they had met with the food authority, who would soon remove the social media post.
Well, it seems like the whole issue has been sorted – but we are still waiting for an official confirmation with the PFA to confirm the reports by Butlers!
Stay tuned to Brandsynario for more news and updates.