Ahsan Mohsin Ikram and Minal Khan's pictures have become a constant entertainment for trolls. The couple, who recently got married, has been littering social media with their intimate and romantic pictures and netizens just won't have it. There's a place for love and there's a place for the public: while the couple believes social media is the place for both, trolls disagree.
Read more: Here's Why Netizens Are Calling Ahsan Mohsin Ikram A 'Kabab Mein Haddi'
What Are They Being Trolled On?
Ahsan Mohsin recently shared a very intimate picture with Minal Khan on his Instagram profile. The picture seems to be from a shoot of theirs in which both of them are dressed to the nines and made up extravagantly. The picture is Ahsan Mohsin's love letter to Minal Khan and it's about her eyes. Something about big eyes being very beautiful and him falling in love over and over again.
Have a look at the picture:
View this post on Instagram
Minal Khan's Response
Minal Khan's comment has 559 likes and her comment is reciprocating the love. She and her husband both are competing with who can keep loving the other "more and more". What's especially endearing is her evil eye emoji! It's funny because given how many people troll them and want them to stop sharing their pictures, we doubt anyone will give them Nazar!


What Are Others Saying?
Trolls immediately realized they were about to have a field day when this picture was posted. The first contention many people had was: why post this on social media? If you love her eyes so much why not tell her in person provided that they live together. In addition to that, many are just sickly tired of this exaggerated show of love on social media. We get it, you're married!
Read more: Netizens Are All Asking Ahsan Mohsin's Father The Same Question
Have a look at the comments that have been pouring in: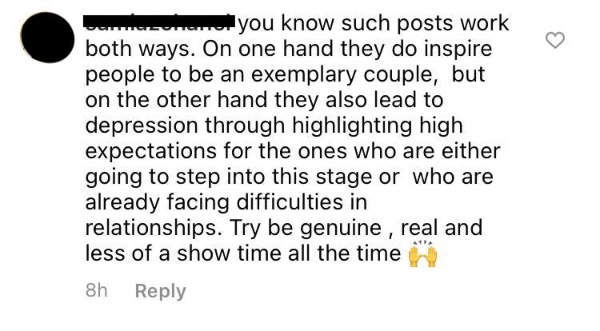 There's more: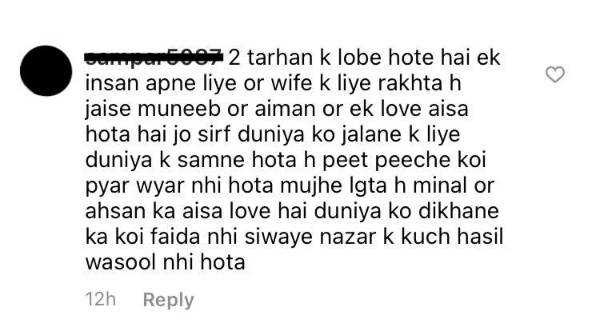 Genuinely Confused
We wish the couple the very best, we really do. However, we're genuinely confused also about many things. Firstly, how do couples respond to each other with such gushy messages on social media when they're probably sitting together behind the screen? Secondly, why would you address this to the other on social media when you can do it in person?
This has become a sad trend in our day and age where we put our hearts on our sleeves for the world to see. If people don't post pictures with their spouses, it is assumed that they don't have a happy marriage. So is Ahsan Mohsin doing it genuinely or is it all a show?
Stay tuned to Brandsynario for the latest news and updates.