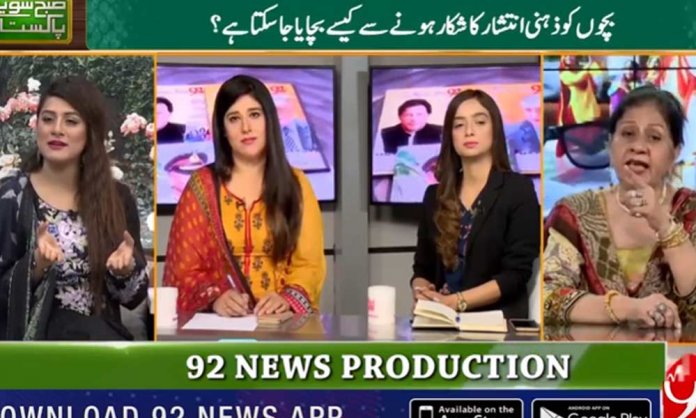 A lot of us are sick and tired of Pakistani morning shows, due to which we have also seen a decline in channels who host them.
However, when morning shows highlight and discuss important issues plaguing the society, they are worth watching.
Subh Savaray Pakistan, a morning show on 92 News channel, recently hosted a discussion on the increasing divorce rate and its impact. 
The discussion began with a psychologist shedding some light on divorce, the reasons behind it, and how the law looks at it. We thought it was going to be a sane discussion until we noticed that Mrs. Khan, who identifies as a Match Maker aka Rishta Aunty, began explaining why divorces happen due to women… and women only.
Here are 5 reasons why, according to Mrs. Khan, a woman should NOT get married:
 1- If You Have a Tongue in Your Mouth:
According to the Rishta Aunty, women's tongues are responsible for divorces. The situation in a marriage worsens when a woman fails to control her tongue.
"Apni zabaan ko ziyada mat istemaal kero, control mein rakho" she suggests. (Don't use your tongue too much and unnecessarily)
So basically a man can raise his voice, his hand at you but the moment YOU retaliate, you're responsible for the damage.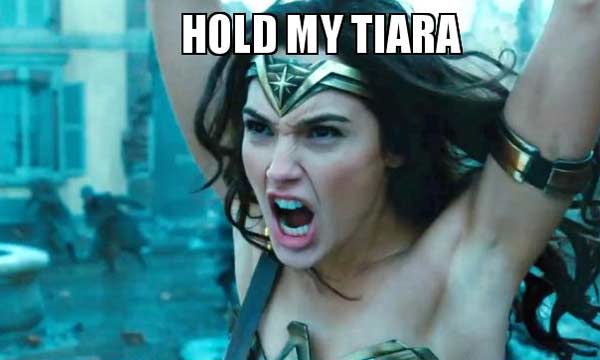 Anyway, if you ask me, if anything needs to be held, it is your crown. Cuz married or not married, girl, you are a queen and you're doing wonders!
2- If You Aren't OK With Unpaid Labor:
Decades ago, female economist Marilyn Waring traveled around the world studying unpaid work done by women. According to her research, if you hired workers at the market rate to do all the unpaid work women do, unpaid work would be the biggest sector of the global economy. And yet we barely count this as work.
Of course, the Rishta Aunty disagrees.
In her DUMBle opinion, if you can't assume the role of a full time maid, cook, laundryman, shoe polisher, with four pairs of arms and legs and a pet robot, "toh shaadi kyun ki thi?!"
For love, companionship, understanding? Silly girl.
Anyway, here is a GIF for you from us:
 3- If You Aren't Ready to Adopt a Child in the Name of Marriage:
While the Rishta Aunty continued with her toxic lecture, the host interrupted saying, "but the girls of today say ke hum kisi ki maasi ya ghulaam thori bann ke ja rahe hain." (we're not marrying to go as servants).
Here is what Mrs. Khan instantly responded with:
"They were also doing all of this at their parents house, were they maids over there? Were their mothers maids for doing all the housework and feeding and cleaning up for them?"
So basically, there is no difference between a mother raising her children and a wife caring for her husband.
By that logic, husbands are babies hence the wife must assume the role of a mother?
4- If You Watch TV:
Yes, you read it right.
When the host said that it cannot always be the woman's fault if a marriage leads to divorce, here is what Mrs. Khan had to say:
It is. In today's age, it is the woman's fault. They watch TV and learn to open their mouth.
What can we say about it? Is there a way to react properly to this?
Here, just look at this random kitten instead, who still makes more sense than Mrs. Khan even without context.
5-  If You're Going to Visit Your Parents House After Marriage:
Correct. You read it right once again.
They took a caller on the phone, who wanted advice on dealing with his wife, because the wife liked visiting her maika (parents house).
Of course, after leaving everything and getting married to a man, how could you think of visiting your parent's house?! Are you nuts?
So yes. Too many reasons to not get married. But then the moment you cross a day over 25,  the same Rishta Aunty will render you too old to get married.
Maybe you should just join Skip the Rishta Aunty and do your own thing.
Watch the full video here:
Have anything to add the story?
Let us know in the comments!
Stay tuned to Brandsynario for more news and updates.