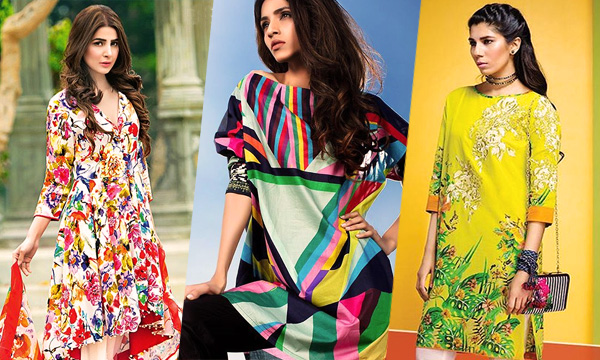 Summer 2016 is just around the corner and the imminent rise in temperature calls for an updated wardrobe. As soon as the warmer season starts, we are bombarded with lawn collections from left, right and center, but there are a few brands that always manage to get their fair share in this lawn extravaganza because of their high quality, unique designs, and affordability.
Here we have rounded up seven best lawn collections that deserve your attention:
Best 3-Piece Lawn Collections:
Gul Ahmed and Nishat Linen
Both Nishat Textiles and Gul Ahmed have been doing three piece suits long before the concepts of tunics existed and still, no one can do a classical and traditional three-piece suit like them.
If you cannot deal with bits & pieces of fabrics and do not have enough patience to rummage around your closet for matching bottoms, then these three piece lawn suits by Gul Ahmed and Nishat are for you.
Nishat Linen's summer collection consists of pieces with abstract prints and floral motifs in vividly bright shades. Most of the dresses in the collection have an urban feel. A wallet-friendly brand, it captures the attention of all fashion-forward women.
Nishat Linen Summer Lawn Collection 2016 Ft. Armeena Rana Khan
On the other hand, the spring/summer collection 2016 by Gul Ahmed is no less than a kaleidoscope of geometric prints, with bright hues that are further accentuated by GA's traditional cuts and designs.
Gul Ahmed Spring/Summer Lawn Collection 2016 Volume 1 Launched!
Best Prêt Wear Lawn Collections:
Sapphire and Beech Tree
If you don't want to go through the hassle of making uncountable trips to your tailor's shop, then you should opt for prêt wear.
Sapphire and Beech Tree are the two brands that we recommend this season, as their prêt collection is simply outstanding. Their tailoring, unique designs and prints are what makes these two brands our favorite.
Sapphire launched its lawn collection on the 29th of Feb, with some eclectic pieces that will let you celebrate your summer season in its true spirit and yes of course, with a lot of class.
Whereas, Beech Tree's 'Romancing the Sun' collection is one of the best collections when it comes to prints and design aesthetics. Overall, the collection depicts thoughtfulness in its designs and everything from its motifs to prints to add-ons such as tassels and laces.
Gul Ahmed 'Digital Dreams- Nautica' Collection 2016 Vol. 2 Launched!
Best Shirts & Tunics Lawn Collection:
Sana Safinaz and Generation
If you are a working woman or a student, chances are that you like to wear single shirts that can be paired with simple bottoms and styled in a number of ways.
Whether you go to work or to classes everyday, this season of scorching heat calls for a wardrobe that keeps you fresh, without compromising on style. The single shirt pieces by famous brands like Sana Safinaz and Generation are chic and affordable too.
Generation's spring collection 'Manjeet Diaries' has flowy and voluminous articles that are perfect to spend your summer days in.
Everything from its captivating deep red color palette to the loose cuts of the dresses, from knee-length shirt to maxi style long dress; every piece of the offering has its own charm as well as look comfortable for the wearer in the season of scorching heat.
If you want to stand out from the crowd and make a statement, then Sana Safinaz is a safe bet for you. The collection comprises eastern tunics and short kurtas with summery vibes that are go-to choices for fashionistas.
Best Lawn Collection Overall:
Khaadi
The colorful tapestry of prints and embroidery is what makes Khaadi's collection unique. As a consumer, what one really finds appealing and convenient at the same time is that you can find your summer-appropriate lawn outfits with a cut and silhouette of your choice.
In their latest summer collection, Khaadi has everything from un-stitched suit pieces to single shirt to lawn tops with western cuts. The basic kurtas in their collection with loose cuts, paired with shalwars are making waves.
Moreover, this is a brand that always delivers, in terms of style and quality to people with different budget levels.
Which lawn brand is your favorite? Let us know in the comments below!
Stay tuned to Brandsynario for more!