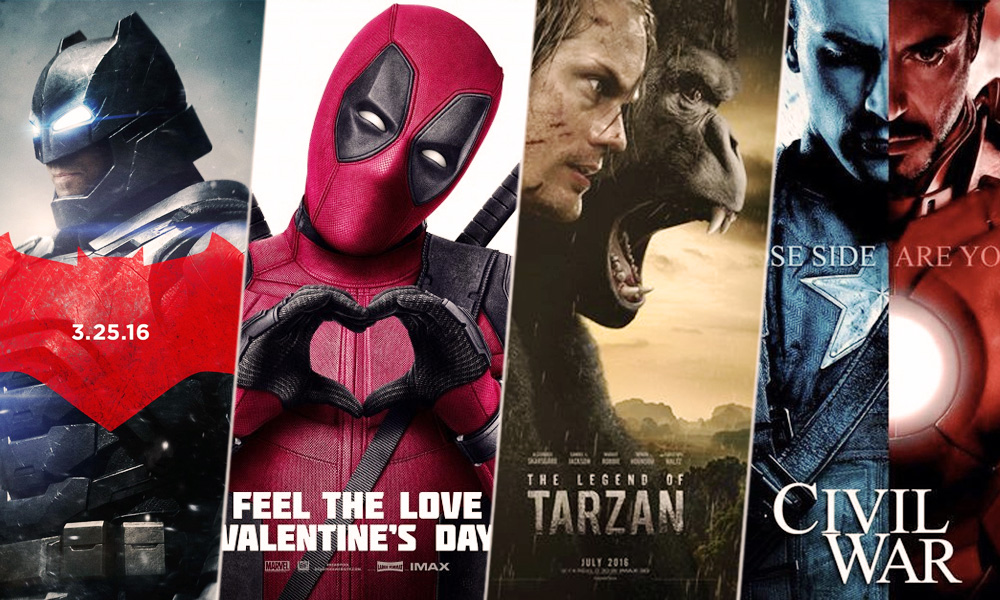 The new year is here and Hollywood seems to have a lot in store for us. If you're itching for some trips to the cinema this year, we can give you ten good reasons to get out of that chair and head on over to the ticket booths. Here are ten Hollywood movies to watch out for in 2016.
Batman v Superman: Dawn of Justice
Zack Snyder's Batman v Superman: Dawn of Justice seems to be setting up the stage for the Justic League, as we see three of our favourite DC superheroes take on the big screen together. The movie features the two caped heroes clashing against each other, as Batman deems the alien Superman a threat to the world. Wonder Woman is also set to cameo prominently in the film, and the trailer promises an action-packed ride full of twists and turns.
Henry Cavill's Superman is joined by Wonder Woman and Batman, played by Gal Godot and Ben Affleck. Newcomer to the franchise, Jesse Eisenberg, stars as the villainous Lex Luthor, while Amy Adams reprises her role as Lois Lane. The release is not far off, with an intial 23rd March release in Sweden and a 25th March premiere in America.
[iframe id="https://www.youtube.com/embed/fis-9Zqu2Ro"]
X-Men: Apocalypse
The mutants are making another comeback, and this time it features a whole new line-up of old and adored characters from the comics and the previous films. Professor Xavier, Magneto, and Mystique return to the screen, with Magneto taking a walk down the path of evil yet again – whether it's by choice or not will be clear in the film. Stars Wars: The Force Awakens star Oscar Isaac is featured as the main villain, Apocalypse, who will certainly be living up to his name in the movie.
Bryan Singer returns as director of X-Men: Apocalypse, and it stars James McAvoy, Michael Fassbender, Jennifer Lawrence, Nicholas Hoult, Rose Byrne and Evan Peters from the prior films. Newcomers Sophie Turner, Tye Sheridan, Lana Donfor and Kodi Smit-McPhee are joining the star-studded cast as exciting new additions to the team of mutants. The movie is set to release on May 27, 2016.
[iframe id="https://www.youtube.com/embed/COvnHv42T-A"]
Suicide Squad
The DC universe is adding yet another film to their roster, and all-villain ensemble primarily featuring the Joker, Harley Quinn, Deadshot, Boomerang, El Diablo and Killer Croc. The ultimate gang of anti-heroes, the super-villains take on a secret government mission that is likely to result in their deaths, and wreak a lot of havoc and mayhem along the way.
The cast is a promising one with established actors and newcomers alike. Will Smith stars as Deadshot, Jared Leto as The Joker, and Margot Robbie as Harley Quinn. 'The Killing' star Joel Kinnaman is Rick Flag, the military man in charge of the team of vicious villains. The movie is directed by David Ayer and also stars Viola Davis, Cara Delevingne, Adam Beach, Ike Barinholtz, Adewale Akinnuoye-Agbaje and Scott Eastwood. The movie premieres in the fall, on August 5th, 2016.
[iframe id="https://www.youtube.com/embed/WI3hecGO_04″]
Pakistani Movies Releasing in 2016: Complete List, Trailers & Details
Deadpool
Easily one of the most-anticipated comic book hero movies, Deadpool stars the perfectly inappropriate Ryan Reynolds as the X-men/Marvel universe's favourite dark-humoured antihero. The Tim Miller movie explores the origins of the character and his transformation into the disfigured masked mercenary.
The movie's trailer and early screenings have turned out exceedingly positive reactions, and promises to be a rather different take on the quintessential superhero movie – mainly because of Deadpool's tendency to break the fourth wall and speak to his audience on the regular. The movie also stars Morena Baccarin, Brianna Hildebrand, T.J. Miller and Leslie Uggams. Good news is that the movie is releasing this month, on the 12th of February, 2016.
[iframe id="https://www.youtube.com/embed/9vN6DHB6bJc"]
Zoolander 2
No one was expecting it when Ben Stiller and Owen Wilson walked down a Valentino runway during Paris Fashion Week 2015 and announced the return of Zoolander. But here we have it, a sequel after 15 years since the release of Zoolander in 2001. Ben Stiller stars as the ridiculously dim but talented model Zoolander, teaming up with Owen Wilson's Hansel, previously a rival, to save the beautiful people of the world.
Directed by Stiller himself, the sequel has a lot to live up to in terms of the hilarity of the first movie, and here's hoping it delivers. It also features Penelope Cruz, Kristen Wiig and Benedict Cumberbatch (in drag, no less!). Cameos from the likes of Justin Bieber are also promised, as part of the 'beautiful people' that are being plotted against. The movie is releasing 10th February, 2016, and will leave you with a trove of insightful words to live by, like: "She's hot. I trust her."
[iframe id="https://www.youtube.com/embed/4CL4LNWHegk"]
The Legend of Tarzan
Who doesn't want to see their childhood cartoons turned into sinister looking movies that get down to the nitty gritty of it all? Harry Potter director and producer David Yates stands at the forefront of this re-telling of Tarzan's story, and that too in 3-D. Rather than a regurgitation of the initial tale, the movie follows Tarzan after he has been acclimatized to life in civilized London, and is headed back to the jungle on an investigation into mining camps situated there. Naturally, things are not what they seem, and we get to see Tarzan in action, jumping from tree to tree and flashing his abs to the wilderness.
The movie stars former True Blood actor Alexander Skarsgard as Tarzan, with Margot Robbie as Jane. It also features Christoph Waltz and Samuel L. Jackson in prominent roles, with a release set for 1st July, 2016. If the trailer is any indication, then we can be expecting to see a much more realistic and dark take on our favourite childhood king of the jungle.
[iframe id="https://www.youtube.com/embed/dWpnh5a5wac"]
Fantastic Beasts and Where To Find Them
Potter fans all over the world breathed a collective sigh of relief at the realization that the world of magic wasn't completely gone from their lives. Fantastic Beasts and Where To Find Them is about a completely different character in the Harry Potter world and at a whole different point in time. Eddie Redmayne stars as Newt Scamander, a briefly-mentioned wizard from the Harry Potter books who goes out in search of unusual and rare magical species. The movie is directed by David Yates, who also directed the last four Harry Potter films.
Fantasic Beasts and Where To Find Them is also Harry Potter author J.K. Rowling's first foray into screenwriting. Alongside Eddie Redmayne, the movie stars Exra Miller, Katherine Waterson and Colin Farrell, and explores the magical world of Harry Potter beyond the confines of the U.K. The movie releases November 18, 2016.
[iframe id="https://www.youtube.com/embed/w5Qf_Bt2PE0″]
13 Unbelievable Hollywood VFX Scenes: Before And After Pictures
The BFG
A Steven Spielberg movie, the BFG is a Disney adaptation of the popular novel of the same name by Roald Dahl. It tells the story of a young orphan girl in London, Sophie, and a strange but friendly giant who opens up a whole new world for her. The cast is comprised of Ruby Barnhill as Sophie and Mark Rylance as the titular character the Big Friendly Giant.
Other members of the cast include comedian Bill Hader, Jemaine Clement, Michael David Adamthwaite, Danel Bacon, Chris Gibbs and Adam Godley to name a few. The movie is set for a release on 1st July of this year.
[iframe id="https://www.youtube.com/embed/M4OhRV7fxg4″]
Ghostbusters
If the oncoming book and comic adaptations don't float your boat, then there's also the reboot of the 1984 Ghostbusters movie to get you going to cinemas in 2016. But this reboot comes with a delightful twist – it features an all-female cast as the primary ghostbusting characters, a refreshing spin on an old tale.
The ghost chasing team stars Melissa McCarthy, Kristen Wiig, Leslie Jones, an Kate McKinnon. Directed by Paul Feig, it also includes 'Thor' actor Chris Hemsworth, Michael Kenneth Williams, and Cecily Strong in the ensemble cast. The movie will be premiering on 15th July, 2016.
Captain America: Civil War
In the flurry of comic book movies the much-awaited third part of the Captain America movies is the super-charged Marvel superhero film of 2016. This time it's not just about the star spangled super soldier, but some of the Avengers ensemble are going to be in on the action as well. We see hero against hero in Captain America: Civil War, with Captain America and Iron Man going head to head.
The co-directing brothers Anthony and Joe Russo who also directed the critically acclaimed Captain America: Winter Soldier are in charge yet again, and will also be heading the Avengers' sequel projects. Chris Evans and Sebastian Stan return as Captain America and the Winter Soldier – better known as Bucky Barnes, Captain America's brainwashed best friend.
[iframe id="https://www.youtube.com/embed/1L3c17AmCZw"]
Also starring is Scarlett Johansson, Robert Downey Jr., Anthony Mackie, Jeremy Renner, Don Cheadle, Elizabeth Olsen, and Paul Rudd. New superheroes join the fray as well, including Chadwick Boseman as Black Panther and Tom Holland as Spider-Man. The film is scheduled for an April 29, 2016 release.
Which one is your favorite? Let us know in the comments below.
Stay tuned to Brandsynario for more updates.