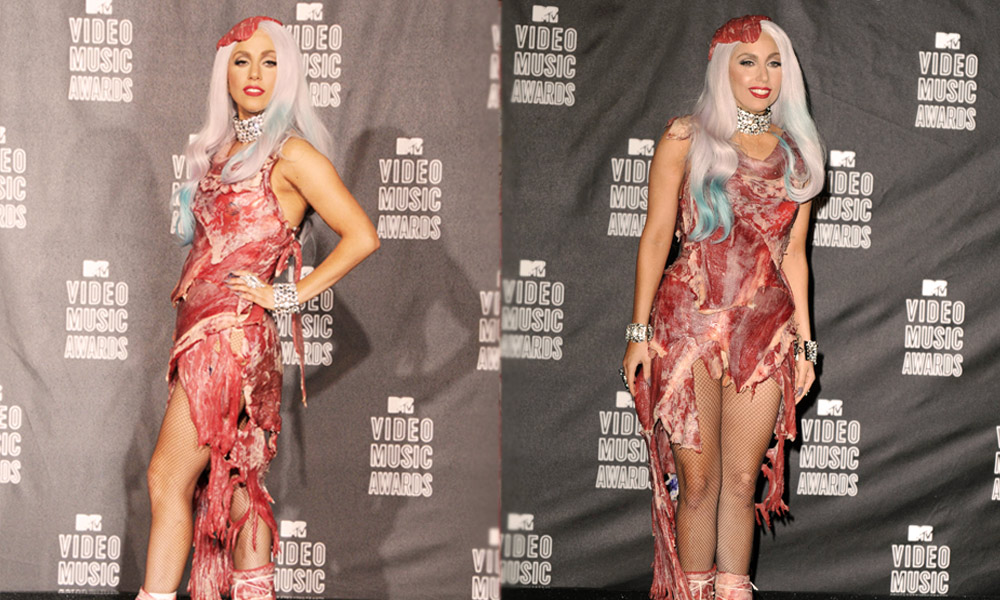 From meat to flashlights, sensors and nothing at all – Hollywood has been a cozy home to all sorts of costume experiments for decades now; but what makes some dresses stand out and become a topic of household conversation than others? It's always the controversy linked to them.
We decided to chart some of the most talked about (definitely not in a good sense) dresses of all time. While some caused the internet meltdown of a century the others became the reason for presidential downfalls.
Check out the list below!
Blue and Black Dress
         
The infamous dress that confused the world was posted online by a befuddled girl and immediately went viral. Some saw black and blue and some saw white and gold. The internet was in pandemonium. "Is anything real?" the internet asked. People started questioning whether the colour was just a figment of their imagination. How else to explain how some saw black and blue and others white and gold?
When the original poster revealed that the dress was, in fact, actually black and blue, "team black and blue" rejoiced while those who saw the opposite were left scratching their heads. While a number of theories and explanations have sprung up since then and the hype has died down, it remains mostly a mystery. For the sake of sanity, it's been collectively chalked up to a trick of the light or really good photoshop by most parties.
Monica Lewinsky's Dress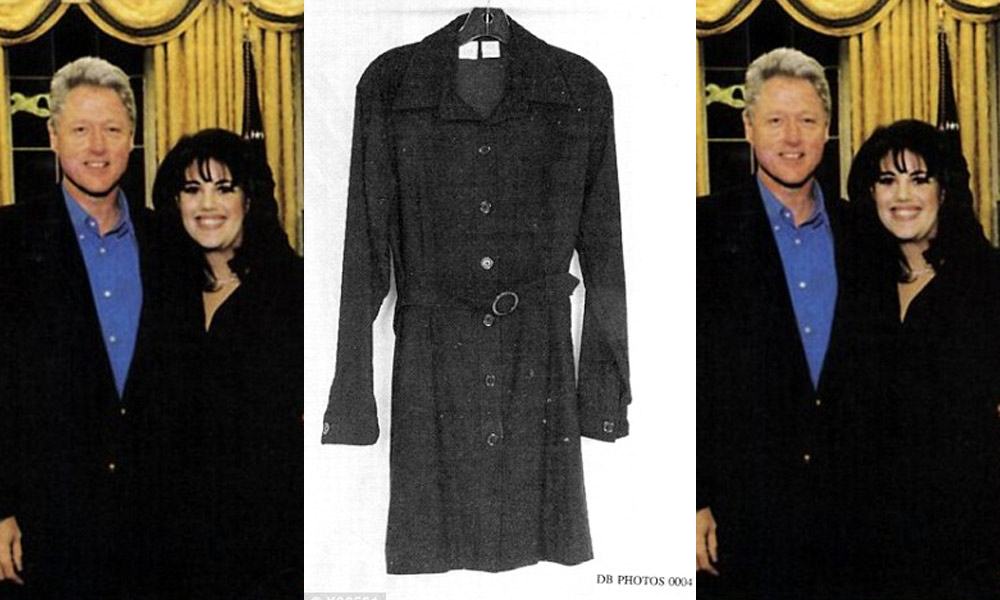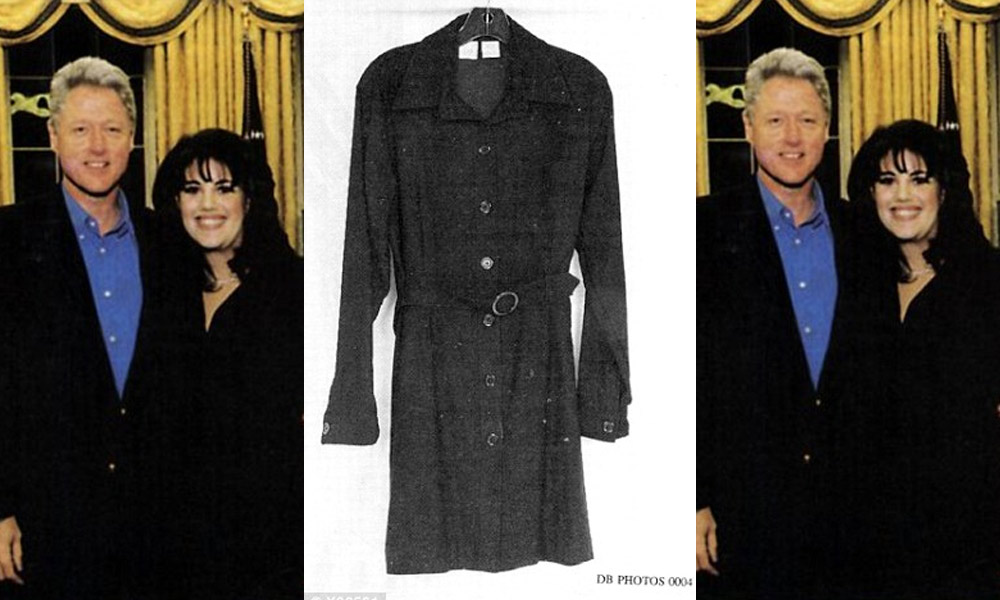 While it's not much to look at – and downright unattractive by today's standards – this blue dress was in the eye of the storm of a major controversy in 1995. This was the year America's then president Bill Clinton was caught in the act of having an illicit affair with a White House intern.
On this dress, owned by the intern Monica Lewinsky, DNA evidence was found on the tawdry affair and it soon became an iconic part of the controversy.
Lady Gaga's Meat Dress
It should be no surprise that Lady Gaga is on this list. Her infamous meat dress at the 2010 MTC Music Video Awards was the talk of the town and remains to be a significant point in her career. The dress was designed by Franc Fernandez and was entirely made of raw beef – including her hat, purse, and boots. It was named by Time as the top fashion statement of 2010 and is preserved and displayed at the Rock and Roll House of Fame. According to Gaga, it stood as a statement about the need for everyone to fight for what they believe in.
However, animal rights activists have been very outspoken about the violation of animal rights the dress displayed.
Bjork's Swan Dress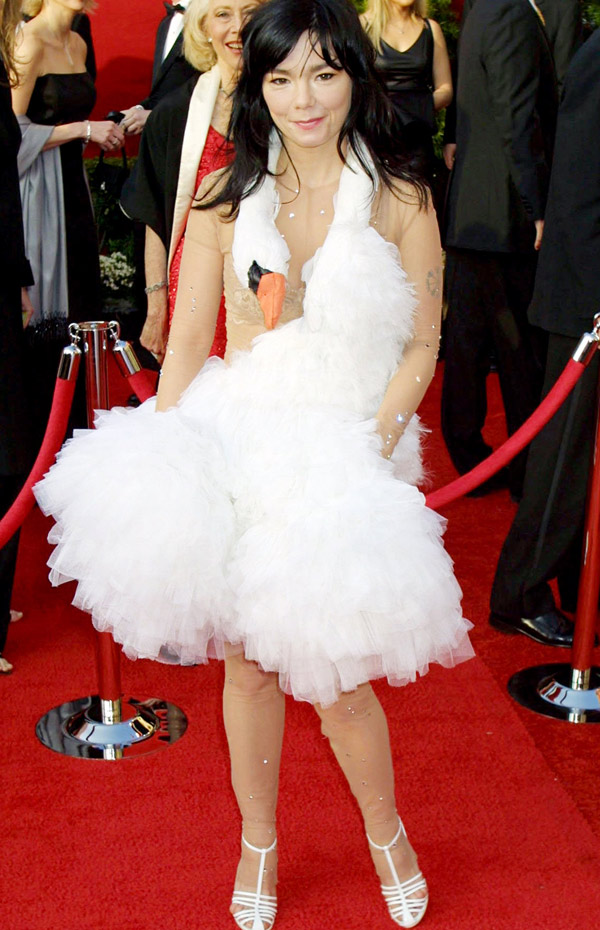 Björk a popular Icelandic artist, made waves when she wore what became known as the 'swan dress' to the Academy Awards in 2001. Björk was already known for her quirky and unusual antics, but this was the icing on the cake. Not only did she essentially wear a fake swan around her body, but she also mimicked laying an egg on the red carpet.
She was no swan princess, however, as the dress became a popular punch line and was subject to a lot of mocking for years after the event.
Katy Perry's Sunflower Dress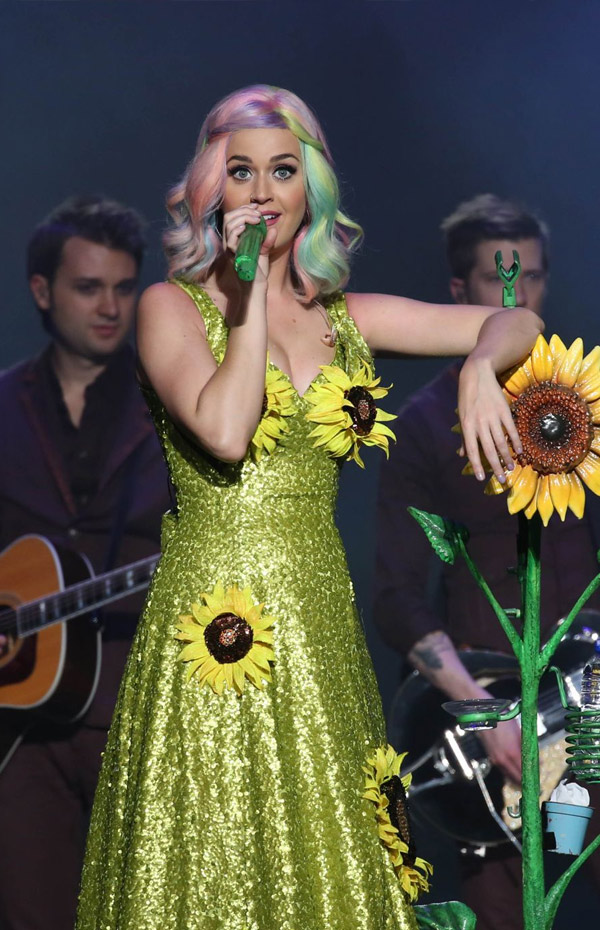 Who knew sunflowers could be problematic? Earlier this year, Katy Perry wore an over the top sunflower dress during her world tour in Taiwan and found herself smack-dab in the middle of China-Taiwan political controversy. Given the fact that she'd accessorized her dress with a Taiwanese flag cape, China took it as a personal affront, stemming from a long-standing rivalry with Taiwan.
Jennifer Lopez's Revealing Gown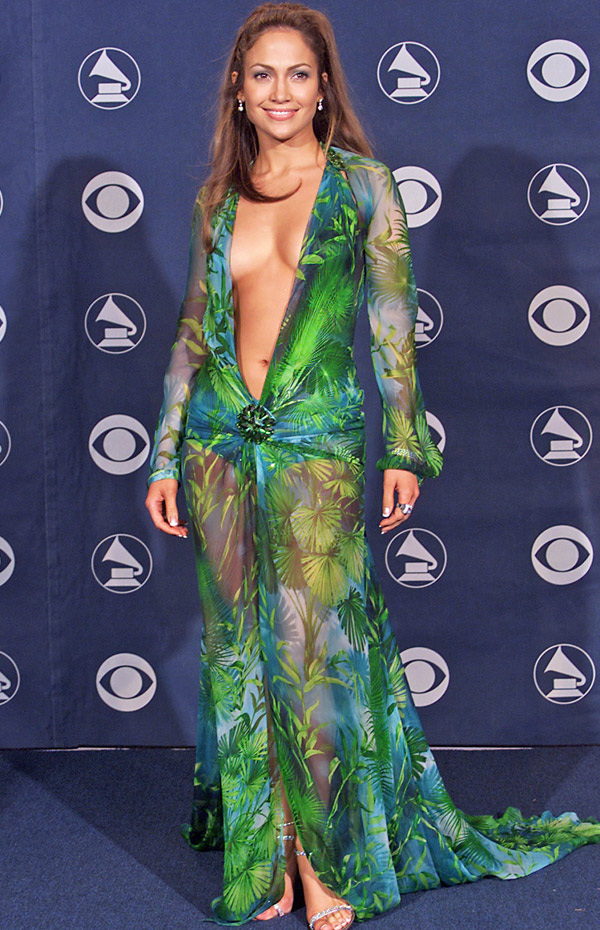 At the 2000 Grammy Awards, Jennifer Lopez stole the show and turned heads all over the world in a see-through palm-printed gown with a severely plunging neckline. The dress was a Versace and revealed much more than it covered, held together by a single sparkling brooch. She became the talk of the entertainment industry, some calling it a cheap tactic while most overwhelmingly called her bold.
With a figure like that, most were extremely appreciative of the sheer gown. It was not until later that it was revealed that the birth of Google Image Search was a direct result of the world's fascination with J. Lo's inspiring fashion choice. Google's Executive Chairman stated, "At the time, it was the most popular search query we had ever seen. But we had no surefire way of getting users exactly what they wanted: J­Lo wearing that dress. Google Image Search was born."
British girls' Twin Towers Costume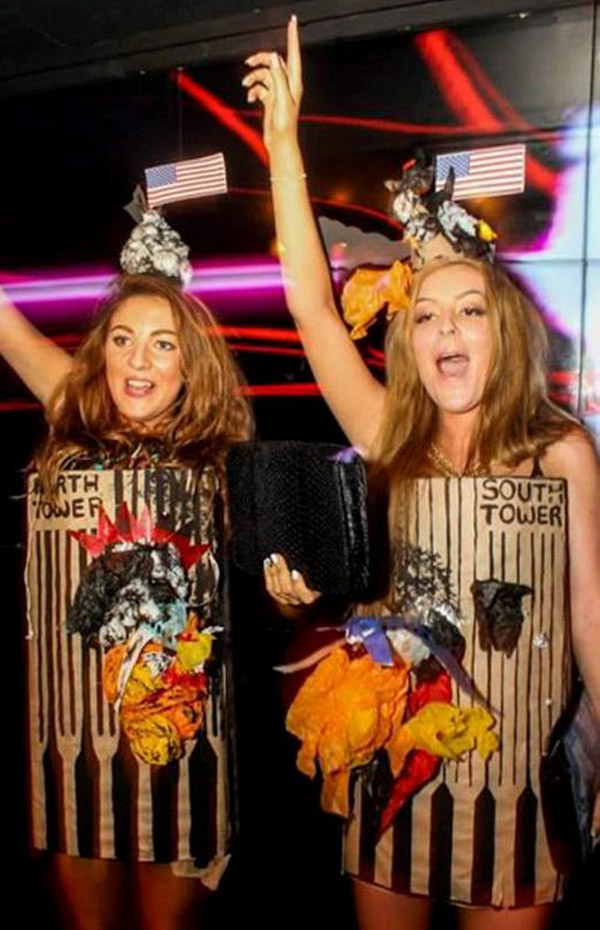 Families of those who lost loved ones due to the ill-fated 9/11 attacks were thrown into a rage in 2013 when two British girls entered and won a fancy dress competition wearing Twin Towers outfits.
The two girls, Amber Langford and Annie Collinge, were dressed as the World Trade Center, complete with displays of the towers on fire and victims jumping off.
The act itself was highly unsavoury, but to top it off, they won a £150 prize for the costume at a Halloween night at a club. After facing an excessive amount of criticism and disgust expressed towards them, the pair made a statement: "We never meant to be offensive, but we apologise if any offence was caused. The idea was to depict a modern-day horror that happened in our lifetime and was not intended as a joke."
M.I.A's Polka Dot Dress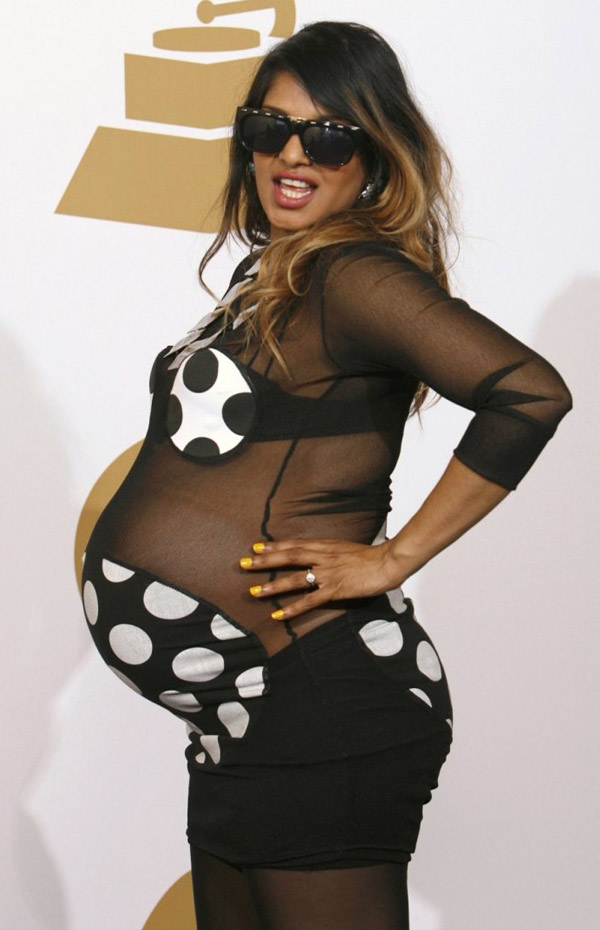 The general population's attitude towards pregnancy and pregnant women has never been very open-minded. So it was no surprise that when controversial singer M.I.A. showed up to the Grammy's earlier this year in this ensemble, it became a hot topic and subject to a lot of ridicule. M.I.A. was highly unconcerned, however, and defiantly showed off her heavily pregnant body in the figure-hugging and semi-sheer dress.
Lizzy Gardiner's American Express Gold Dress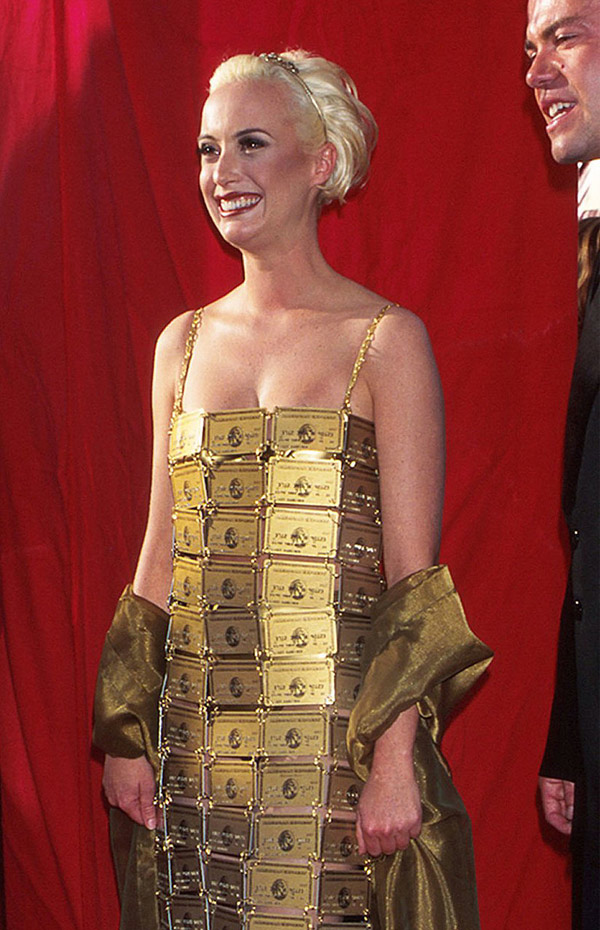 An Australian Costume Designer, Lizzy Gardiner, showed off her natural talent in an American Express Gold Dress on the red carpet. She wore it to the Academy Awards in 1995, showing that her eccentricity was way ahead of its time.
The dress was made out of 254 American Express credit cards attached together. All the cards were genuine but expired. It naturally became subject to a lot of mockings and is popularly named as one of the worst Oscar Dresses of all time, most notably by Cosmopolitan and Time Magazine.
Ironically enough, the designer left the 1995 Academy Awards with an Oscar for Best Costume Design.
Rihanna's Sheer Semi-Nude Gown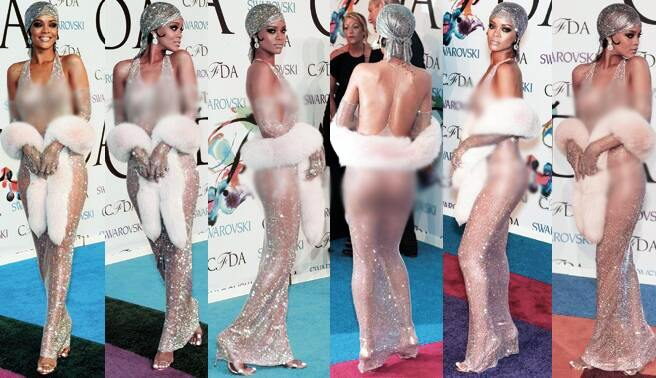 Rihanna made waves when she donned an entirely see-through dress covered with expensive crystals at the Council of Fashion Designers of America Awards in June 2014. It was an Adam Selman dress and was made a sparkling wonder by the 216,000 Swarovski crystals attached to it. Rihanna has always been unapologetically herself, and always fought to boldly express herself in the way she wants to.
The almost-naked dress faced a lot of outcries about decency and modesty, with viewers left scandalized. However, this was just another day in the life of Rihanna, and she walked the red carpet like a queen looking down on her lowly subjects.
Have anything to add to the story? Tell us in the comments below!