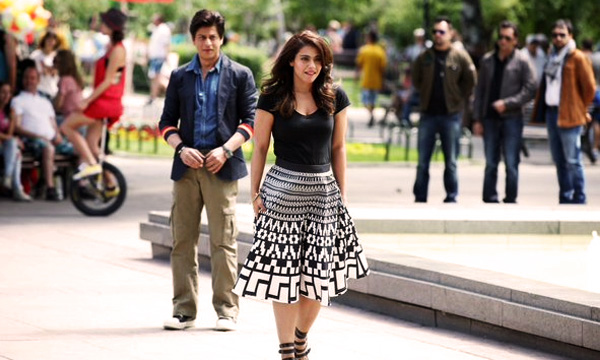 The gangster look of Rohit Shetty's film "Dilwale" is out and it's dazzling. The movie is the personification of eternal romance in the Bollywood. The whole team mustered on the red carpet at the launch of the 1st trailer of the movie where Kajol encountered an Oops moment.
The trailer of the much-awaited film Dilwale was out on November 9 on Monday at a Multiplex in Mumbai. During the promotion, Kajol slipped her balance and tumbled off as soon as Shah Rukh Khan made his entry on the stage.
Fortunately, the day was saved by Varun Dhawan, who held her firmly until she regained her balance. After the incident, Kajol was seen laughing at herself.
Talking about the movie, SRK said:
"Dilwale is based on two time zones. I do have an angry young man look. But my anger is limited to Wankhede. Not like Amitabh Bachchan from the 80s. Rohit wanted me to be macho, so yes, I have worked on my body."
SRK revealing comments about Rohit Shetty, the director of the film said that:
"Rohit Shetty's Dilwale has elements of an international film. However, he said, they have also incorporated comedy to keep the whole family entertained. He said the credit goes to Rohit."
On the other hand, Kajol revealed that her daughter Nysa convinced her to do this film.
Dilwale is a romantic action film directed by Rohit Shetty and produced by Gauri Khan and Shetty under the banner of Red Chillies Entertainment and Rohit Shetty Productions. The film stars SRK, Kajol, Varun Dhawan and Kriti Sanon in lead roles.
The film is all set to be released on December 18 with Sanjay Leela Bhansali's crowning film Bajirao Mastani starring Deepika Padukone, Ranveer Singh and Priyanka Chopra.
Let's have a look at the pictures from the sets of Dilwale and the trailer launch:
Image Source:
Facebook Page of Dilwale
Twitter Page of Dilwale
Google
Let's hope and wish that the film Dilwale gains as much as popularity as DDLJ!