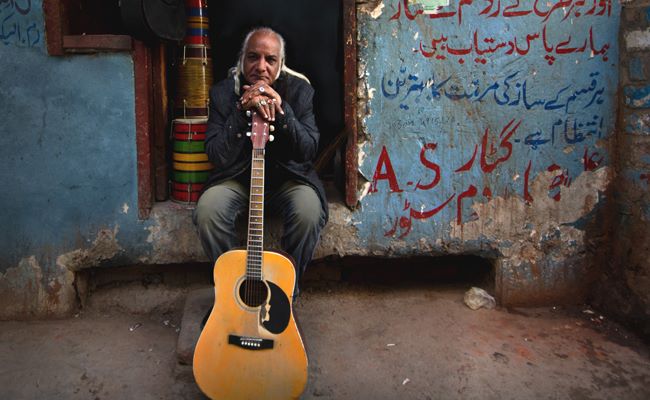 The  musical documentary 'Song of Lahore' portrays the journey of  a Pakistani music band, Sachal Studios from Lahore to New York for their unique and outstanding talent in music.
Directed by Sharmeen Obaid-Chinoy and Andy Schocken, this documentary aims to give birth to the talent and love for music that once existed in Pakistan's center of art Lahore, now almost dead due to the hustle and bustle of the metro-city and other dire factors like Islamization, ethnic divisions, war and corruption.
Take a look at the official trailer of the documentary below.
[fb_embed_post href="https://www.facebook.com/SongofLahore/videos/vb.1591465381067975/1671708143043698/?type=2&theater"/]
'Song of Lahore' is an attempt by the Oscar-winner to expose the phenomenal  musical talent existing in Lahore, The Sachal Studios. The music group  came to the realization back in 2004 that Punjab's largest metropolis has lost its identity as the hub of traditional music. In order to bring back the love for sitar and tabla, Izzat Majeed gathered some master musicians under the name of Sachal Studios. He eventually convinced them to pick their instruments yet again in order to write history in the city which has now forgotten its musical roots.
Read more: Manto Movie to be Screened at Harvard, Yale & Columbia University
After some work behind the veils, the band came out of the dark for its experimental album which became famous for its melodious fusion of Jazz and South Asian instruments. The rendition of Dave Brubeck's Take Five became a sensation and reaped them an invitation by Wynton Marsalis to perform at the Lincoln Centre, New York.
The musicians took their masterpiece out on the stage after a week of ground-breaking efforts. However, despite their global fame, Sachal Studios still needs to capture the attention of the virtual world in Pakistan. The symphony band is now faced with a grave task; to renew and rejuvenate an art that has faded  in Pakistan's cultural scene.
Already the documentary has been screened in various cities around the world and was also be presented at the Tribeca Film Festival.
[fb_embed_post href="https://www.facebook.com/SongofLahore/photos/a.1592833297597850.1073741827.1591465381067975/1671650443049468/?type=3&theater/" width="550″/]
It will hit the theaters in New York and Los Angeles on November 13th, 2015.