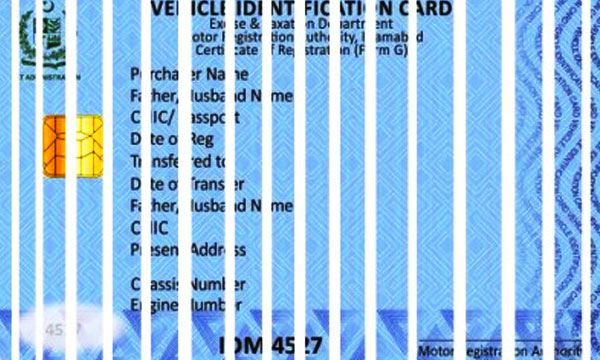 Excise and Taxation Department has started issuing chip-based Smart Vehicle Registration Cards (VRCs) in Pakistan which is creating convenience for both vehicle owners and law enforcement agencies. This new system of Smart VRCs was announced in January and has been developed in collaboration National Database and Registration Authority (NADRA).
The Smart VRCs are developed on the same pattern as of Smart CNICs, embedded with SIM module like chips. Essential details of vehicles like Registration Number & Chassis Number and its owner's identification (Name / Father Name / CNICs) are stated on these cards.
The embedded chip stores other important info about both vehicle and its owner and above all, these smart cards secure your stored data from tampering and any unauthorized access.
Smart VRCs are being issued at Rs. 1450 in both conditions; new issuance or conversion of old cards to this innovative method as per users' request.
This Vehicle Registration Cards (VRC) system not only prevents the use of stolen vehicles with fake registration papers but also if a card owner loses its card, it will be immediately blocked on user's complaint to avoid any misuse of it.
The idea of this smart VRC system was given was put forward by Deputy Commissioner Islamabad Capt.(r) Mushtaq Ahmed and Director Excise and Taxation Noman Yousuf and it was scheduled to be launched in May but got delayed till October.
Currently, the Excise and Taxation Department has listed 850,000 vehicles.