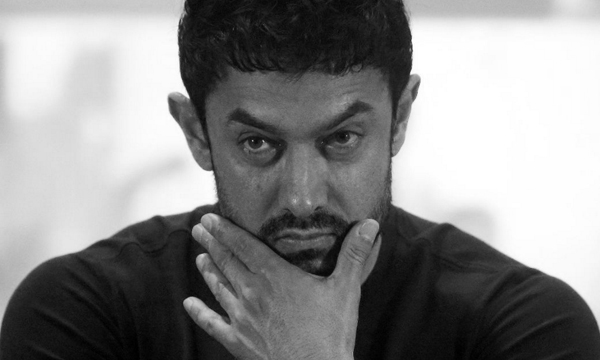 India's extremist party, Shiv Sena has announced a reward of 1 lakh rupees for anyone who slaps Bollywood actor Aamir Khan. The bounty offered is 1 lakh rupees per slap.
The announcement was made by Rajeev Tandon, Punjab chairman, Shiv Sena during a protest outside Aamir Khan's hotel in Ludhiana. "Any person who slaps Aamir Khan would be rewarded Rs 1 lakh by our organization. This is important because no one living in our country should dare to say anything against India," he said.
Aamir Khan Is Trying to Tarnish India's Image: Indian Govt
Giving opportunity to the hotel management, staff and his movie crew, Tandon said: "Anyone from the hotel staff to the crew can slap him and take the reward." Mr. Perfectionist was in Ludhiana for shooting his upcoming film, Dangal.
The announcement was made as a reaction to Aamir Khan's statement on growing intolerance in India. The actor while addressing the eighth edition of the Ramnath Goenka Excellence in Journalism Awards expressed his concerns over the rising incidents of intolerance in India during the last six to eight months.
Aamir Khan Trolled & Thrashed By Indian Media!
Speaking about his despondency, he said that a sense of 'insecurity' and 'fear' had seeped deep within society. "When I go home and talk to Kiran (Aamir's wife), for the first time she says, 'Should we move out of India?'" the actor had said.
His remarks drew huge criticism from Indian politicians, celebrities and fans. People took to Twitter to condemn his statements. However, the actor tweeted that he is proud to be an Indian, but he stands by what he has said.
— Aamir Khan (@aamir_khan) November 25, 2015
Angry Shive Sena workers used derogatory language for the superstar and burnt his photographs. They blocked the road outside the hotel, affecting the flow of traffic and raised slogans against the actor.
Aamir Khan & SRK Should Be Charged for Treason: Hindu Extremist Party
Luckily, Mr. Khan was not in the hotel when the violent mob gathered outside and protested against him. Manav Inder Singh Guram, manager, marketing and communications, MBD Group, told The Indian Express, "We have complete coordination with the police and they are being updated on the situation. The hotel employees have also been told to remain extra vigilant to avoid any suspicious person reaching near Aamir's room. The actor was not in the hotel when the protest took place. The number of police personnel at the hotel has been increased from four to eight."
Rupinder Kaur Saran, Ludhiana assistant commissioner of Police (ACP) said that police has made all necessary arrangements to provide security to the actor.