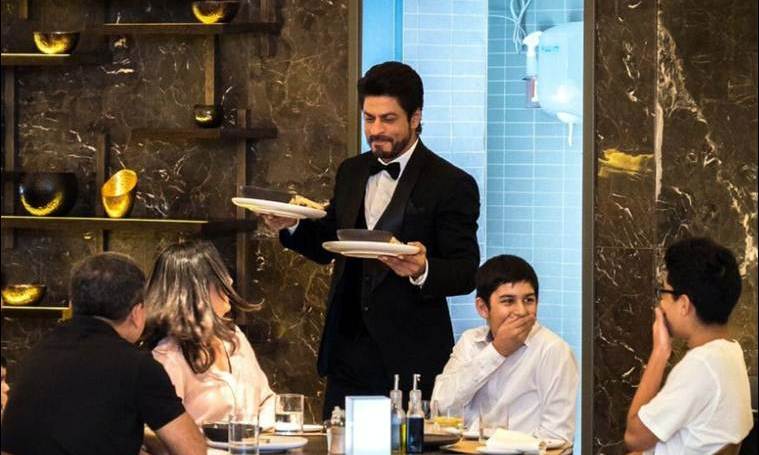 We doesn't' love the ultimate Bollywood Badshah, Shah Rukh Khan?  With his fans scattered all around the world, SRK is adored by people from all works of life.  Now just imagine the shock of his devotees, when he invited them to be his guest in the grand city of Dubai!
Apparently, the Indian actor featured in yet another film, however, this one is more documentary-based. This time, Khan didn't turn Romeo but disguised himself as a tour guide, surprising his fans and taking them around Dubai.
https://www.instagram.com/p/BN8Cahrg1K-/?tagged=bemyguest
Khan collaborated with the Department of Tourism and Commerce Marketing (DTCM) to release the #BeMyGuest short film on Dec 12. The 3 minute trailer of the film shows Khan surprising his fans at many of the hotspots around Dubai.
Watch the short clip for yourself here!
The star first takes on Skydive Dubai, meeting a group of fans and proceeding to dive off the plane himself. He is seen jogging along Kite Beach and even partakse in a volleyball match whilst many of his fans take pictures of him.
Afterwards, SRK prepares a meal at a fancy restaurant and then serves as a waiter for his devotees. The final scene shows SRK striding along the famous monument, Dubai Fountain. He finishes off the video with the words, "Be my guest."
"Dubai offers endless experiences that stay with you forever. Whatever you want to do — an adrenaline-fueled adventure like skydiving or a desert safari or a delicious culinary experience of tantalizing flavors — and whether you're travelling with family, friends or as a couple, this city truly offers a complete holiday experience," told Shah Rukh Khan about the endeavor.
Enjoyed the cooking the flying the beach & just jogging…https://t.co/74dkPjLeGk

— Shah Rukh Khan (@iamsrk) December 10, 2016
" It's been great fun working with Dubai Tourism and rediscovering this inspiring city in a whole new way. I can't wait to be back and live the Dubai magic again," Khan stated.
Undoubtedly, Dubai is one of the largest tourist destinations, filled to the brim with attractions for everyone to see. Atlantis, Dubai Mall, Burj Khalifa, Ski Dubai, are just to name a few. In order to generate even more tourists to the city, DTCM has taken a step in the right direction with their collaboration with King Khan.
Issam Kazim, the CEO of Dubai Corporation for Tourism and Commerce Marketing (DCTCM) commented on the collaboration saying, "Shah Rukh Khan truly represents the beautiful relationship that Dubai and India share. Our continuous dialogue and strong history with India supports projects like these that celebrate and strengthen this union."
 As soon as the short film hit the internet, SRK's fans went crazy after watching their hero's personal invitation to Dubai
Read their reactions here!
Those reactions were PRICELESS. Only @iamsrk can make it happen. I want to be surprised like that by this man. <3 #BeMyGuest

— The Potpourri Girl (@TaariniNB) December 12, 2016
With the @bollywoodparks and @visitdubai #BeMyGuest campaign…@iamsrk I am sold😍I want to go next year – but only as ur guest. What say? 😬😂

— Samina✨ (@SRKsSamina) December 12, 2016
Dear @iamsrk 🌷 I guess You forgot to do this.. This one is for You and DXB 🌹😘🌹 #bemyguest #dubai… https://t.co/hiLeQ9F6xm

— Tâlhâ Khân (@TheRobKhan) December 12, 2016
What an amazing commercial by Dubai for there New Year campaign, totally loved it. #Bemyguest

— Shahzeb Ali Khan (@shahzebalikhan9) December 12, 2016
Seems like Dubai did it perfect by roping in SRK!
Stay tuned to Brandsynario for more updates.