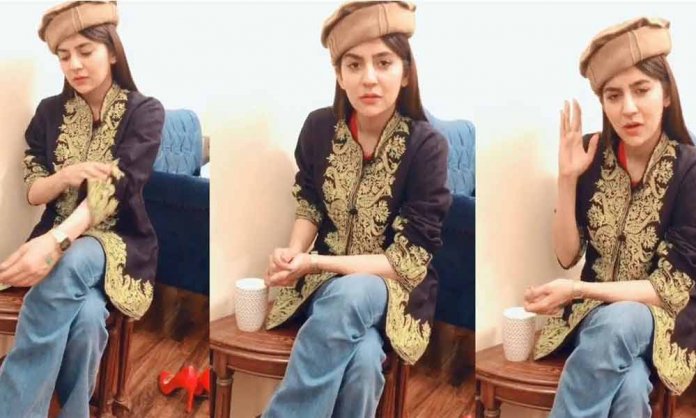 TikTok video of popular Dastaan Actress and morning show superwoman, Sanam Baloch, imitating Pakistan Railway Minister, Sheikh Rasheed is making rounds on social media.
With more than a billion downloads, TikTok emerged as one of the most popular smartphone apps of 2018.
Danish Taimoor Spills the Beans About Bollywood's Offer to Work with Kareena Kapoor
The TikTok obsession has been real to the point of addiction.
With over 749 k followers and 2.3 million hearts, the fair-skinned, wide-eyed beauty Sanam Baloch's Tik Tok account has also gained quite a lot of popularity since the day she joined it.
Watch the full video below.
The video of Sanam lip-syncing the Urdu couplet is trending on the app with 14.2k likes and 1.3k comments.
Sheikh Rasheed, popular for his inclination towards literature, had recited this Agha Hashar Kashmiri couplet during an interview.
Here is the video of his recital of the couplet:
Here is the full ghazal:
Ghair Ki Baaton Ka Akhir Aitebaar Aa Hi Gaya
Meri Jaanib Se Tere Dil Me Ghubar Aa Hi Gaya
Jaanta Tha Bewafa Khaa Raha Hai Jhooti Qasam
Aey Sitamagar Tu Nahi Aaya to Kya hum Mar Gaye
Chand Din Tarpey Magar Aakhir Qarar Aa Hi Gaya
Poochny Waalo'n se Go Maine Chupaya Dil ka Haal
Phir Bhi Tera Naam Lab Per Eik baar Aa Hi Gaya
Ji Main Tha Aey Hashar Us Se Ab Na Bolengey Kabhi
Bewafa Jab Samnay Aaya To Pyar Aa Hi Gaya…………
Pepsi Black: Five Bold New Faces to Represent the Next Generation
Which one of the bold artists do you think did more justice to the poetry?
Let us know in the comments below!
Stay tuned to Brandsynario for more updates and news.