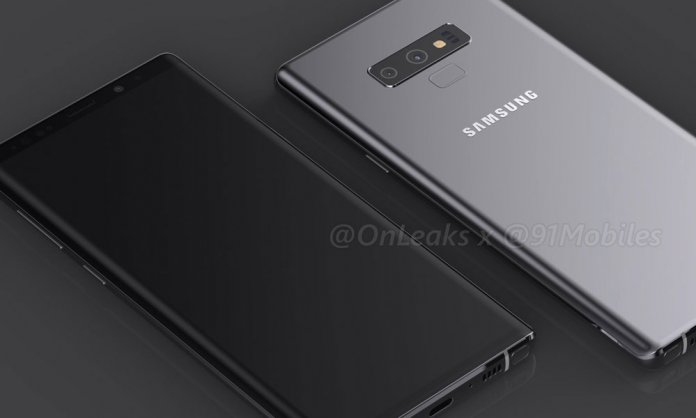 New video and images, claimed to be factory leaks, along with speculations, are starting to offer a picture of what to expect from the Samsung Galaxy Note 9, believed to be set for an August reveal. So far, the exterior appears to be a clone of the Galaxy Note 8, while tech fans are analyzing the clues to figure out what will be found under the hood….
A set of 3D renders of what is supposedly the new model were published Thursday on 91mobiles, along with a 360-degree video, confirming Bloomberg's report that the Note 9 "will look similar to last year's model." Almost a month ago noted leakster @UniverseIce tweeted two images of devices side by side, one being the likely version that will be unveiled, a Note 8 lookalike, the other a slightly wider version with less top and bottom bezel captioned "Samsung can achieve this design…But still gives us such a design" (on the lookalike model). The poster hypothesized that such a similar design "may be to save manufacturing costs." Another tweet projected that if "lucky, you will see 8GB RAM and 512GB ROM Galaxy Note 9."
The dimensions of the upcoming model are thought to be 161.9 x 76.3 x 8.8 mm, "around 6.3-inches", which means it's slightly shorter, wider, and thicker than the Note 8," as reported by 91mobile, who have partnered with @OnLeaks, another industry tipster, to glean "concrete info about the Note 9."
The Note 9 might arrive with a slightly thinner bezel, Infinity Display and supposedly the same buttons and ports as seen before: volume and power buttons on the left, dedicated Bixby button on the right. Users not ready to lose their wired headphones will be happy to see that the 3.5mm jack port is likely to stay on the base, alongside the microphone, USB Type C port, speaker, and silo for the ejectable S Pen.
The back is where the design seems to have been reworked. Note 9 may have its fingerprint scanner below the camera module, which suggests that there won't be an under-display fingerprint scanner.
As for other expected specs, nothing has been confirmed although multiple tech blogs are expecting the device to be powered by the latest Samsung Exynos 9810 or upgraded Qualcomm Snapdragon 845 SoC, depending upon the region. As for the cameras, chances are that the Galaxy S9 will lend its latest rear-camera setup to the Note 9, offering better low-light performance and the ability to record slow-motion video at up to 960 frames per second (at 720p resolution).
Unless more puzzle pieces are leaked in the next coming weeks, to see the full list of specs Samsung fans will probably have to wait until August 9, the date tipped by Bloomberg as the unveiling.