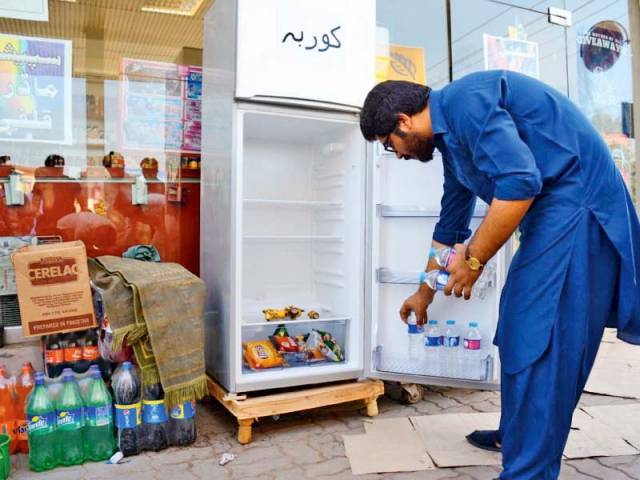 Students of Peshawar have come up with an incredible idea to express compassion for the less fortunate. After the success of Wall of Kindness and Happiness Box, students of various universities in Peshawar have installed a refrigerator stocked with fruits and beverages for the laborers who cannot afford a cool drink to beat the heat.
The refrigerator is installed on the premises of a CNG station opposite the Islamia College, Peshawar building.
While dishing out the details of the initiative, Hasher Mehsood who leads the team told the Express Tribune that they have installed the refrigerator on humanitarian grounds to provide relief to the daily wage laborers who work in scorching heat without fans or air conditioners.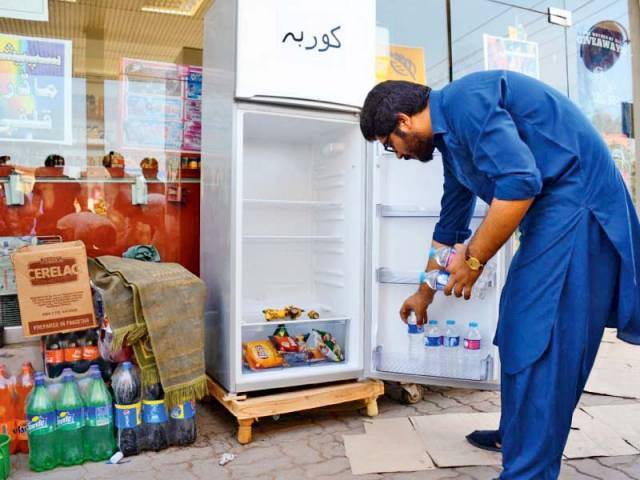 He added that the fridge is purchased from charity collected from well-to-do people and they have plans to install more of them at busy places where workers wait for customers.
"The fridge cost Rs. 35, 000 for which three people have donated," Mehsood says.
The team visits people in the city for fundraising to make sure the fridge remains stocked every day. He added that the station's owner has assured to provide a power line for it and that his security guards will keep an eye on the fridge.
Laborers of the area lauded the efforts of youngsters and are very happy with the initiative. The students appeal the public and affluent families to donate generously for the cause.
Stay tuned to Brandsynario for more updates.