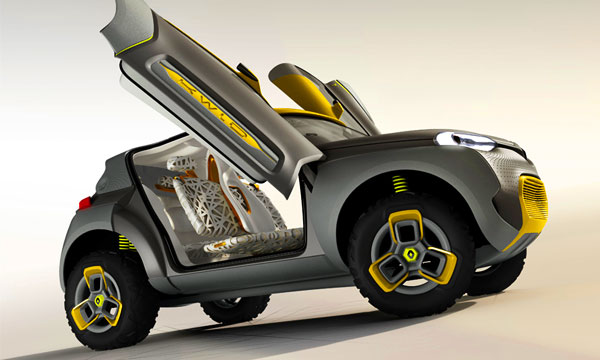 Renault, a French multinational automobile manufacturer has announced a concept car that boasts its own drone.
The 'KWID concept' has a built-in drone quadcopter which helps in checking out the traffic up ahead from the comfort of the driver's seat.
At the Delhi auto show, this mind-blowing piece of technology amazed everyone.  The flying companion can be operated in two different modes- the automatic mode with the help of pre-programmed flying sequence and the GPS coordinates that can control the copter with the help of the tablet inside the vehicle.
Also see: Defikopter- Life-Saving Drones
The flying companion serves multiple purposes including scouting traffic, taking landscape pictures and detecting obstacles on the road ahead. The quadcopter can inform you about forthcoming obstacles, show you images of what's ahead on the road, helps you in gauging the traffic and can also video you as you drive- isn't this amazing?
Inspired by a bird's nest, the design and seating arrangement for this concept car are a bit different too. Three people can be accommodated in the front seat with the driver sitting in the middle- yes that's something new to us.
In terms of features and specifications, it has a 1.2 Litre engine, with a dual-clutch gearbox.  It is also said that Renault hinted that KWID will have an electric motor, but it didn't put more light on it.
Right now KWID is just a concept with an uncertainty whether we'll be able to see it hit the road. Designed for the Indian masses, this incredible technology is
Designed for the Indian masses, this incredible technology is devised to attract young customers and develop their interest in Renault. Standing just 3.6m long, this tiny concept car is also Z.E ready  that will receive batteries for electric use and can be charged  easily  with the plug behind the main Renault logo in front.
Other features include a front bench seat which is operated electrically; electric opening doors and LED lighting. The vertically-mounted TFT touchscreen display acts as the dashboard and also provides access to connected services.
Will you be the one to have this incredibly awesome car that has its own drone?  Share your thoughts in the comments below