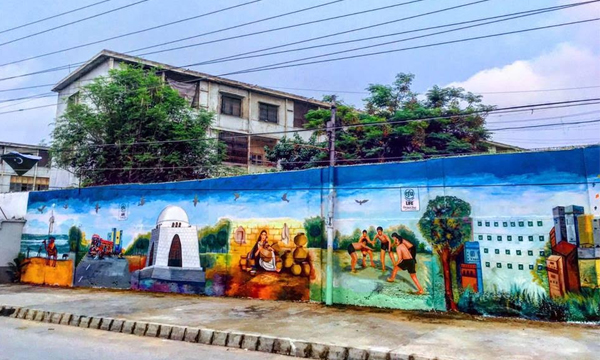 Abdoz Arts, a visionary initiative aims at beautifying the city of Karachi by painting ugly chalk infested walls with artwork. Art enthusiasts and activists (mostly students) have in their own way tried to play a role in revamping city walls in public spaces creatively. This group of art & social enthusiasts took inspiration for their name from the famous Yellow Submarine.
A visionary initiative that was set up 2 years back, Abdoz Arts was started by a group of three friends, with a simple thought: If the walls seem so negative with hateful chalking, what would be the impact if painted with thematic artworks?
Appealing to passerby's, the ideology of Abdoz Arts is to bring the art gallery to the masses. Beautifying the city, the group aims to repaint Pakistan with vibrant street art in a novel initiative.
Abdoz Arts has carried numerous CSR activities of brands aiming to bring back the lost color of Pakistan.
Recently, EFU Life Assurance Ltd. experimented and broke through the clutter to patron street art for a large scale project that was unveiled this Independence Day.
The event was perhaps the first of its kind, with a 2000 and 3000 square feet of public space painted in a span of 3 weeks. The event took place at two locations, Shahrah- e- Faisal and Stadium Road. Prior to the initiative, the spaces were marked with abusive wall chalking then replaced with initial white wash followed by murals depicting Pakistani culture and heritage.
The event named "Meri Shaan Mera Pakistan"provided a great opportunity for the young artists to exhibit their skills to those passing by. The wall was inaugurated by the commissioner Karachi along with hundreds of EFU Life employees. It is good to see brands playing a positive role in enhancing the aesthetics of the city rather than polluting it with billboards.
Contributed by: Hunzala Rajput