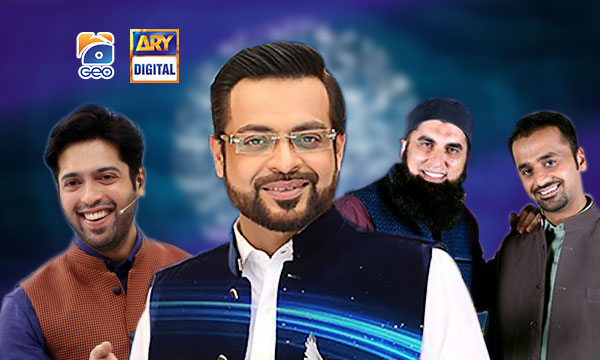 Ramazan is generally considered a time for self-reflection and self-restraint, but nowadays, it's also the month where TV channels go all out providing you with a range of Ramazan transmissions to choose from. TV channels seem to be in an endless rat race for better ratings, but even more so in Ramazan, when the pressure to be bigger and better is more than ever.
All TV channels have now upped their game by doing the most bizzare things on post iftar transmissions entertaining with lavish game shows topped with popular celebrities to reap in all the ratings that they can! 
Below are the Ramazan ratings for the top 6 Pakistani channels for the first two weeks of Ramazan :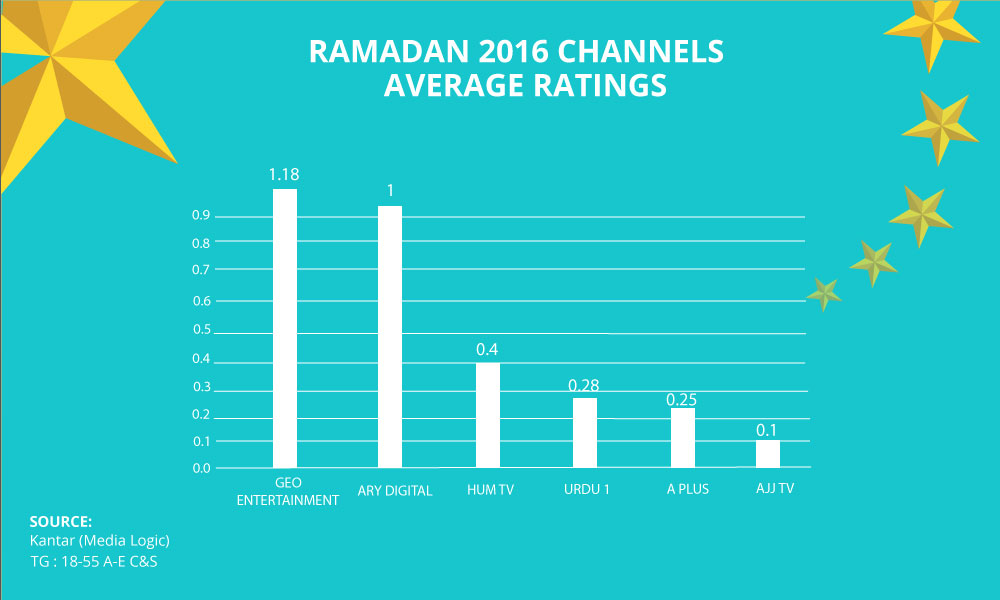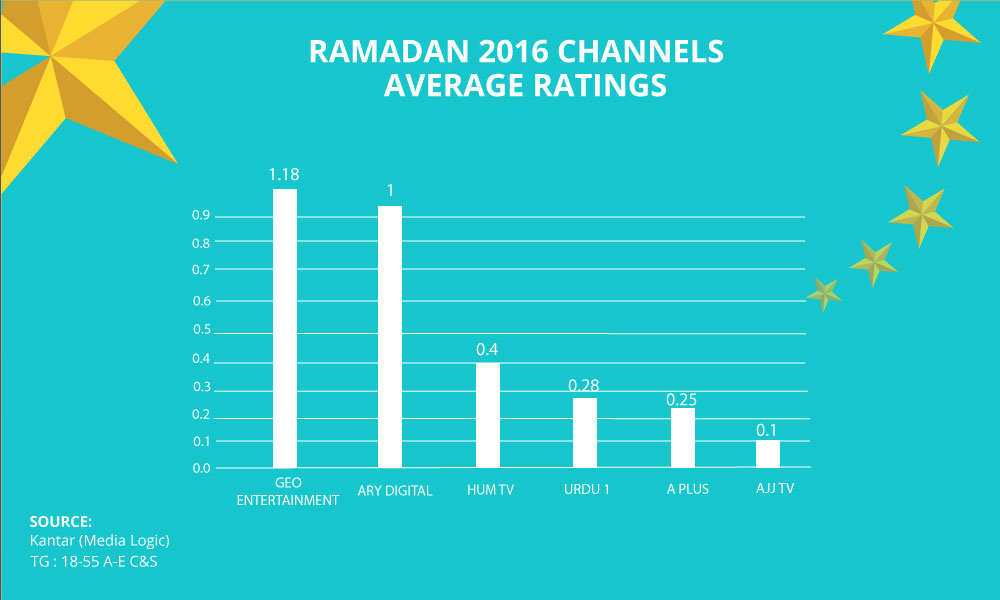 According to the ratings provided by Kantar (Media Logic) GEO Entertainment has come out on top for the first 2 weeks of Ramazan, with a viewership of 1.18, literally seeming to go off the charts; this is closely followed by ARY Digital. As compared to the top two channels, the next in line, HUM TV is a huge drop at a rating point of 0.4.
URDU 1, A PLUS, and AaJ TV follow closely behind HUM TV, with average TRPs of 0.28, 0.25 and 0.1 respectively; but there is still a huge disparity as compared to GEO Entertainment and ARY Digital.
10 Things to Expect from All Pakistani Ramadan Shows this Year
It seems that the Sehri as well as Iftaar Transmissions aired by GEO Entertainment namely Pak Ramazan hosted by leading televangelist Amir Liaquat and ARY Digital's Shan-e-Ramazan are largely popular as compared to those aired by other channels.
The obvious disparity in ratings as compared to other channels however, seem to be due to the very popular post Ramazan shows Inaam Ghar hosted by Amir Liaquat again, and Jeeto Pakistan hosted by Fahad Mustafa, aired by GEO Entertainment and ARY Digital respectively.
Even individually, GEO Entertainment is doing rather well in regards to the TRPs of the Sehri and Iftaar transmission- with a TRP of 0.87 Sehri Transmission and 1.52 for Iftaar transmission, the channel is soaring high. ARY Digital falls behind with 0.53 TRP for Sehri and 0.94 TRP for Iftaar transmission.
HUM TV has a plethora of shows airing currently, like Khuwab Saraye, Dharkan, and Dil-e-Bay Qarar, which is keeping its ratings up as compared to the other ones.
URDU 1 is currently airing it's sehri and iftaar transmissions as well, and Diya aur Bati Hum is also proving to be of interest to viewers. A PLUS is also keeping viewers interested with post-Iftaar Ramazan transmission hosted by Maya Khan and Waqar Zaka; other shows such as Intezaar and Choti Bahu also keep the audiences hooked. 
http://www.brandsynario.com/jeeto-pakistan-schedule-registration-process/
Observing the difference in the ratings of Inaam Ghar and Jeeto Pakistan, Jeeto Pakistan with a TRP of 3.80 is faring somewhat better than Inaam Ghar, with a TRP of 3.57.
Apparently, Amir Liaquat with his "Inaam Ghar" has not been able to compete against Fahad Mustafa and accounts in the post Iftaar game show series.  He is still not the best entertainer – Inaam Ghar has a slightly lower rating when compared with Fahad Mustafa in Jeeto Pakistan.
They are continuously introducing new and even more ridiculous stunts and segments to keep ratings up, and maintain the popularity.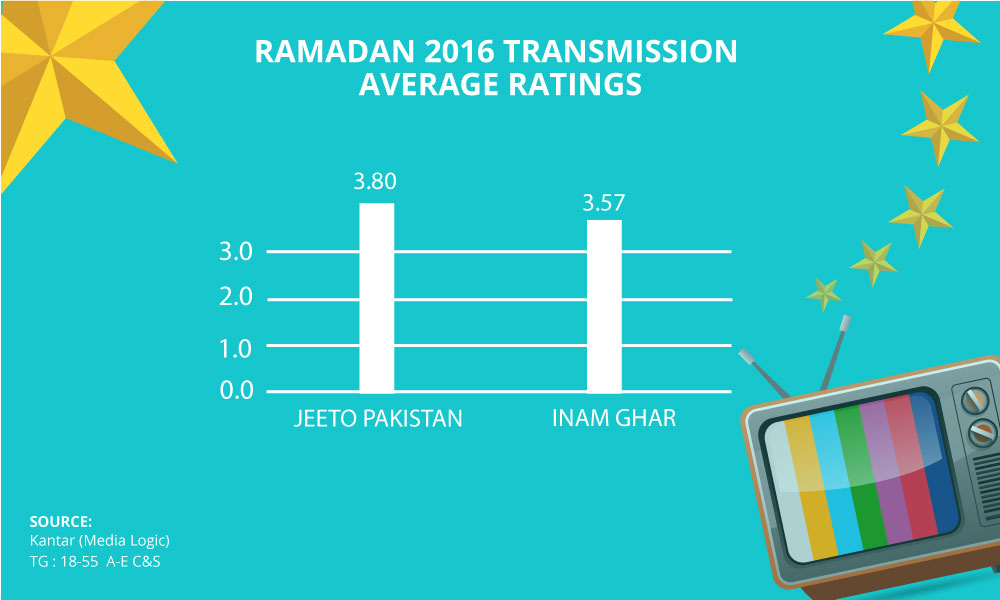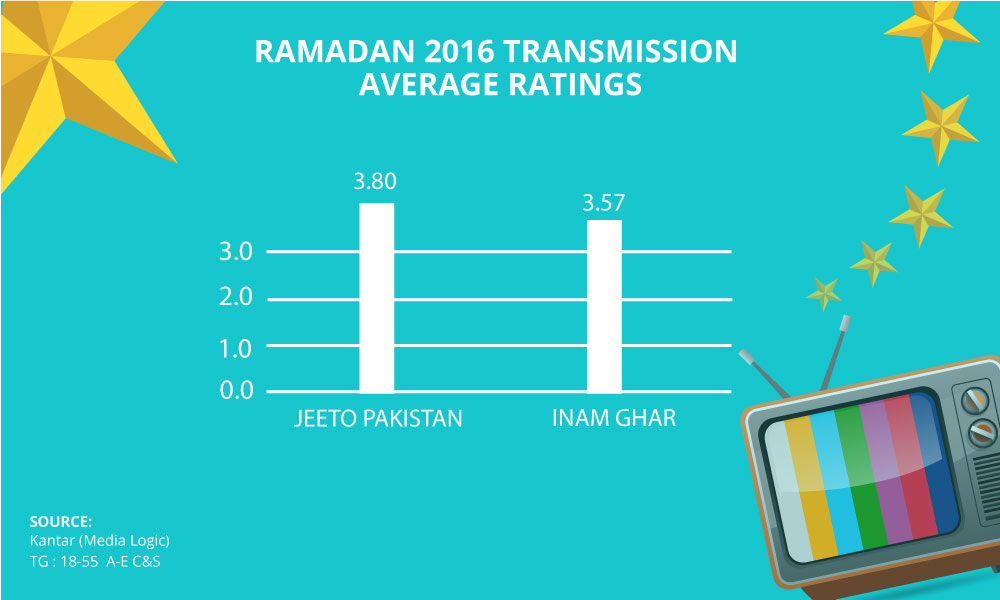 Jeeto Pakistan and Inaam Ghar operate similarly, relying on people's willingness to make fools of themselves in order to win material objects. Aamir Liaquat has once again brought in the highest TRPs for GEO Entertainment in this Holy month.
While Jeeto Pakistan is hosted by Fahad Mustafa, Inaam Ghar's host is the ever popular Aamir Liaquat. Liaquat can also be held responsible for the show's popularity, at least partially, as viewers are always eager to tune in to see what he will do next.
Stay tuned to Brandsynario for more updates!