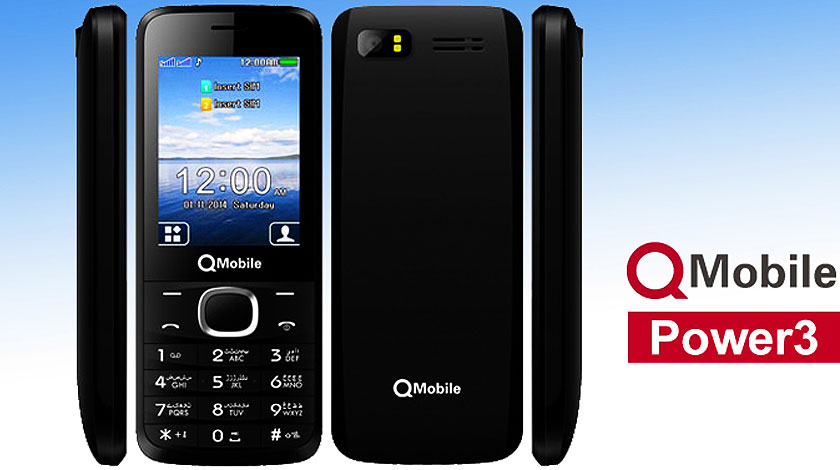 Having earned its name in the smartphone industry with its convenient and affordable mobile phones, QMobile is back with a new feature phone, Power3.
The highlighting feature of the new phone, Power3, is its marathon battery, with a life of an astonishing 45 days (standby time)! What makes the phone all the more attractive is its affordable price at only PKR 2,600.
Read more: QMobile W1: Windows OS Smartphone – Specifications & Price
Added to the 2500 mAh battery, uncommon even in smartphones, is the simple design and basic features of a mobile phone, making Power3 a very practical choice of phone.
Take a look at Power3 specifications below:
Screen: 2.4 inch QVGA display
Dual SIM
Rear Camera: Smart Camera
Memory: up to 16 GB MicroSD support
SIM1: 900/1800
SIM2: 900/1800
Dimensions: 124.5 X 51.5 X 13.5 mm
Battery: 2500 mAh
Available Colors: Black
Entertainment Options: 3.5 mm Audio Jack, FM Radio, Audio Player/ MP3, Games and Video Player
Connectivity Options: USB, Bluetooth and GPRS
Auto Call recorder
Access to popular social networks including Twitter, Whatsapp and Facebook
Read more: QMobile's W1 Windows Phone Review
For retailers, QMobile currently has an offer to receive one Power3 feature phone for free, on the purchase of 20 Power3 phones. For consumers, the Power3 phone is currently available with a one year DigiCom after sales warranty.