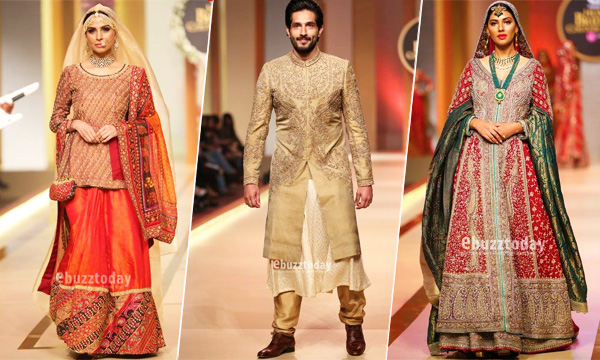 Let's be honest, it's always wedding season in Pakistan. No matter the month, weather, time or place, a wedding is always happening. It is up to us to be prepared. For times like these, QHBCW is the perfect solution. Bridal Couture Week, takes place twice a year and makes us all aware of the latest trends that can be incorporated to make your big deal spectacular. You can get a variety of ideas for clothes, makeup and jewellery to help you get the perfect look.
QHBCW 2017 just ended and we can see a number of new trends emerge. Here we are listing down some for you.
Anything but Red
There was a time when a bride didn't look like a bride unless she was dressed in red from head to toe. That trend has changed. On the ramp of QHBCW we saw a number of different colours materialise, very few of them red.
Gold and Brown
We have already established that red is not the color for brides this wedding season. These colors on the other hand were immensely popular on the ramp. All shades of gold, beige, peach and browns have taken over the traditional brightly coloured bridalwear.
Velvet
Velvet has always been considered a luxurious fabric reserved for special occasions. And it was rightly used in a number of outfits for QHBCW 2017. However this time around, it wasn't just used for women. Many men walked the ramp in velvet outfits too.
Jewellery
While a bride usually is loaded with heavy traditional jewellery, this bridal fashion week we saw a lot of focus on matha pattees and various other head pieces, all of which we loved of course. The huge nose rings, disappeared for a while and we hardly saw brides with them, but they are now making a comeback.
Heavily embroidered sherwanis
Gone are the days when all eyes were on the bride. Now the grooms are equally concerned about their looks, dressing to the nine in heavily embroidered sherwanis. While we are on the fence for this trend, we do admit, some of them actually look nice. We also saw groom's wear that included large shawls that matched with the bride's outfit too.
Bridal Trunks
All the accessories in a bride's trousseau are bright and colourful, why should the trunks be any different? Gogi by Hassan Riaz introduced some heavily embroidered colourful trunks with their collection at QHBCW.
Picture credits: Movie Shoovy & Ebuzz Today