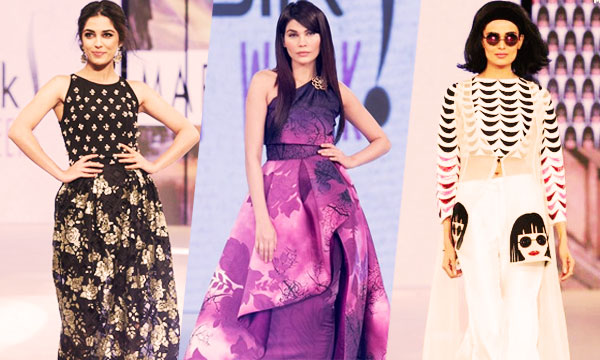 Pakistan Fashion Design Council Sunsilk Fashion Week 2016 commenced yesterday with all its glitz and glory. The first day of the fashion week had some great names from the fashion industry who showcased their collections. Just like any other event that catches up momentum as it proceeds, the day 1 of PSFW was also a little slow and lacked excitement, but we hope as we move towards day 2, 3 and then 4, it will catch up the pace and bring some of the most interesting fashion-forward collections.
From Feeha Jamshed to Maria B, the ace designers of Pakistan's fashion industry showcased their aesthetics in the form of individual collections. Let's view what their collections were all about!
1. Sana Safinaz
The day 1 of PSFW kicked off with 'Sugar Rush' by Sana Safinaz. The dynamic duo left their legacy behind and experimented with something new and unique. The splashes of bright colours and silk gowns for which the brand is famous were not in sight; this definitely shows how versatile this brand is.
Fabrics with luxe touch such as mesh and lace were used to design outfits with sporty feel. White was their basic colour with big flower motifs in designs that stole the show. Overall, the collection was good, but not as impactful as their collections usually are.
2. Feeha Jamshed
Feeha Jamshed showed her 'Bob Squad' collection and as the name suggests this assemblage was full of chic and bold pieces.
Exuding a retro and vintage feel, 'Bob Squad' of FJ flashed the era of 60's and 70's. Flared pants, jackets, outfits with quirky prints and strokes of vivid colours transformed the ramp into a total street style.
3. Muse
The 'Last Night' collection of Muse Luxe was all about sports luxe. The signature element of Muse design, sequins was prominent as usual; however, this time, we saw the dynamic duo embodying dresses with sporty cuts and feels.
Seeing athleisure fashion on the ramp with such glitz and glamour was quite a surprise but, of course a pleasant one. Long and oversized sweatshirts with a pinch of sheen reminded us of Moschino.
4. Bank Alfalah Rising Talent Show
Every season Bank Alfalah provides the fashion week forum with budding talent, to showcase their art and designs to the world. This year too, a number of new promising talent showcased their collection; making a mark with their unique aesthetics.
Unza Khalid: Unza brought on the ramp a few of her pieces in military green colour with western cuts and intricate embroidery. Her designs were appealing but failed to leave a lasting impression.
Hira Ali: Hira Ali presented an all-white collection that was full of sporty feel. The way models wore sneakers on the ramp simply reminded us of Mohsin Ali's collection for Libas that he showcased back in 2014.
Ghulam Dastgir: Dastgir presented a very structured and Victorian inspired collection. Complimenting bags and razor sharp cuts, clearly made this collection the best amongst all.
Saiqa Raheem: Probably one of the collections with the least impact and aesthetic appeal; this young designer surely knows a thing or two about draping but needs to bring a more natural comfort into her designs.
5. Sublime by Sara
With her collection 'Exhale', Sara Shahid of Sublime returned to the PSFW after a long break. She stayed true to her signature style when she presented her simple and sleek creations in pastel shades. Tulle and chunri skirt, a few lace tops and a couple of floral crop tops brought a dose of liveliness to her collection; whereas, rest of the pieces only showed crisp and structured cuts with an essence of fluidity.
6. Maria.B
The day 1 of PSFW came to an end with Maria.B's 'Moonlit Sahara', which was indeed one of the most synchronised collections of the day. You know that the designer has put in a lot of thought and emotions into the collection; when models strutted down the ramp, donning outfits with the same colour theme and complimenting styles while showcasing a range of designs, you know the designer sure is talented.
Sandstone grey and black were the stand-out colours for Maria.B's collection. Roping in Maya Ali as the showstopper was one of the best moves; she did look stunning in a black floral skirt.
Taking inspiration from the vintage Russian jewellery, Swarovski and pearl embellishments on the dresses truly reflected the glitz and sparkle synonymous with jewellery items. The ace designer also incorporated latest international trends like ruffles and fringes into her designs, instantly making her collection perfectly chic.
Stay tuned to Brandsynario for more updates!