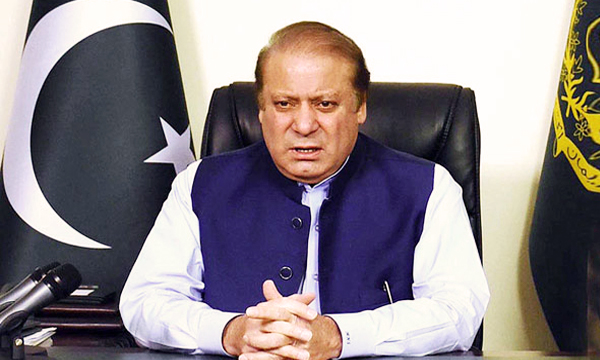 Pakistani Prime Minister Nawaz Sharif announced Tuesday the formation of a commission to investigate allegations made in the so-called Panama Papers that linked his family to a series of offshore companies.
"I have decided to set up a high level judicial commission headed by a retired judge of the Supreme Court. This commission will decide after its investigation that what is reality and how much weight these allegations should be given," Sharif said in a TV address broadcast nationwide.
The leaked papers, comprising 11.5 million documents from Panama-based law firm Mossack Fonseca, exposes how some of the world's most powerful people have secreted their money offshore, and also implicated Sharif's sons Hasan Nawaz and Hussain Nawaz.
"Some of my friends advised me that because there are no allegations against me and that both of my sons are adults and responsible for their own affairs, I should remain separate from this issue," Sharif said in the address.
"But my dear compatriots, I want the facts to be presented before the nation and every Pakistani should be aware of the reality of the allegations," he continued.
Three of Sharif's four children are named in the Panama Papers — daughter Maryam, who has been tipped to be his political successor, and sons Hasan and Hussain — with the records showing they owned London real estate through offshore companies administered by Mossack Fonseca.
"I would ask those who repeat these stereotypical allegations and stage everyday a circus, that they go in front of this commission and prove their allegations," Sharif said, while emphasising that his family's wealth had been hard earned and they were being victimised.
Panama Papers: Secret Accounts of World Most Powerful Leaked!
When the Panama Papers were first released, Sharif's son Hussain denied the allegations, saying his family had done "nothing wrong".
"Those apartments are ours and those offshore companies are also ours," he said.
"There is nothing wrong with it and I have never concealed them, nor do I need to do that. It is according to British law and laws of other countries that it is a legal way to avoid unnecessary tax via offshore companies," he told local tv channels.
Strange logic
Sharif said Hasan had lived in London since 1994 and Hussain in Saudi Arabia since 2000, where both run businesses — and emphasised that all their business dealings were in line with the laws and regulations of those countries.
"My father had established a steel factory near Makkah with the loans from Saudi Arabian banks when we were in exile. After some years, this factory was sold and these resources were used by my sons Hasan and Hussain for their new businesses," Sharif said.
"This is a strange logic that if our children earn their legitimate money inside the country there is criticism, and if they work hard overseas and establish and run businesses, even then they are targeted by allegations," he said.
Revenue generation is particularly sensitive for Pakistan's government, which is receiving a $6.6 billion bailout package from the IMF and has a tax-to-GDP ratio of 11 percent, among the lowest in the world.
As prime minister, Sharif has invited investment in Pakistan. But the latest revelations could raise uncomfortable questions about why his family has kept their wealth abroad.
Opposition leader Imran Khan had called for action against Sharif.
"Our stance vindicated again as Sharif's wealth stashed abroad exposed," he tweeted, adding the country's accountability watchdog, tax authorities and election commission must take action.
The Panama Papers have whipped up a storm of controversy over offshore wealth, ensnaring political leaders, sports figures and underworld members across the globe in the scandal.
Panama Papers: Huge Tax Leak Exposes PM Nawaz, Indian Stars & World Leaders
Stay tuned to Brandsynario for more updates!