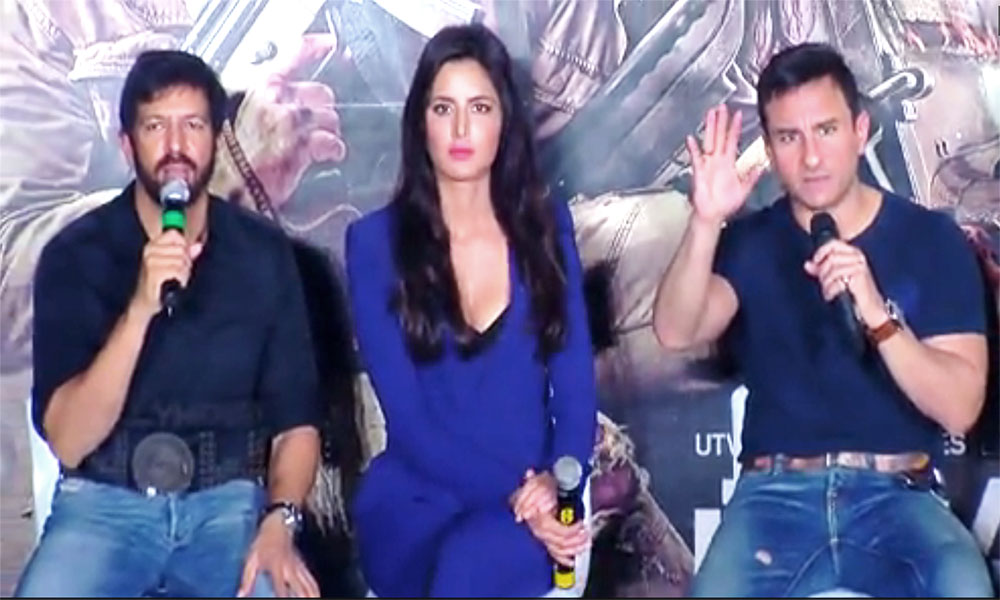 Kabir Khan, the director of the upcoming movie 'Phantom', faced the wrath of the Indian media when he defended Pakistan in a press conference. While Kabir Khan, Katrina Kaif and Saif Ali Khan were entertaining questions, a question raised by a journalist broke all hell loose.
According to the journalist, Saif's 'Agent Vinod' was banned in Pakistan since it was an anti-Pakistan movie, and now his upcoming movie 'Phantom' is also considered to be against Pakistan, therefore the journalist wanted to know what the reaction of Saif's relatives residing in Pakistan was!
Interested in watching the press conference? Watch it here!
[dailymotion id="x2zijgl"]
However, Kabir countered the question by saying that none of his films are anti-Pakistan or have any ulterior motive against Pakistan. He said both Bajrangi Bhaijaan and Phantom aims at promoting harmony and 'people to people' friendship.
The director blamed the generalization on the mindset of the people, he said, "We have a mindset that the terrorists — who are doing things that are anti-India — represent Pakistan. They don't represent Pakistan. That is the whole point of this film. That's the whole point of Bajrangi Bhaijaan."
Kabir's words were misinterpreted by a journalist who started yelling at the director and the actors, countering their point of view and creating a scene. The rest is all history.