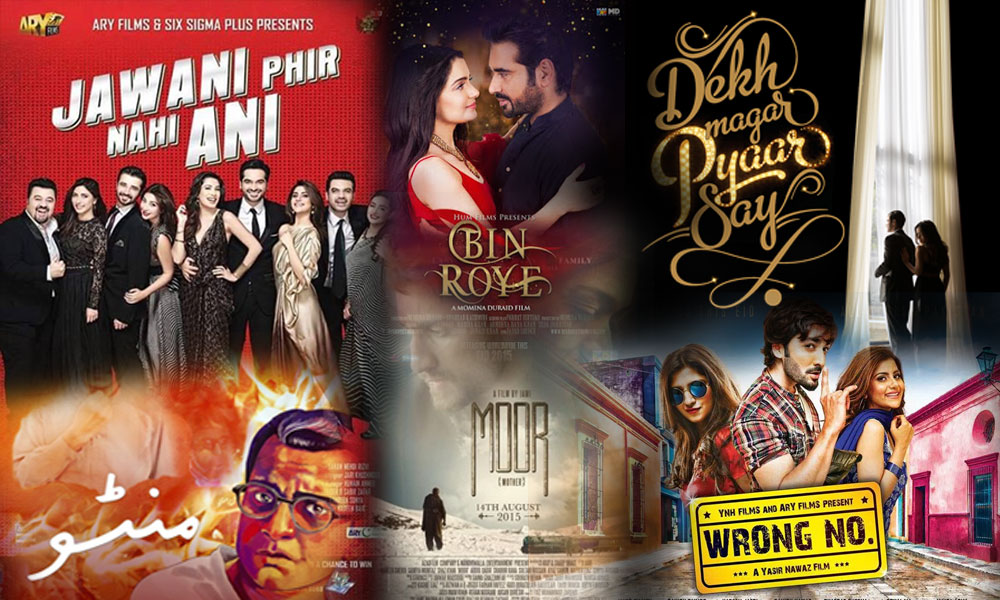 In terms of the revival of Pakistani cinema, 2015 has been a great year. A number of releases were lined up for the year, and many of them have not disappointed.
Let's take a look back on all the notable movies of the year, and hope that 2016 heralds a similar outpouring of cinematic releases in the country.
Jawani Phir Nahi Ani
Jawani Phir Nahi Ani was released on September 25, 2015, and is a combination of adventure and comedy. The movie is directed by Nadeem Baig, while being co-produced by Humayun Saeed, Jarjees Seja, Salman Iqbal, and Shahzad Nasib.
The movie stars and ensemble cast of talented actors, including Hamza Ali Abbasi, Humayun Saeed, Vasay Chaudhry, Mehwish Hayat, Ahmad Ali Butt, and Sohai Ali Abro. It has grossed at Rs. 39 crore and has become the highest grossing Pakistani movie worldwide, beating the record previously held for a decade by the movie Choorian.
[vimeo id="125795655″]
Bin Roye
Bin Roye was released on July 18, 2015, and stars Mahira Khan, Humayun Saeed, and Armeena Khan in the lead roles. It is a dramatic romance, centered around a love triangle between two sisters, Saba and Saman, and their cousin, Irtaza. The movie is produced and directed by Momina Duraid.
Bin Roye is based on a novel by Farhat Ishtiaq, titled Bin Roye Aansoo. The film grossed Rs. 10.85 crore in domestic box offices, and is the third highest grossing film in Pakistan, falling right behind Jawani Phir Nahi Aani and Waar.
[vimeo id="127346939″]
Manto
A biography based on Pakistani author Sadat Hassan Manto's life, Manto features Sarmad Sultan Khoosat in the titular role, as well as being the director of the movie. The movie was released on 11th September of this year. Manto was produced by Babar Javed and the script written by Shahid Nadeem, focusing on the last seven odd years of Manto's life during which he wrote stories that were considered more controversial than the rest.
Manto grossed Rs. 5.03 crore at Pakistani box offices and received exceedingly positive reviews. The movie was also screened at a number of Ivy League institutions in the U.S.A. Developed before the movie itself, a T.V. series based on Manto's life is also scheduled to air in December 2015.
[dailymotion id="x31p65j"]
Moor
Moor was released on August 14th, 2015, and was written and directed by Jami. It focuses on troubled times faced by families in Pakistan, focusing on the railway system in Balochistan and the shutdown of the Zhob valley rails in 1984. Moor – a pashto word meaning 'mother' – stars Hameed Sheikh, Shaz Khan, Samiya Mumtaz, Ayaz Samoo, Nayyar Ejaz, and Abdul Qadir.
Moor was received well by critics and made a gross amount of 1.85 crore in the box office. It was also chosen to be the Pakistani entry at the 88th Academy Awards for the category of Best Foreign Laguage Film.
[fb_embed_post href="https://www.facebook.com/moorofficialpage/videos/674196659379875//" width="550″/]
Dekh Magar Pyaar Say
Directed by Asad ul Haq and produced by Ali Murtaza, Dekh Magar Pyaar Say is a light-hearted romantic comedy. Like Moor, the movie was also released on Independence Day. It stars actress Humaima Malick and Sikander Rizvi, making the movie Rizvi's debut.
Dekh Magar Pyaar Say made an overall of Rs. 2.24 crore at the box office, with a mixed bag of reviews. While it did receive some positive feedback, it was also criticized for its weak acting and script.
[dailymotion id="x2xs8eg"]
3 Bahadur
Pakistan's first computer-animated feature film, 3 Bahadur is a superhero film, full of action, adventure, comedy and fantasy – a movie that is fun for the whole family. The movie was directed by Sharmeen Obaid Chinoy and produced by Waadi Animations.
It was released on May 22, 2015, and swiftly became the highest grossing animated film at local box offices. It grossed Rs. 6.63 crore, and is currently the 7th highest grossing film in Pakistan.
[dailymotion id="x2ksbsp"]
Jalaibee
Jailabee was released on March 20, 2015, and is directed by Yasi Jaswal and produced by Eman Syed. The movie features Danish Taimoor and Ali Safina as the lead actors, along with others including Adnan Jaffar, Uzair Jaswal, Sajid Hasan, Wiqar Ali Khan, Zhalay Sarhadi, and Sabeeka Imam.
Jalaibee is an action thriller, centered around two orphan boys that caught up with the wrong kind of people due to a debt to the local mafia. It grossed Rs. 7.1 crore in local box office, and critics agreed that the movie was a mixed bag of good and bad elements.
[dailymotion id="x2gafeh"]
Karachi Se Lahore
Karachi Se Lahore is a comedy road trip film, centered around a group of friends traveling to Lahore in order to stop the wedding of the main protagonist's long-time girlfriend. The movie stars an ensemble cast, featuring Shehzad Sheikh and Ayesha Omer in the lead roles, along with Javed Sheikh, Mantaha Tareen, Yasir Hussain, Eshita Syed, Rasheed Naz, Ahmed Ali, and Aashir Wajahat.
The film was released on July 31, 2015, and is directed and produced by Wajahat Rauf, with the screenplay written by Yasir Hussain. It is also the first Pakistani feature film to have a Hollywood premiere. It grossed Rs. 10 crore at local box offices, and is set to have a spin-off movie called Lahore Se Karachi in 2016.
[vimeo id="126003048″]
Wrong No.
Wrong No. is directed by Yasir Nawaz and is co-produced by him, Nida Yasir and Hassan Zia. It is a romantic comedy that stars Danish Taimoor, Javed Sheikh, Danish Nawaz, Nadeem Jafri, Shafqat Cheema, Suhaee Ali Abro, and Janita Asma.
The movie was released on July 18, 2015, the day of Eid al-Fitr. It has grossed at Rs. 15 crore at the box office, and is a slapstick comedy full of sometimes crude humour.
[dailymotion id="x2soza7″]
Halla Gulla
Yet another romantic comedy released this year, Halla Gulla is directed by Kamran Akbar Khan and stars Javed Sheikh, Asim Mehmood, Ismail Tara, and Sidra Batool as the lead actors amongst a wider ensemble cast. It was released on September 25, 2015, on the day of Eid al-adha.
Though Halla Gulla was not expected to be a massive success, it's poor performance at the box office was still a disappointment to those involved. It grossed Rs. 1.05 crore overall.
[dailymotion id="x2wlrvy"]