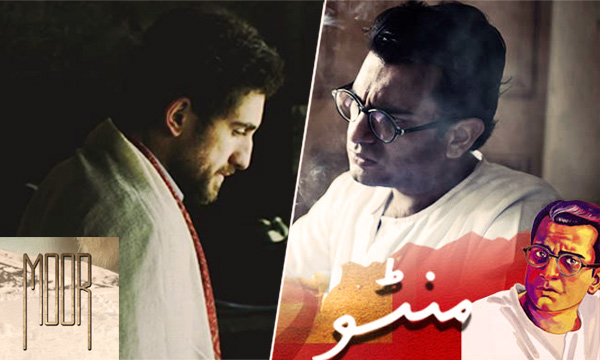 With more and more frequent and new additions of a variety of movies to Pakistani cinema and its ongoing revival, the recently released 'Manto' and 'Moor' seemed to be holding their own and keeping a steady position at the Pakistani box office.
According to recent box office estimates, GEO Films' Manto has prevailed and put on another 12 lacs the past weekend. It maintains a steady position at the box office as its total has now reached approximately 4.7 crores.
Read More: Manto Movie to be Screened at Harvard, Yale & Columbia University
The movie has had great approval from audiences and is expected to reach the 5 crores mark in the coming weeks.
Read More: Manto Movie Review: Twitter Loves Sarmad Khoosat
Meanwhile, Moor seems to be nearing the end of its run, raking in a total of 1.85 crores on the tail end of the weekend.
Read More: Pakistani Movie Moor to be Screened in India and UAE
Moor is expected to close at an estimated 1.9 crores, unless it is picked up for the Oscars, which may help lead to a re-release in Pakistan.
Read More: Moor to Compete with 80 Foreign Films in Oscar 2016 Battle
You can check out the total box office breakdowns of both movies over the past few weeks since their respective releases.
Manto:
Week One: 1.58 crores
Week Two: 1.77 crores
Week Three: 67 lacs
Week Four and Five: 57 lacs
Week Six: 13 lacs
Total: 4.7 crores
Moor:
Week One: 85.82 lacs
Week Two: 40 lacs
Week Three: 22 lacs
Week Four: 11 lacs
Week Five: 9 lacs
Week Six: 6 lacs
Week Seven: 8 lacs
Week Eight and Nine: 4 lacs
Total: 1.85 crores