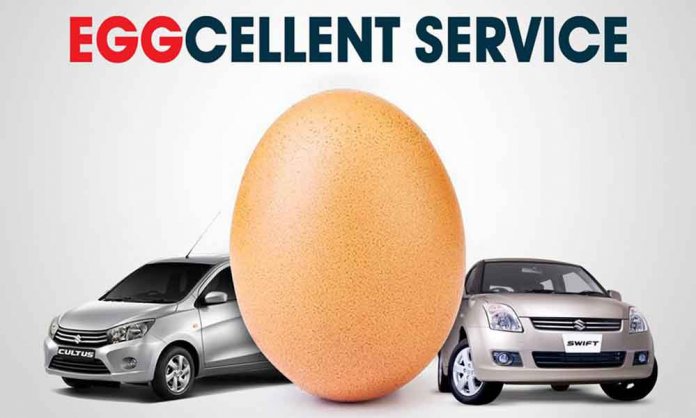 The photo of the egg that became an Instagram record breaker for the highest number of likes has now reached new heights of popularity. It has now become the object of focus and is being used by many brands in their advertisement campaigns.
The picture of this egg has been making headlines this month after it got posted on an Instagram account 'world_record_egg'. Amazingly, it became the most liked picture on Instagram, surpassing the previous record by Kylie Jenner.
Touching new heights of popularity, the egg has now become part of advertisements by many leading brands. The record-breaking has also resulted in a series of memes and trending social media posts.
From automobiles and food to cosmetics and detergent brands, it can be seen everywhere and we just can't simply get over this world famous egg!
Have an Egg-xtraordinary shopping experience- only at Dolmen Mall!
Suzuki, a leading automobile company, will be offering 'Eggcellent' Service from now on!
The only thing more likable than the golden egg is our eggcellent customer service.#SuzukiMaccaMotors #Suzuki#EggGang
You might wonder what an egg has to do with detergent?  Surf Excel came up with this creative idea to use this egg in their recent advertisement and it fits 'eggceptionally' well!
Peak Freans Sooper also availed the opportunity to bring innovation to their 'egg and milk' tagline!
Anday doodh ka taaza maza hai.#LikeTheEgg
It's just everywhere, one way or another!
We adopted the #egg trend before Instagram made it cool! 😀
Doing wonders around the internet, an egg can do wonders for your beautiful hair as well!
Egg can definitely beat anything. It is one of the most powerful ingredients which is used in Vatika Shampoo 😎#Egg…
Some 'Eggceptional' Recipe Mixes by Mehran!
Del Frio also revealed its #1 ingredient in the delicious cookies. Guess what it is?
Just like this most liked egg, our cookie has always been most liked too. #DelFrio #FreshlyBakedCookie

Del Frioさんの投稿 2019年1月16日水曜日
And the record-breaking egg just got fried in Mezan!
Har cheez mezan mein achi lagti hai, infact the famous record-breaking EGG too!#MezanCanolaOil #HealthyLife #HealthyDiet #HarCheezMezanMainAchiLagtiHai #LikeTheEgg #EggGang
Moos 'n' Clucks used it in their own way!
In no race of becoming #AndayWalaBurger! #EggChallenge #MoosNClucks #MnC
The record-breaking egg is making chickens proud!
Not only in Pakistan, but many international brands have also used this egg in their ads!
We've been liking eggs for decades. pic.twitter.com/IAVUosE7z3

— White Castle (@WhiteCastle) January 14, 2019
Creativity on its peak!
Stay tuned to Brandsynario for more updates and news!