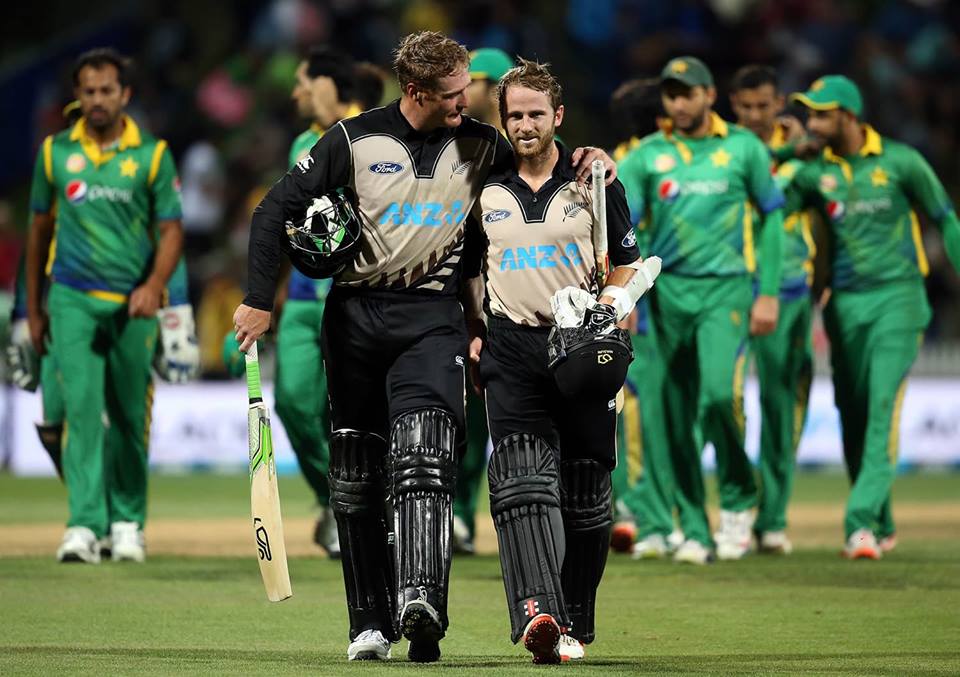 UPDATE: New Zealand Beat Pakistan by 22 runs in world T20 2016. New Zealand opener Martin Guptill credited an aggressive approach for his side's clinical 22-run demolition of Pakistan in a key World Twenty20 game in Mohali on Tuesday.
Guptill, 29, led the charge with a 48-ball 80 as the Black Caps restricted Pakistan to 158-5 off 20 overs after posting a strong 180-5 on a sporting track at the Punjab Cricket Association ground.
The win extended the Kiwis' unbeaten streak in the tournament and also ensured them a place in the last four, their second semi-final of a global event since the last year.
"We found early that the wicket was better than what we had been playing on. We wanted to be aggressive and it paid off for us today," said a beaming Guptill who was named man-of-the-match.
"We put up a decent total and then the bowlers came up and did the job."
Pakistan opener Sharjeel Khan had threatened to run away with the game after a blistering 25-ball 47 but his dismissal in the sixth over helped the Black Caps claw back on the back of some disciplined bowling and fielding.
Kiwi captain Kane Williamson was all praise for his rookie spinners who have been the talk of the tournament for their guile and skill.
"They (spinners) have been very consistent, very smart," said Williamson.
"We played on a couple of wickets that spun viciously. And then we came here and they adapted nicely on a wicket that didn't offer a huge amount of spin.
"The way the guys adjusted again on a different surface was very good."
Sharjeel gave Pakistan a flying start, hitting nine fours and a six, but the rest of the batsmen failed to rise up to the task.
Repeating same mistakes
Sharjeel's sparkling innings came to an end when he holed to Guptill off Adam Milne, and it was all downhill thereafter for Pakistan.
Guptill was the star of the show, smacking three sixes and 10 fours in his match-winning knock after Williamson won the toss and elected to bat.
Ross Taylor chipped in with an unbeaten 23-ball 36 to help his side put up a strong total on the board.
After a tentative start, Guptill smacked a huge six and a boundary off left-arm paceman Mohammad Irfan in the second over to set the pace for his innings.
Irfan's new ball partner Mohammad Amir was not spared either, whacked for three fours by Guptill, the last two off consecutive balls.
The Kiwis raced to 62-0 off eight overs before Williamson was caught off Irfan for 17.
Pakistan struck again soon with captain Shahid Afridi (2-40) sending back new batsman Colin Munro (seven) in the first over that he bowled.
Guptill appeared unruffled as he raced to his 10th half-century in T20 internationals with a couple off Afridi, prompting a standing ovation from his teammates in the dressing room.
But just as Guptill looked set for a bigger score, he chopped on to his stumps off Mohammad Sami, who was most impressive among the bowlers with figures of 2-23.
Pakistan's chances of advancing in the tournament now appear slim with their second defeat in a row.
"Shehzad and Sharjeel started off very well but we didn't utilise the start," said a dejected Afridi.
"We keep repeating the same mistakes and in this format you win only if you make less mistakes. But in every game we keep making mistakes, it's not good for the team." 
---
Scoreboard of the World Twenty20 match between New Zealand and Pakistan at the Punjab Cricket Association ground in Mohali on Tuesday:
New Zealand:
M. Guptill b Sami                    80
K. Williamson c Afridi b Irfan       17
C. Munro c Sharjeel b Afridi          7
C. Anderson c Malik b Afridi         21
R. Taylor not out                    36
L. Ronchi c Malik b Sami             11
G. Elliott not out                    1
Extras (lb 4, w 3)                    7
Total (for 5 wkts, 20 overs)        180
Did not bat: M. Santner, A. Milne, M. McClenaghan, I. Sodhi
Fall of wickets: 1-62 (Williamson), 2-75 (Munro), 3-127 (Guptill), 4-132 (Anderson), 5-164 (Ronchi)
Bowling: Amir 4-0-41-0, Irfan 4-0-46-1, Sami 4-0-23-2, Wasim 4-0-26-0, Afridi 4-0-40-2
Pakistan:
Sharjeel Khan c Guptill b Milne         47
Ahmed Shehzad c Guptill b Santner       30
Khalid Latif c Elliott b Santner         3
Umar Akmal c Guptill b Milne            24
Shahid Afridi c Anderson b Sodhi        19
Shoaib Malik not out                    15
Sarfraz Ahmed not out                   11
Extras (lb 5, w 4)                       9
Total (for 5 wkts, 20 overs)           158
Did not bat: Imad Wasim, Mohammad Amir, Mohammad Irfan, Mohammad Sami
Fall of wickets: 1-65 (Sharjeel), 2-79 (Latif), 3-96 (Shehzad), 4-123 (Afridi), 5-140 (Akmal)
Bowling: Santner 4-0-29-2, Anderson 2-0-14-0, Milne 4-0-26-2, McClenaghan 4-0-43-0, Elliott 2-0-16-0, Sodhi 4-0-25-1
New Zealand won by 22 runs
---
The Kiwis, unbeaten in the tournament so far, fielded an unchanged side for the crunch game at the Punjab Cricket Association ground where a win will take them to the semi-finals.
Pakistan made two changes from the squad that lost to India in Kolkata, bringing in Imad Wasim and Khalid Latif in place of injured duo Mohammad Hafeez and Wahab Riaz.
---
A resurgent New Zealand will be eyeing a semi-final berth when they take on a deflated Pakistan in a World Twenty20 group match in Mohali Tuesday, 22nd March 2016.
Smarting under a six-wicket defeat to arch-rivals India, Shahid Afridi's men need a victory against the table-topping Kiwis to keep their hopes alive of winning the trophy for the second time.
Pakistan won their opener against Bangladesh comfortably but things have since gone downhill as they unravelled against the Indians on Saturday, sparking an angry backlash from fans back home.
The Black Caps in contrast, have been riding high with their horses for courses policy paying rich dividends against India and Australia.
View the Live Match Updates below;
New Zealand are perched on top of Group 2 with four points followed by India and Pakistan on two each from as many games.
Skipper Kane Williamson has won plaudits after he packed his side with unheralded spinners and leaving out tested fast bowlers Trent Boult and Tim Southee in the key opening game against favourites India.
Their strategy worked well against Australia too with rookie spinners Mitchell Santner and Ish Sodhi combining with recalled paceman Mitchell McClenaghan to wreak havoc in the opposition ranks.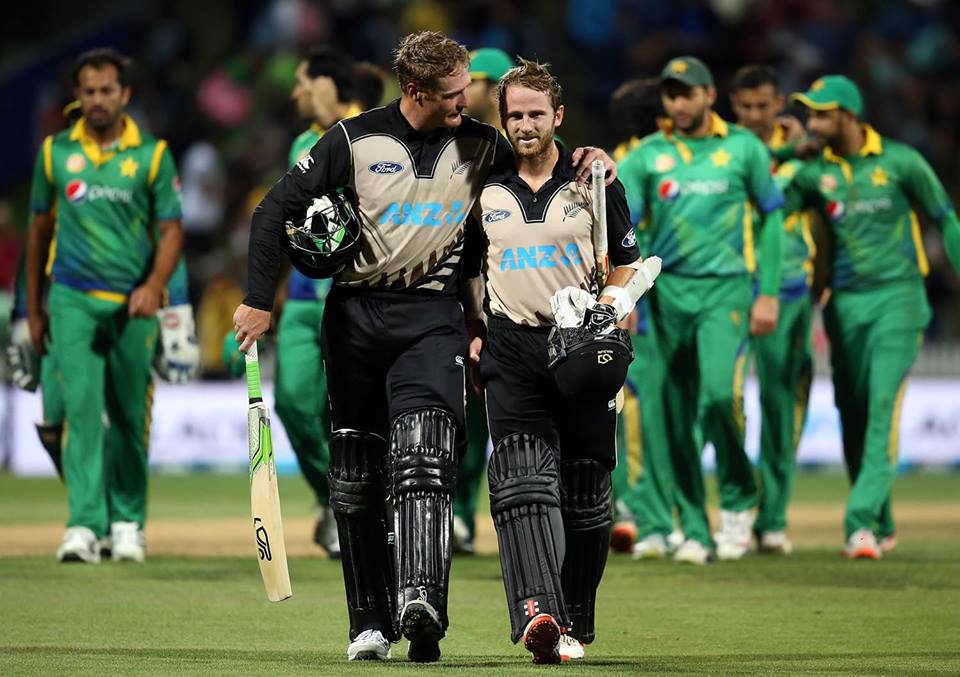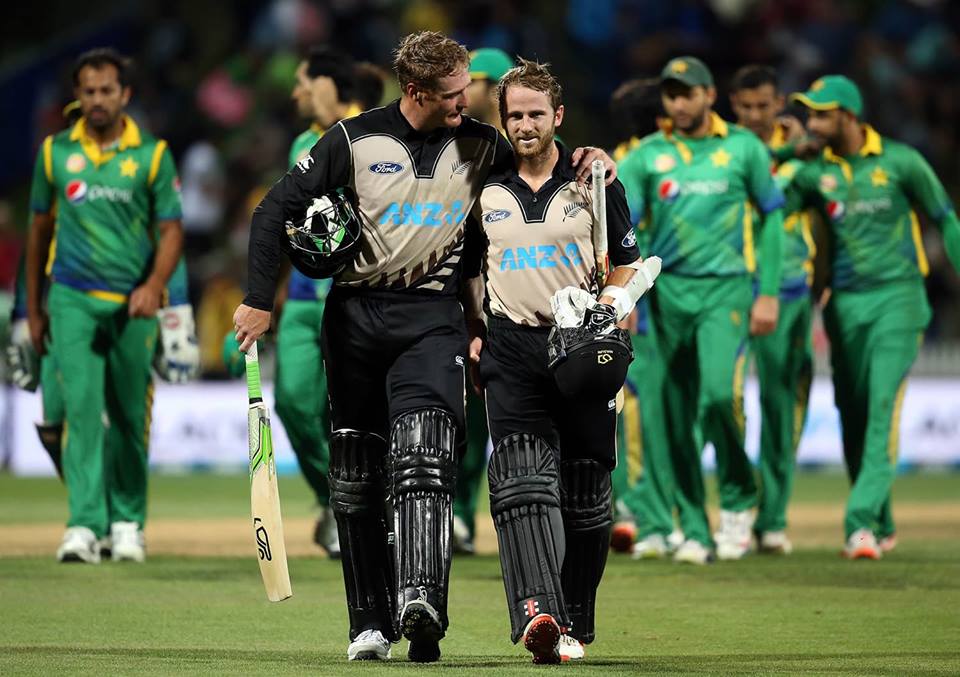 McClenaghan was a surprise replacement for Nathan McCullum, one of the heroes of New Zealand's dramatic victory over India.
"I think we were fortunate to play on two wickets which were very similar. We adopted similar tactics," Williamson said after the win over his trans-Tasman rivals.
"You have to try and read the conditions and select accordingly."
Another win will see New Zealand cruise through to the knockout stage of the tournament which would be a commendable feat for a young side.
Afridi, 36, will be under pressure to deliver after taking flak for his tactics against India.
Former Pakistani spin great Saqlain Mushtaq was surprised at the team selection by Afridi, who is tipped to retire at the end of the WT20.
"They couldn't read the pitch. For such a high profile match they should have played a proper spinner," Mushtaq was quoted as saying by the Press Trust of India news agency on Sunday.
"It was not a pitch to field four fast bowlers," he said.
Teams:
Pakistan (from): Shahid Afridi (captain), Anwar Ali, Imad Wasim, Khalid Latif, Khurram Manzoor, Mohammad Amir, Mohammad Hafeez, Mohammad Irfan, Mohammad Nawaz, Mohammad Sami, Sarfraz Ahmed, Shoaib Malik, Sharjeel Khan, Umar Akmal, Wahab Riaz
New Zealand (from): Kane Williamson (captain), Corey Anderson, Trent Boult, Martin Guptill, Grant Elliott, Colin Munro, Mitchell McClenaghan, Nathan McCullum, Adam Milne, Henry Nicholls, Luke Ronchi, Mitchell Santner, Ish Sodhi, Tim Southee, Ross Taylor