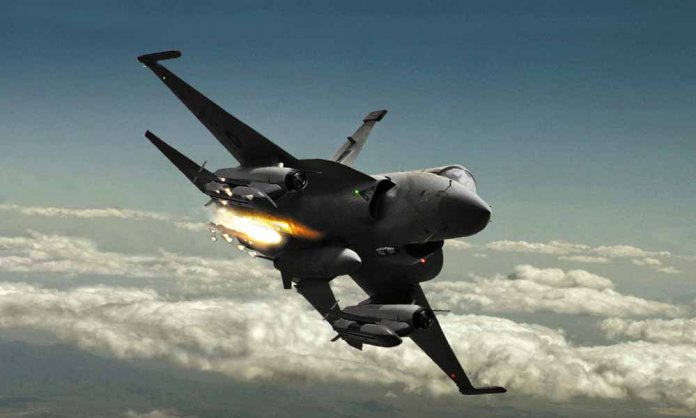 Indian Jets entered Pakistan-controlled side of Kashmir on Tuesday at 3:30 am in the morning. However, the Pakistan Air Force (PAF) successfully responded and thwarted the incursion into the airspace.
According to the News, the aircraft from across the border intruded from Muzaffarabad sector.
Following the violation, Prime Minister Imran Khan had summoned an emergency, high-level meeting to discuss the situation.
The meeting was attended by Ministers of Foreign Affairs, Defence, Finance, Chairman Joint Chiefs of Staff Committee, COAS, CNS, CAS, and other civil & military officials.
The forum decided that Pakistan will respond to India with its preferred time and place of choice.
BREAKING: Pakistani National Security Committee meeting, which chaired by Premier Imran Khan, has said That India has committed uncalled for aggression to which Pakistan shall respond at the time and place of its choosing.

— Islamuddin Sajid (@islamudinsajid) February 26, 2019
Khan has also urged the nation's armed forces and citizens to remain prepared for all circumstances.
#Breaking: Prime Minister #ImranKhan tells Armed Forces and the people of #Pakistan to remain prepared for all eventualities.

— SherY – (@SherySyed_) February 26, 2019
DG Inter-Services- Public Relations (ISPR) confirmed the violation of LOC and revealed that PAF immediately responded Indian Jets.
Indian Air Force violated Line of Control. Pakistan Air Force immediately scrambled. Indian aircrafts gone back. Details to follow.

— Maj Gen Asif Ghafoor (@OfficialDGISPR) February 25, 2019
He further stated that there were no casualties or damage to infrastructure.
Indian aircrafts' intrusion across LOC in Muzafarabad Sector within AJ&K was 3-4 miles.Under forced hasty withdrawal aircrafts released payload which had free fall in open area. No infrastructure got hit, no casualties. Technical details and other important information to follow.

— Maj Gen Asif Ghafoor (@OfficialDGISPR) February 26, 2019
He also updated Twitter with the payload of Indian aircraft as they hurried to rush back.
Payload of hastily escaping Indian aircrafts fell in open. pic.twitter.com/8drYtNGMsm

— Maj Gen Asif Ghafoor (@OfficialDGISPR) February 26, 2019
Meanwhile, the Indian Air Force (IAF) has claimed that it has destroyed terrorist camps along LoC and has alleged that it has killed at least 200.
However, social media in Pakistan has left been in deep confusion over the varying stance of the two nations. Media on both sides has been reporting different versions of India's LoC violations.
Pakistan's Foreign Minister has openly condemned this move by India and has warned that the nation is bound to retaliate.
Pakistan foreign minister's reaction on state television:
– "grave aggression" by India.
– This is violation of Line of Control.
– Pakistan has right to respond and self-defence.#Balalkot #PakistanArmy#Surgicalstrike2#PakistanAirForce pic.twitter.com/NthJFbMM2r

— Jamil Arif (@jamilarif) February 26, 2019
Finance Minister, Asad Umar too has warned India that it is bound to get a response.
India WILL get a response. The time and manner of response will be chosen by Pakistan. Indian citizens must understand that their prime minister is putting indian citizens in the harms way for political gain by initiating a conflict INDIA CANNOT WIN

— Asad Umar (@Asad_Umar) February 26, 2019
Bollywood Celebrities React to Ali Zafar Praising Imran Khan
Iqra Aziz's tweet regarding this matter has indeed been an eye-opener!
To all those cheering for war from the comfort of their luxurious homes, please think that its the soldiers who die unnecessarily. Killing each other is not a solution, peace is. May God bless us with wisdom to spread more peace and less hatred. Pakistan zindabad 🇵🇰

— Iqra Aziz (@IqraAzizz) February 26, 2019
Mahira Khan too stands for peace and Pakistan
Nothing uglier. Nothing more ignorant than cheering for war. May sense prevail.. Pakistan zindabad. https://t.co/sH0VGGAERC

— Mahira Khan (@TheMahiraKhan) February 26, 2019
Mawra Hocane too didn't shy away from speaking against India.
Such gimmicks. Absurd!
Fools cheering for fools.

— MAWRA HOCANE (@MawraHocane) February 26, 2019
"There can be NO winners in war if we value Human Life at all."
Christopher Holliday.
It's time we understand this as humans.The media needs to take charge & stop being provocative. It's our duty to inculcate peace & use our words for better & not worse.
Praying for peace always!

— MAWRA HOCANE (@MawraHocane) February 26, 2019
Fahad Mustafa too hailed for peace and condemned war!
War Does Not DEtermine who is right ..Only who is left
Say no to war🙏🇵🇰

— Fahad Mustafa (@fahadmustafa26) February 26, 2019
Aijazz Aslam also bashed Nawazuddin Siddiqui who is reportedly against the release of his movie in Pakistan.
Grow up mr nawazuddin … we salute our forces for a timely response and forcing the enemy to run for their lives .. Pakistan tujhay salam #salute #pakistanairforce #pakistanarmy #pakistanfirst #pakistan #pakistanzindabad @OfficialDGISPR @AsimBajwaISPR pic.twitter.com/s1woeZzl02

— aijaz aslam (@aijazz7) February 26, 2019
Hamza Ali Abbasi also tweeted with an explosive response.
#Balakot WELL DONE INDIA! Much improvement from the fake "Surgical Strike" claim. This time yes IAF aircraft crossed LOC 4 to 6 miles at 2.55am & had to retreat at 2.59am due to PAF scrambling dropping the load on the way martyring our trees. But now, Pakistan MUST retaliate. pic.twitter.com/bSD8ryIOk0

— Hamza Ali Abbasi (@iamhamzaabbasi) February 26, 2019
Armeena Rana Khan has specifically tweeted against Bollywood stars who are promoting war and not rooting for Indo-Pak peace!
I'm watching SOME of these "Bollywood" accounts in dismay, glorifying war (people should take note) In the future, these particular individuals shouldn't be allowed to preach peace to the world. Artists are supposed to be sane, pacifying voices. 🤷🏻‍♀️ #theinternetneverforgets

— Armeena Khan (@ArmeenaRK) February 26, 2019
Um for the record, I DID condemn the pulwama attack, on mainstream and full public view. Check out my interview to the BBC. I dislike any loss of life and DO not condone wars. I'm not the hypocrite here so keep your assumptions to yourself. Thanks.

— Armeena Khan (@ArmeenaRK) February 26, 2019
You accused me of hypocrisy without proper research? You have zero credibility to make any statements now. goodbye.

— Armeena Khan (@ArmeenaRK) February 26, 2019
Feroze Khan has expressed all his love for Pakistan in a simple tweet! 
Pakistan Zindabad !! 🇵🇰

— Feroze Khan (@ferozekhaan) February 26, 2019
Love Pakistan Army – Love Pakistan Air Force 🇵🇰

— Feroze Khan (@ferozekhaan) February 26, 2019
Other Pakistani celebrities, journalists and acclaimed personalities have also reacted to the situation and have lauded PAF for their instant reply to IAF.
As an aviation enthusiast I must say the Mirage 2000 is a beautiful machine. But to use it against innocent trees is such a waste.

— Fakhr-e-Alam (@falamb3) February 26, 2019
#SurgicalStrike2 was needed to claim the elections, haste for power and agression is what our neighbour always had. Don't fall prey to propaganda of their media. Let #PakistanAirForce handle all the misadventures with spirit, resolve and a befitting rebuttal.

— Fahad Malik (@Fahad4014) February 26, 2019
Indian incursion across the LOC is strategically ill-advised & tactically pointless #PakistanArmy #PakAirForce clearly on alert. Such moves only ratchet up tensions in a region bristling with anger.Obvious that #Modi's election wardrums make prospects for talks collateral damage

— SenatorSherryRehman (@sherryrehman) February 26, 2019
IAf tamater he lai thi, bhagtay hoay chor gae… magar PAF tamater nahin laey gi…. pahlay he bata do. https://t.co/gqvzyPSaM9

— Asma Shirazi (@asmashirazi) February 26, 2019
Never thought I'd say this since peace is foremost but I guess it's time to retaliate. https://t.co/0SJt9Ts9lO

— Quratulain Balouch (@Quratulainb) February 26, 2019
Dream On😂😂😂 https://t.co/mlRD9RZxeB

— VEENA MALIK (@iVeenaKhan) February 26, 2019
Proud of our #PakistanAirForce #PakistanArmy 🇵🇰 enemies only make us stronger. We are united and no misadventure will go unanswered. Don't mess with Pakistan! #SurgicalStrike2 #Balakot

— SYEDA TUBA AAMIR (@TubaAtweets) February 26, 2019
This is a developing story.
Stay tuned to Brandsynario for more updates.