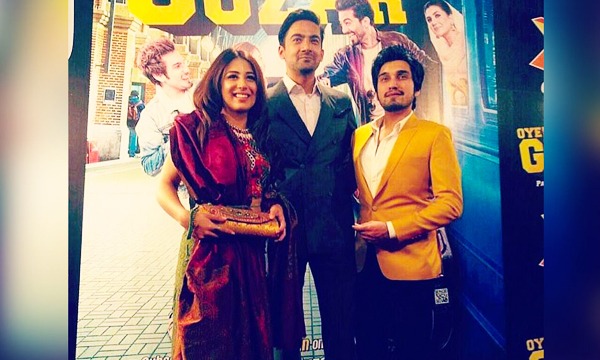 Pakistan's cinema revival has surprised us all. While we all agree there is no shortage of talent, our film industry has for a while been on shorter end of the stick. Lately however, the cinema has made quite a comeback with popular hits after another. Therefore the time was ripe to make another leap – Exploring the digital world. Pakistan just released its first online movie Oye Kuch Ker Guzar on Youtube.
The movie is a one of its kind wonder, allowing the audience to interact and change the ending according to their preferences. And since it is available on Youtube, it means anyone can watch it right from the comfort of their homes. Oye Kuch Ker Guzar was released earlier this month in December. If you want to know if the movie is worth your time, we bring to you Twitter reactions from all those who have watched it and their reviews.
I looooved the animations in this movie! 😍 #oyekuchkarguzar pic.twitter.com/PPsrxXKolH

— Sed Nugget (@SohaTazz) December 18, 2016
Just saw #oyekuchkarguzar n its been the best thing i've seen so far. Cant believe we have such talent here! #OhPakistanMyPakistan! so proud

— Umama Ishtiaq (@ThisIsYourNigga) December 22, 2016
Loved Ushna & Ali 's acting in #oyekuchkarguzar other actors also did good job. Dakku bohut ajeeb se thy specially their teeth eeewww :-/

— 阿玛拉 (@Awwmara) December 18, 2016
Awesome movie….am watching again & again……plzzz make more movies like it #OyeKuchKarGuzar

— H ❤️ A || 💛پھٹیچر💛 (@huzafawani) December 18, 2016
Have you watched #OyeKuchKarGuzar yet? If you haven't you're missing out on some great witty dialogues, incredible graphics & much more!

— Manal (@meemelif) December 26, 2016
@ushnashah @uzairjaswal and Mahajabeen Habib did their best in #oyekuchkarguzar. Haris as director/editor was great.

— Usman Khalid (@usmaan_khalid) December 25, 2016
excellent direction, innovative concept… #oyekuchkarguzar is a film that can beat most of our films releases in cinemas

— Mahnoor Baig (@MahnoorBaig97) December 24, 2016
Following the positive reviews and the glowing recommendations, fan soon starting using funny scenes and clips from the movie and turned them into memes. Take a look at some of the hilarious ones.
My face when my teacher asks me if i have revised 😂 #oyekuchkarguzar pic.twitter.com/XP2S3kjDZM

— 🇵🇰 (@chaiipilao) December 19, 2016
When you run into office late, and your boss is already there waiting for you in your chair like …. #OyeKuchKarGuzar pic.twitter.com/SZsULk8PqA

— ✈ (@PeculiarITM) December 23, 2016
Internally plotting murder and tryna look calm. #OyeKuchKarGuzar pic.twitter.com/4ltqF2tu4m

— Breen (@ProudPakistanii) December 23, 2016
When you screenshot a convo and accidentally send it to the same contact #OyeKuchKarGuzar pic.twitter.com/2CC3IZNmbN

— R a b e l (@Rabihina) December 23, 2016
#Nazi phuphoo coming😂#oyekuchkarguzar pic.twitter.com/5puAGTfWeh

— فصیح (@Nasrani_) December 23, 2016
This scene in #OyeKuchKarGuzar perfectly describes how a person feels after listening to a cute girl speaking in a Lahori accent pic.twitter.com/Uor0bVEH5T

— Sudrish🐚 (@SudrishK) December 18, 2016
Me : when someone tries to eat my food.
''HADOUKEN''
Best scene of #oyekuchkarguzar pic.twitter.com/bKTPJppHVn

— Ahad Abbasi. (@ahadabbasii) December 18, 2016
As is obvious by the Twitter reviews, the movie has been well received. People loved the idea that they could watch the entire movie just by sitting at home. The plot itself is a very youth-oriented prompting the young ones to take charge of their own destiny. Add to that the funny script at you are looking at a cinematic marvel.
All you need to do is log on to Youtube and stream it online. Interact along, see how different choices affect the outcome of the movie and whether or not your decision would change the fate of the actors.
Watch the first episode of Oye Kuch Ker Guzar: