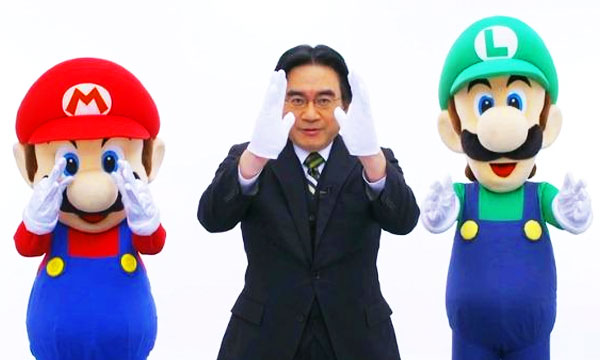 The president of Nintendo, Satoru Iwata passed away at the age of 55.  Satoru was the Global President of one of the Japan's top iconic video game company.
The Japanese company announced on Monday that the President died following ongoing health issues. The news was confirmed by the company on July 13 saying "Nintendo Co., Ltd. deeply regrets to announce that President Satoru Iwata passed away on July 11, 2015 due to a bile duct growth."
Read more: E3 2015: Nintendo World Championships Return After 25 years
In the face of increasingly tough competition especially with Microsoft and Sony, Iwata was able to make the firm stand ahead and came up with a number of console launches. In the gaming world, Nintendo has always been a strong name that managed to outlast its biggest rival Sega. Iwata was the leading figure who was constantly fighting a battle for dominance over Sony's PlayStation, and Microsoft's Xbox.
Iwata, 55, was having trouble with his ongoing health complications, he even undergo a surgery to remove a tumor in his bile duct in June 2014.  Due to his surgery, he wasn't able to attend the shareholders meeting and wrote "As the president of the company, I regret that I cannot attend the meeting," he said at the time. "However, I understand that I have to prioritize my medical treatment and to recover as soon as possible so that I will again be able to do my best to help the company to grow. I hope that you understand."
Following the death of Iwata, Nintendo has announced that company's two Senior Managing Directors and Representative Directors Genyo Takeda and Shigeru Miyamoto "remain at the company." Miyamoto, one of the legendary games designers of Nintendo represented the company recently at the E3 games expo held in Los Angeles.
Satoru Iwata became the Director of Nintendo in June 2000 and two years later he was made the First President of the company belonging outside the founding Yamuchi Family. Earlier in June 2013, he was appointed as the CEO of Nintendo of America after overseeing the launch of Nintendo 3DS and Wii U and gaming consoles.
Iwata has also worked across a number of Flagship titles that include including Kirby's Dreamland, The Legend of Zelda and MarioKart. He was also the prominent figure in the launch of the Nintendo DS handheld game system, and the Wii and Wii U consoles.
The successor of Satoru Iwata will be announced soon by Nintendo who will be responsible for shaping the legacy name in gaming into a company that continues to be viable in the 21st century.
Fans and member of the gaming industry showed their condolences on social media
"On my business card, I am a corporate president. In my mind, I am a game developer. But in my heart, I am a gamer" – Satoru Iwata, GDC 2005

— Lorenzo Grajales (@renzosh) July 13, 2015
this video of Iwata and Miyamoto goofing around with a Poltergust is wrecking me rn https://t.co/ztf3y31h8spic.twitter.com/uhNrZNaIfY

— Nick Robinson (@Babylonian) July 13, 2015
ありがとう岩田さん。 pic.twitter.com/E0qEZKPzxq

— Ashly Burch (@ashly_burch) July 13, 2015
Friendly reminder at how amazing Iwata was at his job. pic.twitter.com/XP81Bpmswm

— Balrog (@BalrogGameRoom) July 13, 2015
I've written & deleted ~15 tweets about Iwata, trying to say how much I respected him & how much our industry owes him, but none were enough

— Nathan Vella (@Capy_Nathan) July 13, 2015