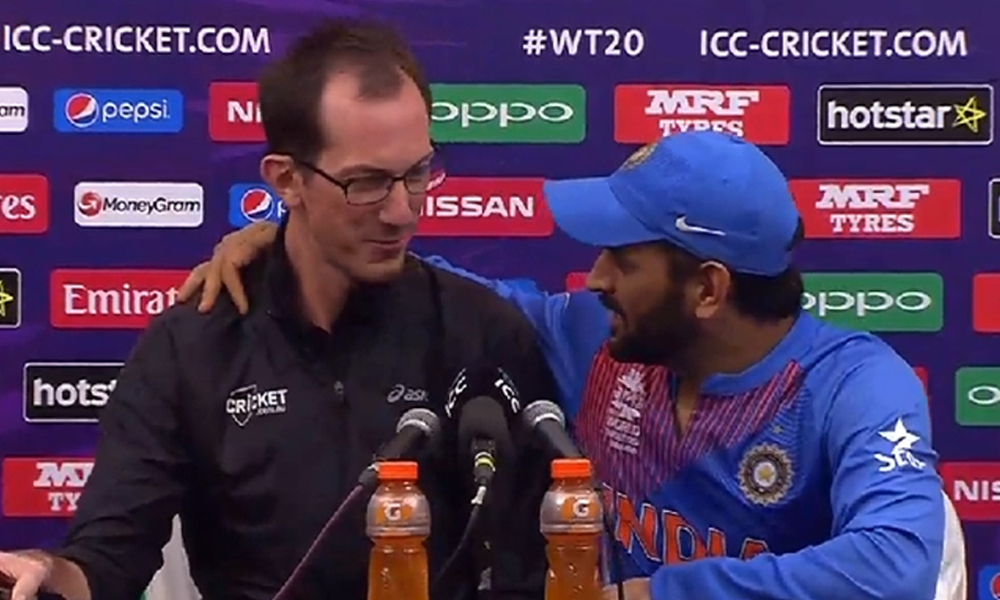 India captain Mahendra Singh Dhoni laughed off talk of retirement as he put a brave face on the devastating World Twenty20 semi-final loss to the West Indies.
The hosts came into the tournament with sky-high confidence but also widespread speculation that it could be the last international outing for Dhoni, 34.
But after India's stunning defeat by seven wickets, it was left to an Australian journalist to put the burning question to Dhoni at Mumbai's Wankhede Stadium.
Dhoni then asked the somewhat stunned Sam Ferris of the cricket.com.au website onto the dais, put his arm around him, and turned the tables by becoming the interviewer.
Watch the video here:
[fb_embed_post href="https://www.facebook.com/Brandsynario/posts/10153380460466447/" width="550″/]
"Do you want me to retire?" he said. "Do you think I am unfit, looking at my running? Do you think I can survive until the 2019 World Cup?"
When Ferris replied that Dhoni indeed looked more than capable of staying in shape until the next 50-over World Cup, a laughing Dhoni then responded: "Then you have answered the question."
"I wished it was an Indian media guy because I would have asked him if he had a son old enough, and a wicketkeeper, to play!" he said.
The light-hearted exchange came at the end of a painful loss for the wicketkeeper-batsman's team who had been red-hot favourites to win the trophy on home soil.
After India had scored a slightly below-par total of 192 for two in their 20 overs, the West Indies' run chase got off to a terrible start when Chris Gayle was bowled for just five.
But first Johnson Charles and then Lendl Simmons and Andre Russell started thrashing the Indian bowlers around the ground as they struggled to make the ball grip in heavy dew.Hopes of a billion
Hopes of a billion
Their cause was not helped by the agony of seeing Simmons twice dismissed only to be reprieved both times when slow motion replays showed that Ravichandran Ashwin and then Hardik Pandya had overstepped.
Simmons, playing in his first match of the tournament as a late call-up for the injured Andre Charles, went on to smash a match-winning 82 off 51 balls.
If Simmons and the West Indies rode their luck, Dhoni was left to curse his bad fortune which began when he lost a crucial toss and was made to bat first.
"The difference between the first innings and the second innings when it comes to the surface was too much," said Dhoni as he spoke about his bowlers' struggles.
"In the first innings you will have seen there was a bit of assistance for the spinners, it was gripping a bit, but there was nothing much in the second innings."
Although India's star batsman Virat Kohli scored an unbeaten 89, Dhoni acknowledged that they were about 10 runs short in their innings but refused to criticise his players.
"The only thing I am disappointed about is the two no-balls, other than that we tried our best," he said.
"Luck is a factor definitely but at the end of the day you have to play good cricket. There's none of the tournaments we have won was because of good luck. There's nothing called good luck, you have to execute your plans well."
Before the match, West Indies' skipper Darren Sammy had said the semi-final was a "David and Goliath" encounter, with more than a billion Indians willing their team to win.
Victory in the tournament would have been the icing on the cake for Dhoni who also skippered India to victory on home soil in the 2011 World Cup and in the inaugural World T20 in South Africa in 2007.
Kohli has already replaced him as Test captain but Dhoni, who is India's most successful captain, remains a popular figure in the dressing-room.