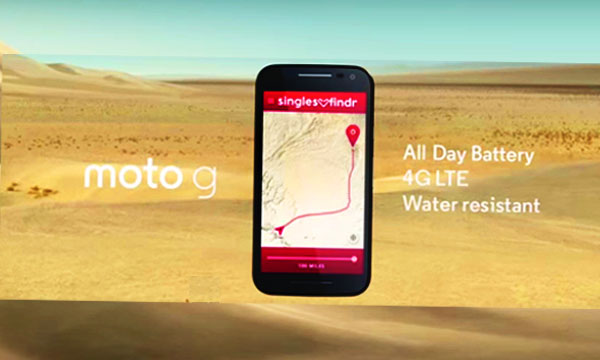 This first ever ad of Motorola's newest smartphone: the Moto G has taken a hilarious yet hard-hitting approach to engage potential customers.
What can a viewer normally expect in a smartphone advert? Talking about the local ads, the list includes nothing more than an upbeat jingle with senseless dancing or some celebrity endorsing a brand which they themselves would never use.
But this Advert featuring a guy stranded on a desert island browsing Tinder through his phone will surely catch your attention.
Have a look at the ad:
[iframe id="http://tune.pk/player/embed_player.php?vid=6180926&folder=2015/08/04/&width=840&height=440&autoplay=no"]
Without any dialogue or narration, the silent act is powerful enough to not just pull off a good laugh, but also succinctly put across its intended message to its audience.
Here we see a boy, trekking across some unnamed desert. Panting and isolated in the middle of a desert, he is in a dire need of some company which he finds through his Moto G.
Related: Ufone Mocks Telenor with Sacha Yaar TVC – Watch Video
In less than a minute, the ad does a tremendous job of highlighting the selling points of the brand including all day battery and durability.
Additionally, the punch line "The thirst is real" perfectly sets up the context and highlights a complete new dimension of the brand which is indeed commendable! This gives concrete reasons to the consumers to try the brand. No beating around the bush, it has a simple message which is efficiently delivered.
One word for the ad: Well Played! What do you think? What's the first word that comes to your mind after watching this ad? Let us know in the comments below!